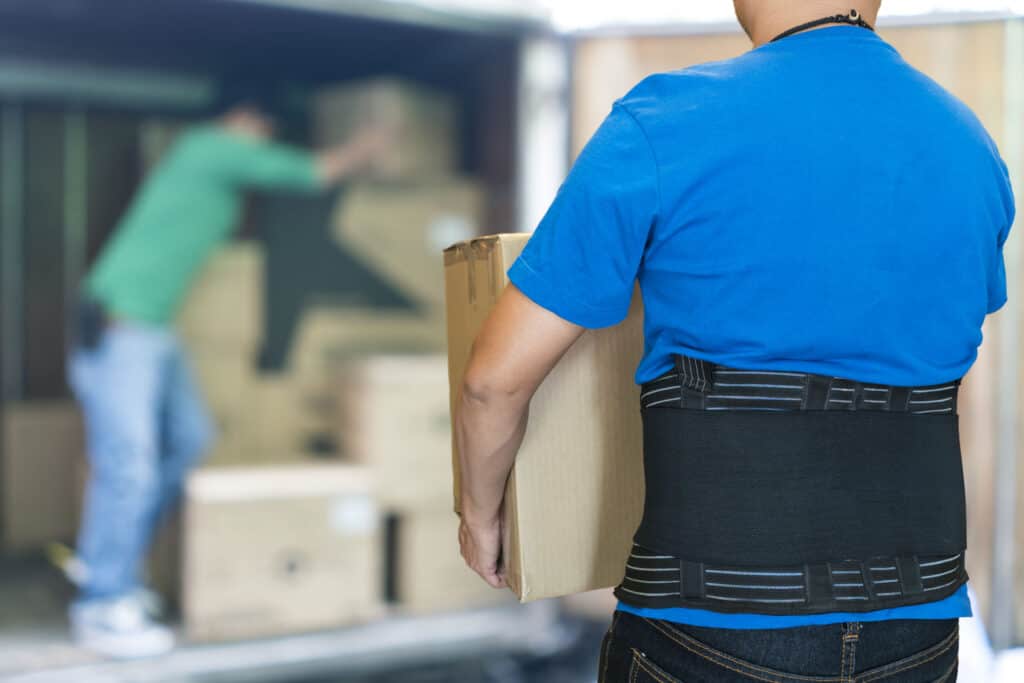 As a warehouse worker, I deal with literal back breaking work every day. Here are a few reasons that, in my experience, cause back pain while working in a warehouse:
lifting heavy items such as products and wooden pallets
bending, turning and twisting while working
standing or walking all day
driving machines such as forklifts and pallet jacks on uneven floors such as floors with bumps and potholes
I've found that having a back brace around my waist eases the strain put on my lower back muscles since it forces me to lift with proper posture. I don't have that lingering pain on my back once I get home from work.
Another interesting side effect of wearing the brace is that it enables me to work faster since I don't get tired as easily as I used to.
It has been shown that heavy work activities that include bending, twisting and stooping increase the risk of developing low-back pain among retired seniors.
In fact, this is what worries me most about this line of work.
It is therefore prudent as a warehouse employee to take care of this potential problem before it balloons in your sunset years.
My Top Choice
Out of all the back braces that I have tried in the past, BraceAbility comes out on top. It has almost everything I need in a back brace:
It is lightweight – it weighs around 400 grams.
It has shoulder straps – this is neat feature as it allows me to take it off and let it hang loose when not in use.
It is very flexible – this makes my work easier since my job involves lot's of movement.
It is comfortable – the brace is made from soft material that makes it comfortable to wear even when tightened.
It is very thin – I prefer wearing back braces under my work clothes and this brace is thin enough to allow this. It also does not protrude around my waist when I wear it.
The following is a list of back braces that my colleagues and I have found to be the most effective in helping us lift and bend with proper posture. Below it, we provide more details about each brand of back brace.
Back Brace Comparison Table
All back braces listed here are unisex.
What the Sizes Mean
X-Small – 18 to 25 inches
Small – 25 to 30 inches
Medium –30 to 34 inches
Large – 34 to 38 inches
X-Large – 38 to 42 inches
XX-Large – 42 to 46 inches
XXX-Large – 46 to 50 inches
XXXX-Large –50 to 54 inches
How to Measure for a Back Brace
Before buying a back brace it is important to get the right size that will comfortably fit your waist.
You will need a flexible measuring tape to do this.
Steps
Place one end of the measuring tape on the widest part of your torso between your waist and hip bone.
Wrap the measuring tape around the torso until you meet the beginning mark.
Record the measurement.
If you have a relatively small hip to waist ratio, it is somewhat safe to just get a back brace whose size range covers your pants size.
1. Braceability
2. Sparthos
The Sparthos back brace features a mesh-like design that makes it both flexible and very breathable. This is desirable for heavy work environments such as warehouses since it keeps you cool and minimizes sweat around the waist.
This back brace also spots a removable lumbar pad that provides more support on the lower back and a tighter fit around the waist.
3. NeoTech Care
I have used this back brace for some time and it is one of my favourite next to BraceAbility. In fact, the only reason I stopped wearing it is because it lacks shoulder straps.
The NeoTech brace has wide removable back panels that provide both mid and lower back support.
It features multiple layers of straps – innermost for fastening the brace and the outermost for adjusting the compression level.
It is also very lightweight at only 200 grams, and like BraceAbility, it is thin enough to be worn under clothing.
4. Ergodyne ProFlex 1650
I haven't tried this back brace but I have a few colleagues who swear by it. It is light, thin and looks good.
It has ample sized braces that are made from nicely stitched polyester material. It also contains elastic latex material that makes it comfortable to wear.
This brace uses single straps closure for easy and fast fastening so make sure you get the right size.
5. Omax
Like BraceAbility, this back brace offers a breathable mesh design making it perfect for working in warm conditions.
Its thin and flexible material allows it to fit your back and waist perfectly.
Some coworkers at my warehouse use it daily and say it offers pain relief on the lower back during and after work.
My only gripe with it is the lack of suspender straps.
How I Came Up With This List
I have been wearing back braces at work for over two years now. This list contains back braces that I've worn (i.e., BraceAbility and Sparthos) and that my coworkers recommend (i.e., NeoTech Care, Ergodyne Proflex 1650 and Omax).
I have also done research on all of them to make sure I get all the details about them that would be of interest to a fellow warehouse worker and included them in the article.
Do You Need a Back Brace?
If you work in the following positions in the warehouse, you may need a back brace especially if you experience pain or fatigue on your lower back.
Order selector
Order picker operator
Destuffer
Lumper
Stower
Picker/Packer
Forklift driver
Reach truck operator
How to Put on a Back Brace
Most back braces, like the ones listed here, use elastic Velcro straps for fastening.
They usually have inner and outer straps that can be adjusted to fit your size and provide grip that matches your comfort level.
The biggest difference when wearing the braces boils down to whether they have suspenders or not.
Steps
Lay the back brace flat with the inner part facing your back.
If the back brace has suspender straps, slide your arms through them like you would a dress shirt.
Ensuring that the top of the waistband is just below the navel, fold in the left end across your waist, and then fold in the right end and attach to it.
If the brace has outer straps, fold in the left strap and attach to the Velcro, then do the same for the right strap.
Caution
Only wear a back brace when you are working. Wearing one throughout the day will weaken your back muscles and potentially increase the risk of injury.
The only time back braces should be worn over extended periods is when treating an injury and on the advice of a physician.
Strengthen Your Lower Back
Back braces are a good tool for protecting your back. However, a far better option is to build a stronger back.
The way to do this is to do back strengthening exercises like back extensions and stretching your hip flexers.
I've found that doing these exercises every day and stretching works so well that I don't need to wear back braces every day anymore.