Most shift work like warehouse, construction and factory work is laborious, repetitive and most of all boring. It drags on and on – which can be pretty demotivating over time.
One effective method I use to pass the time at my warehouse job is listening to podcasts, music or audio books on my wireless earbuds.
Here's a short summary of the earbuds discussed here:
What to Look for in Earbuds for Warehouse Work
Transparency
Some earbuds are "transparent", i.e., they have microphones that broadcast ambient sound to your ear. This makes it possible to listen to music while still able to hear your surroundings.
This is very important since you still want to be able to hear honking from forklifts and the like and also hold conversations with your coworkers.
Long Battery Life
Warehouse shifts can last eight to twelve hours in the busy season. Therefore, you want earbuds that won't die on you while you are still working.
Owing to their size, they have small batteries so this is difficult to achieve. Add the fact that they are constantly connected to Bluetooth while in use and you see why they tend to drain quickly.
Still, some manufacturers have managed to make earbuds that go for as long as fifteen hours of continuous use.
Disguise
If you work in a warehouse that doesn't allow earbuds or headphones for whatever reason, get discrete or "invisible" earbuds. These are earbuds that are designed to be as unnoticeable as possible to people around you.
This is achieved by one or combination of the following methods:
Small size – some earbuds are made as tiny as possible so that can barely be seen when someone is looking straight at you. They are covered by earlobes from that angle. All earbuds listed here are so low profile they go unnoticeable when worn under something like a beanie. You can also wear a headset on top of them without getting uncomfortable.
Some have colors that match with your skin tone such as black or beige making them blend more and therefore go unnoticed.
Wireless
You want Bluetooth enabled earbuds because they are not easily noticeable and because wired headphones tend to be caught on machinery such as forklifts or other things in the warehouse such as rack beams.
Wireless Headband vs True Wireless Earbuds
Wireless headband earphones have longer battery life since they have bigger batteries located on the headband.
Their downside is that they are more conspicuous and so if you want your earbuds to remain hidden, they are not the best.
True wireless earbuds do not have a wire connection or headband between them. For those looking for discretion, they are the best route to take. However, their battery life is often limited.
Water Resistance
You will likely be sweating a lot when working in a warehouse. It is for this reason that you might want water resistant earbuds that will not be damaged by sweat.
There is also the case of high humidity levels in freezer warehouses. Moisture and ice tends to collect on your clothes and skin and if it comes into contact with unprotected electronics, it may cause damage.
Secure Fit
Warehouse work involves a lot of walking, running, crouching, squatting, jumping and other movements that make it easy for earbuds to fall off.
Therefore, when choosing earbuds to use at work, choose the ones that stay in your ear!
Many brands accomplish secure fit by selling earbuds that come with multiple silicone tips so that you can find one that fits your ear – you can always get replacement buds if this is not the case.
Some, like the Galaxy Buds Plus have wingtips that enable them to fit snug in your ears.
Wearing Earbuds in a Warehouse
Rules and levels of enforcement vary when it comes to wearing earbuds in the workplace. Some facilities allow it, others outright ban it while others tolerate it to varying degrees depending on the managers and supervisors.
It's best to check with your facility's policies regarding this issue.
How to Hide Your Earbuds at Work
From my experience, it is very easy to hide the fact that you are wearing earbuds provided that your supervisors aren't out to get you.
In many cases, warehouse managers and supervisors don't truly care about whether or not you are wearing earphones even when they are not allowed. Just don't make it too obvious when using them.
Here are some sure-fire ways of hiding earbuds even to the most hawk-eyed of supervisors:
Wear a headband – headbands are used to prevent sweat from dripping to your eyes when performing strenuous activity. Wearing one at work in a way that covers your ears won't draw attention.
Wear a neck mask – It has now become completely normal to wear masks at work. Neck masks cover your ears completely and so you can safely wear earbuds underneath.
Wear a beanie – by pulling your beanie all the way to your ears, you can completely cover your ears and no one will notice that you are wearing earbuds underneath.
Wear a balaclava – if you work in a freezer warehouse, balaclavas are a natural part of your dress code. You can therefore wear your earbuds underneath without a problem.
Best Earbuds for Warehouse Work
1. SoundPEATS Sonic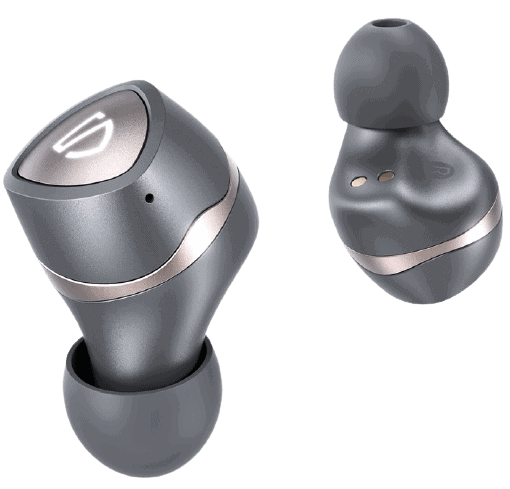 The SoundPEATS Sonic are the most stylish and value-for-money earbuds on this list. In fact, this is the pair I use daily at work and recommend to colleagues.
They have a battery life of fifteen hours (of continuous use from full charge) which is more than double what most earbuds will offer.
They have AAC playback which means you can use them with your iPhone as a replacement for AirPods.
Additionally, they come with small, medium and large silicone tips to fit various ear canal sizes.
One of my favorite features is that they have a logo which lights up when powered on but then it shuts off when in use (e.g., when playing music). This makes them inconspicuous and is a useful feature when working in a place that doesn't allow headphones.
2. Tozo NC9
The NC9s are some of the best quality earbuds I have seen aside from the SoundPeats. They have active noise cancelling as well as transparency mode.
So if you work in an environment where you need to hear what's going on around you, they have microphones that broadcast ambient noise without interrupting your music or podcast listening.
On the other hand, if you want to drown out external noise, you can do so with their noise cancellation features.
The Tozo NC9s also come with six pairs of silicone tips so they can fit a wide variety of ear canal sizes.
These earbuds have an ergonomic design that make them comfortably fit your ears. So if you wear a headset at work, you can fit it on top without pain or discomfort.
These buds are not as small as the Abramtek 8's but I've found that they are small enough to go unnoticed.
They have a battery life of eight hours making them one of the best when working long shifts at the warehouse.
I have also found that they are sweat and water proof so you can sweat on them without ruining them.
This also makes them perfect for those who work in freezing and wet environments in distribution centers.
3. Treblab XFit
Along with the ABRAMTEK 8s, the Treblab XFit are the smallest and lightest earbuds on this list.
They also come with a small and lightweight charging case that has strong magnet for attaching the earbuds.
They have physical buttons so you don't need special gloves to control them if you work in a warehouse. The only problem with the buttons is they don't have volume control.
My biggest gripe with these earbuds is the short battery life of five hours owing to their small size. It is a little bit better than the ABRAMTEK 8s but not by much.
If you are going to get these and work in a warehouse, you'd have to charge them on your breaks during long shifts.
4. Purity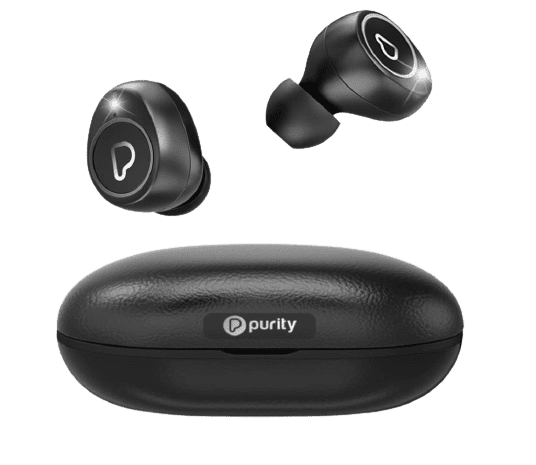 Purity earbuds are the most affordable headphones on this list. They are IPX5 rated which means that you can sweat on them without having problems.
The charging case comes in a small form factor and has a pair of strong magnets to hold the buds.
Thesy tend to stick out a bit so if you work in an environment where earbuds are not allowed, you can hide them by wearing a neck mask or beanie. This is especially so if you have small ears.
These earbuds will last four hours (if you use both) before they are due for a recharge. However, if you are using just one, it will last eight hours.
So if you wear a headset in your warehouse job, you might consider just wearing one earbud on one ear and then wear the headset on the other.
They also have touch buttons so they may be a bit hard to control when wearing generic gloves. You'd have to consider wearing touch sensitive gloves.
5. ABRAMTEK E8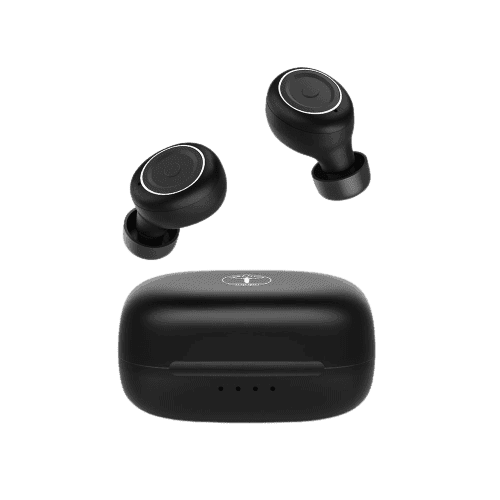 The ABRAMTEK E8s are some of the smallest earbuds out there. They don't stick out at all and are perfect for all ear sizes.
If you want earbuds that you can wear inconspicuously while working in the warehouse, these are some of the best.
The charging case is also tiny and can fit in your pockets without much hassle.
Theses devices are IPX7 rated and therefore provide sweat and water protection. You can even shower in them.
They come with control buttons for pause, play, and skip forwards and backwards. Unfortunately, they do not have volume control.
The biggest downside with these earbuds is battery life. With a play time of around three to four hours, these are not the best in that regard. But that's to be expected because they are quite small and therefore have less battery capacity than other earbuds.
They will last you ten hours in the charging case though, and you also have the option of charging them during breaks.