Most Amazon warehouse facilities have two shifts – day shift and night shift – and follow a four day work week schedule.
Shift lengths vary depending on the location; some go for eight hours, some ten hours while others will last twelve hours.
The time the shifts start depend on the department e.g. inbound and outbound.
Amazon sort centers are an exception as they have four hour shifts. Sometimes these shifts can be a little more or less depending on how busy the facility is (something called flex hours).
Day Shifts
Depending on the location and department, day shifts at Amazon facilities typically start between 6.00 a.m. and 8.00 a.m. and end between 5.00 p.m. and 6.00 p.m.
Night Shifts
Depending on the site, night shifts at Amazon warehouses start between 6.00 p.m. and 8.00 p.m. and end between 5.00 a.m and 7.00 a.m.
Many amazon fulfillment centers now have 10 to 12 hour night shifts (sometimes referred to as megacycle shifts).
Amazon night shift workers are entitled to shift differential that can range from $0.50 all the way to $2.00. This will of course depend on the location and might be more on weekend nights.
Night shift work can be a bit difficult to adjust to especially for newer (Tier 1) associates. This is because it interferes with your circadian rhythm. It's not that bad once you get used to it and follow a few simple steps, however.
It can also take a toll on personal relationships, e.g., with family and spouses.
The upside is that you get more pay (added differential) and the fact that night shifts are usually more relaxed (slower).
Shifts at Amazon Sort Centers
An Amazon Sort Center worker.
Sort centers are some of the only Amazon facilities that offer lots part-time positions. You can get three to six days of work each week. Normally, you work four hours a day which can be less or more depending on the needs of the facility (flex hours).
Note that one of your working days has to be a Saturday or Sunday when working in sort centers.
Flex/Anytime Shifts
Anytime shifts (formerly flex hours) give you the freedom to choose when you want to work.
This is not to be confused with Amazon Flex which is used for Amazon's delivery contractors.
Use the A to Z app to pick your Anytime Shifts, up to 15 days in advance.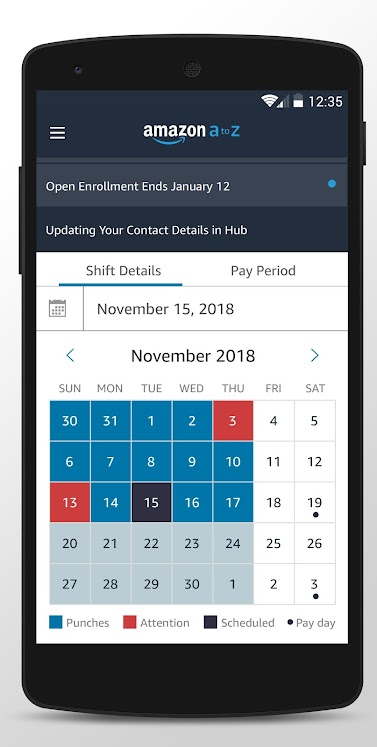 How Anytime Shifts are given out depends on your facility. Some provide them to any employee while others only dish them out to fulltimers (blue badges).
There are two types of flex shifts: Flex part-time(FlexPT) and Flex reduced time (FlexRT).
FlexPT is the most "flexible" and in many facilities you work a minimum of 20 hours a week.
The downsides of FlexPT are:
No health benefits
No mandatory holiday pay – you have to work on holidays to get the bonus rate
No room for advancement – you will stick to your assigned position.
You work more hours with FlexRT (at least 30 hours a week). You also get health benefits.
The following is a short summary that explains the differences between FlexPT and FlexRT (beware that these details may vary depending on the location):
| | FlexPT | FlexRT |
| --- | --- | --- |
| Minimum hours required | 20 hours a MONTH | 30 hours a week |
| Maximum hours allowed | 60 hours a week | 60 hours a week |
| Benefits eligibility | 401k and employee assistance program (EAP) only | Medical, dental, visiom, EAP and 401k |
| Time Off Options | None | 36 hours PTO per year, 1.15 vacations every two weeks, 20 hours UPT every quarter |
| Base Pay Rate | $15 per hour regardless of current pay. Not eligible for Step Plan. | Current wage and eligible for Step Plan |
| Set Schedule | No | No |
| MET Day | No | No |
| How to pick up shifts | Sign up through the A to Z app | Sign up through the A to Z app |
| Shift differential | None | None |
| Amazon dynamic compensation eligibility | Depends on shift | Depends on shift |
Differences and similarities between flex part-time (FlexPT) and flex reduced time (FlexRT).
Break Schedules at Amazon
You usually get a 30 minutes unpaid lunch break and a 15 minute paid break. For 10 hour shifts you get two 30 minute breaks (one paid and one unpaid) or two fifteen minute breaks (both paid) and one unpaid thirty minutes lunch break.
According to Amazon's policy, associates are given the 30 minutes break after working five hours consecutively.
For overnight workers, lunch breaks can last 40 minutes while the short breaks last 20 minutes.
Overtime
There's plenty of overtime work at Amazon warehouses especially during busy weeks leading up to Prime Day, Black Friday, Christmas and January shopping.
Any hours worked above forty hours a week are paid at time and a half. During certain periods, such as holidays, some Amazon facilities do offer double overtime pay.
Voluntary Extra Time (VET)
Associates have the opportunity to work extra hours at Amazon by claiming 'VET'. VET is considered overtime at Amazon but you still get paid at the normal rate.
You can request VET through the A to Z app. It is important to claim VET as soon as possible as it is given out on a first come first served basis.
Attendance
Showing up to work consistently at Amazon is highly regarded. This is because Amazon warehouses use a points system for attendance and having negative attendance points can lead to termination.
You are encouraged to use your personal time off (PTO) if you are going to miss a shift. PTO is accrued (earned) incrementally – some few hours per pay period.
Note that PTO does not roll over to the next year so use it before the year ends.
You can also utilize your unpaid time off (UPT) which is given out in 20 hour chunks every quarter.
Also note that both PTO and UPT are not given out during peak season.
You can request your PTO and UPT through your Amazon A to Z app.
Time off Task (TOT)
At Amazon, TOT denotes "wasted" time while working. This mostly occurs when scanning items e.g. when stowers take too much time between each scan.
You get TOT from your scanner. Every time you stop scanning during your shift the system starts counting the time. You are allowed up to five minutes between each task. In some facilities, that goes to as low as two minutes.
To get information about your TOT, ask your process associate (PA) or area manager (AM). Sometimes, managers may not inform you about your TOT so it's important to ask if you think you may have it.
Remember, you can get written up for too much TOT and three write-ups can get you terminated.