With almost 200 facilities in the US and around the world, Amazon's warehouse network is one of the largest in the world.
These facilities range from 600,000 to 800,000 square feet in size. Each of the buildings has a capacity of 1000 to 1500 associates. In total, Amazon is estimated to have around a million fulltime and part-time workers employed in these warehouses.
There are several categories of Amazon's warehouses:
Fulfillment centers (FCs) – these are large buildings that employ thousands of associates.
Fulfillment centers are categorized into sortable and non-sortable.
In sortable fulfillment centers, associates stow, pick, pack and ship small and medium sized packages.
Some of them have robots that help employees in picking and stowing. Amazon Robotics is a subsidiary of Amazon charged with the creation and maintenance of these robots.
Non-sortable FCs are used for large and bulky items such as TVs and patio umbrellas.
Sortation centers (SCs) – these are used for preparing packages for final delivery by sorting them onto pallets. From there, they are loaded onto trucks and shipped away.
Sortation centers are generally more relaxed than fulfillment centers since many of them are not as keen on enforcing productivity rates on their workers as with fulfillment centers.
Just like FCs, SCs employ both fulltime and part-time associates.
Delivery stations (DSs) – these buildings are used to prepare customer orders for last mile delivery.
They are generally smaller than both FCs and SCs and employ fewer associates as well.
Associates who work here sort and pack items that are then shipped to customers using delivery vans.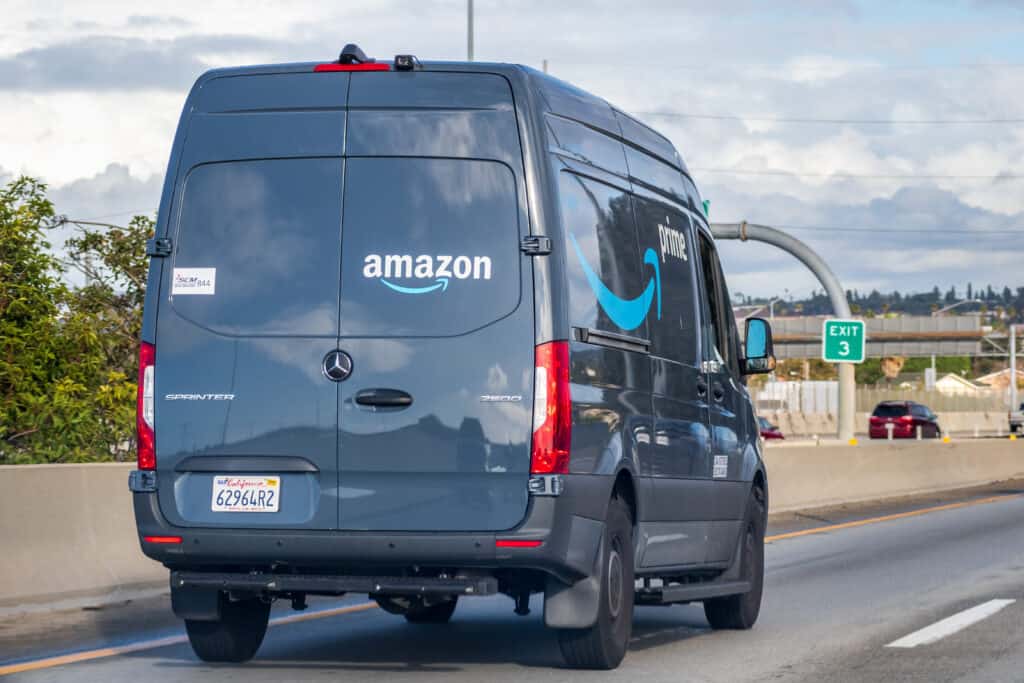 There are other types of Amazon warehouses such as receive centers, sub same day and specialty FCs.
Amazon Site Code
Amazon facilities are named after the nearest airport's IATA code, and usually, followed by a number from 1 to 9. An FC is represented by a 1 or 2, an SC by a 5 or 6, while a 9 represents inbound cross dock (IXD) FCs or customer returns (CRET) locations.
For example, MOB9 is an FC in Mobile County, Alabama. MOB is the IATA code for Mobile Regional Airport, the nearest airport to this facility.
Delivery stations, typically start with a D, such as DNY4 in Bethpage, New York. Same day centers, on the other hand, start with an S.
The following is a detailed list of Amazon facilities in the US and includes their identifiers, addresses, city, state and zip codes.
Note that many locations (such as CRET) are not standalone and are found inside larger facilities such as FCs and SCs. Other buildings combine two or more functions such as an FC and a DS rolled into one and therefore might have more than one code.
List of Amazon Facilities in the US
| Amazon Identifier | Address | City | State | Zip |
| --- | --- | --- | --- | --- |
| SUHB | 4675 Appaloosa Dr | Irondale | AL | 35210 |
| SUHD | 4675 Appaloosa Drive | Irondale | AL | 35210 |
| MOB9 | 6735 Trippel Rd. | Theodore | AL | 36582 |
| PHX5 | 16920 W Commerce Drive | Goodyear | AZ | 85338-3620 |
| PHX3 | 6835 West Buckeye Road | Phoenix | AZ | 85043-4428 |
| PHX7 | 800 N 75th Ave | Phoenix | AZ | 85043-2101 |
| PHX6 | 4750 West Mohave St | Phoenix | AZ | 85043-8305 |
| TFC1 | 5050 West Mohave St | Phoenix | AZ | 85043-8305 |
| XUSH | 7037 West Van Buren Street | Phoenix | AZ | 85043-3313 |
| AZA6 | 2150 East Riverview Drive | Phoenix | AZ | 85034 |
| TUS1 | 5333 W. Lower Buckeye Road | Phoenix | AZ | 85043 |
| TAZ1 | 500 S 48th St | Phoenix | AZ | 85034 |
| SUPR | 9414 E San Salvador Dr | Scottsdale | AZ | 85258 |
| SUBJ | 1104 W Geneva Dr | Tempe | AZ | 85281 |
| SUBW | 1104 W Geneva Dr | Tempe | AZ | 85281 |
| PHX9 | 777 S 79th Ave | Tolleson | AZ | 85353-3140 |
| XUSO | 657 Nance Street | Perris | CA | 92571 |
| OAK8 | 1 Middleton Way | American Canyon | CA | 94503 |
| BEK1 | 2495 Bancroft Way Room 235 | Berkeley | CA | 94720 |
| SUPL | 587 Apollo St | Brea | CA | 92821 |
| SUFD | 587 Apollo St | Brea | CA | 92821 |
| SUFC | 587 Apollo St | Brea | CA | 92821 |
| SJC9 | 1455 valley drive | Brisbane | CA | 94005 |
| TCA0 | 455 Valley Drive | Brisbane | CA | 94005 |
| SUPE | 7886 Deering Ave. | Canoga Park | CA | 91304 |
| VUKF | 18120 Bishop Ave | Carson | CA | 90746-4032 |
| SUNC | 1113 E 230th Street | Carson | CA | 90745 |
| SUAR | 9207 Eton Avenue Unit B | Chatsworth | CA | 91311 |
| SUPK | 9851 Owensmouth Ave | Chatsworth | CA | 91311 |
| XBC1 | 15750 Mountain Avenue | Chino | CA | 91708 |
| SUOK | 437 Baldwin Park Blvd | City of Industry | CA | 91746 |
| DAV1 | 1 Shields Ave | Davis | CA | 95616-8662 |
| SUJB | 706 North Diamond Bar Blvd | Diamond Bar | CA | 91765 |
| LGB3 | 4950 Goodman way | Eastvale | CA | 92880 |
| SNA6 | 5250 Goodman Road | Eastvale | CA | 92880 |
| SNA9 | 5250 Goodman Road | Eastvale | CA | 92880 |
| VUWC | 4700 E Nestle Purina Ave | Flagstaff | CA | 86004 |
| VUBG | 8365 Sultana Ave | Fontana | CA | 92335 |
| VUPQ | 9211 Kaiser Way | Fontana | CA | 92335 |
| VUBH | 9950 Calabash Ave | Fontana | CA | 92335-5210 |
| SUPI | 2325 Raymer Avenue | Fullerton | CA | 92833 |
| SUHW | 2325 Raymer Ave | Fullerton | CA | 92833 |
| XFI1 | 6351 Cameron Boulevard | Gilroy | CA | 95020 |
| SUOO | 16792 Burke Lane | Huntington Beach | CA | 92647 |
| SUSH | 16792 Burke Lane | Huntington Beach | CA | 92647 |
| IRV1 | 4139 Campus Drive | Irvine | CA | 92612 |
| TCA4 | 2006 McGaw Avenue | Irvine | CA | 92614 |
| CSD1 | 9500 Gilman Drive #0102 | La Jolla | CA | 92093 |
| LGB1 | 2417 E. Carson, St. | Long Beach | CA | 90810 |
| LGB2 | 6049 E 7th St | Long Beach | CA | 90840 |
| SUOQ | 3700 Cover St | Long Beach | CA | 90808 |
| BUR2 | 925 Westwood Boulevard | Los Angeles | CA | 90024 |
| HCA3 | 3334 N San Fernando Rd Bldg E | Los Angeles | CA | 90065-1417 |
| LAX6 | 5119 District Blvd | Los Angeles | CA | 90058 |
| TCA5 | 3334 N San Fernando Rd Bldg E | Los Angeles | CA | 90065 |
| UCA5 | 3334 N. San Fernando Road | Los Angeles | CA | 90065 |
| ABE7 | 12510 Micro Dr | Mira Loma | CA | 91752 |
| VUGE | 3450 Dulles Dr | Mira Loma | CA | 91752-3242 |
| VUWE | 736 Garner Rd | Modesto | CA | 95357 |
| ONT6 | 24208 San Michele Rd | Moreno Valley | CA | 92551 |
| ONT8 | 24300 Nandina Ave | Moreno Valley | CA | 92551 |
| VUPG | 16110 Cosmos Street | Moreno Valley | CA | 92551 |
| OAK7 | 38811 Cherry St | Newark | CA | 94560 |
| SUBV | 810 E 8th St | Oakland | CA | 94606 |
| SUAM | 5400 Ontario Mills Parkway | Ontario | CA | 91764 |
| XLAA | 5691 E Philadelphia | Ontario | CA | 91761 |
| SUAC | 100 S Wineville Ave | Ontario | CA | 91761 |
| VUVB | 2053 East Jay St | Ontario | CA | 91764 |
| SUJF | 100 S Wineville Ave | Ontario | CA | 91761 |
| VUWH | 5725 Jurupa St | Ontario | CA | 91761 |
| OAK3 | 255 Park Center Drive | Patterson | CA | 95363-8876 |
| VUGK | 4120 Indian Ave | Perris | CA | 92571-7413 |
| VUTD | 8291 Milliken Avenue | Rancho Cucamonga | CA | 91730 |
| LAX8 | 30142 Avenida De Las Banderas | Rancho Santa Margarita | CA | 92688-2116 |
| ONT9 | 2125 West San Bernardino Ave | Redlands | CA | 92374 |
| LGB4 | 27517 Pioneer Avenue | Redlands | CA | 92374 |
| VUPX | 2300 W San Bernardino Ave | Redlands | CA | 92374 |
| XUSV | 2255 W. Lugonia Avenue | Redlands | CA | 92374-5049 |
| TCA2 | 2400 Marine Avenue | Redondo Beach | CA | 90278 |
| SNA4 | 2496 W Walnut Ave | Rialto | CA | 92376-3009 |
| XUSJ | 1590 Tamarind Ave | Rialto | CA | 92376 |
| LGB8 | 1568 N Linden Ave | Rialto | CA | 92376 |
| VUMD | 548 W Merrill Ave | Rialto | CA | 92376-9101 |
| LGB6 | 20901 Krameria Ave | Riverside | CA | 92518 |
| SMF1 | 4900 W Elkhorn Blvd | Sacramento | CA | 95837 |
| TCA9 | 2934 Ramona Ave | Sacramento | CA | 95826 |
| SNA7 | 555 East Orange Show Rd | San Bernadino | CA | 92408 |
| SNA8 | 555 East Orange Show Rd | San Bernadino | CA | 92408 |
| XIX2 | 2020 E Central Ave | San Bernardino | CA | 92408-0123 |
| ONT2 | 1910 E Central Ave | San Bernardino | CA | 92408-0123 |
| ONT4 | 1910 E Central Ave | San Bernardino | CA | 92408-0123 |
| ONT7 | 2020 E Central Ave | San Bernardino | CA | 92408-2606 |
| PCA2 | 4501 PATTERSON AVE | PERRIS | CA | 92571-9722 |
| VUBJ | 1456 Harry Shepard Blvd | San Bernardino | CA | 92408 |
| SUBA | 2215 Paseo De Las Americas | San Diego | CA | 92154 |
| TCA6 | 2727 Kurtz St | San Diego | CA | 92110 |
| HCA6 | 2821 MARION DR | Las Vegas | NV | 89115-3423 |
| RELO | 201 Spear St | San Francisco | CA | 94105-1630 |
| TCA1 | 888 Tennessee St | San Francisco | CA | 94107 |
| XUSD | 1909 Zephyr St | Stockton | CA | 95206 |
| XLAG | 2115 S Sinclair Ave | Stockton | CA | 95215 |
| TCA7 | 222 Commercial St | Sunnyvale | CA | 94085 |
| VUKJ | 19270 S. Western Avenue | Torrance | CA | 90501 |
| OAK6 | 1350 N. MacArthur Drive | Tracy | CA | 95304-9370 |
| OAK4 | 1555 N. Chrisman Rd | Tracy | CA | 95304-9370 |
| PCA1 | 7700 W Fillmore St | Phoenix | AZ | 85043-2101 |
| SJC7 | 188 Mountain House Parkway | Tracy | CA | 95391 |
| VUBD | 17182 Nevada Avenue | Victorville | CA | 92345 |
| VUWA | 13243 Nutro Way | Victorville | CA | 92395 |
| SUFA | 8246 W. Mineral King Ave. | Visalia | CA | 93291 |
| SUAK | 1170 Centre Drive | Walnut | CA | 91789 |
| SMF2 | 2935 Ramco St. | West Sacramento | CA | 95691 |
| VUMX | 241 E Pacific Coast Hwy | Wilmington | CA | 90744-2920 |
| HCA7 | 5119 District Blvd | Vernon | CA | 90058-5512 |
| FAT1 | 3575 S. Orange Ave. | Fresno | CA | 93725 |
| PCA3 | 10681 Production Ave | Fontana | CA | 92337-8006 |
| SMF3 | 3923 B St. | Stockton | CA | 95206 |
| IST1 | 455 Valley Drive | BRISBANE | CA | 94005 |
| SMF9 | 300 Crocker Dr | Vacaville | CA | 95688 |
| HCA8 | 1350 N. MacArthur Drive | Tracy | CA | 95304 |
| DEN2 | 22205 East 19th Ave | Aurora | CO | 80019 |
| UCO2 | 3434 47th Street | Boulder | CO | 80301 |
| SUHQ | 4635 NAUTILUS CT S | Boulder | CO | 80301 |
| XLAK | 18875 E BROMLEY LN | BRIGHTON | CO | 80601 |
| DEN6 | 480 E 55th Ave | Denver | CO | 80216 |
| UCO1 | 480 E. 55th Avenue | Denver | CO | 80216 |
| TCO1 | 480 E 55th Avenue | Denver | CO | 80216 |
| SUEA | 1821 Lefthand Circle, Unit D | Longmont | CO | 80501 |
| DEN3 | 14601 Grant St. | Thornton | CO | 80023 |
| LGB7 | 1660 N. Linden Avenue | Rialto | CA | 92376 |
| SUJD | 47 Industrial Park Rd | Centerbrook | CT | 6409 |
| CON1 | 40 Wilbur Cross Way | Mansfield | CT | 6268 |
| BDL2 | 200 Old Iron Ore Rd | Windsor | CT | 6095 |
| BDL1 | 200 Old Iron Ore Rd | Windsor | CT | 6095 |
| PHL7 | 560 Merrimac Ave | Middletown | DE | 19709-4652 |
| PHL1 | 1 Centerpoint Blvd. | New Castle | DE | 19720-4172 |
| PHL3 | 1600 Johnson W ay | New Castle | DE | 19720-8111 |
| SUPP | 230 Centerpoint BLVD | New Castle | DE | 19720 |
| SUPQ | 230 Centerpoint BLVD | New Castle | DE | 19720 |
| SUHC | 18 Dixon St | Selbyville | DE | 19975 |
| SUHS | 18 Dixon St | Selbyville | DE | 19975 |
| PFL1 | 1001 13th Avenue East | Bradenton | FL | 34208-2656 |
| JAX2 | 12900 Pecan Park Road | Jacksonville | FL | 32218 |
| JAX3 | 13333 103rd Street | Jacksonville | FL | 32221 |
| SUPD | 8320 Baycenter Rd | Jacksonville | FL | 32256 |
| TPA2 | 1760 County Line Rd. | Lakeland | FL | 33811 |
| MIA6 | 3200 NW 67th Avenue | Miami | FL | 33122 |
| TFL2 | 101 NE 23rd Street | Miami | FL | 33137 |
| UFL2 | 101 NE 23rd Street | Miami | FL | 33137 |
| MIA7 | 1900 NW 132nd Place | Miami | FL | 33182 |
| SUJC | 325 NW 28TH ST | Miami | FL | 33127 |
| SUJA | 325 NW 28TH ST | Miami | FL | 33127 |
| MIA1 | 14000 NW 37th Avenue | Opa-Locka | FL | 33054 |
| CFL1 | 4225 East Plaza Drive | Orlando | FL | 32816 |
| XUSF | 901 West Landstreet Road | Orlando | FL | 32824 |
| MCO6 | 800 ARLINGTON BLVD | SWEDESBORO | NJ | 08085-2594 |
| TFL4 | 7469 Kingspointe Parkway | ORLANDO | FL | 32819 |
| SUAV | 8870 Boggy Creek Rd | Orlando | FL | 32824 |
| SUAW | 8870 Boggy Creek Rd | Orlando | FL | 32824 |
| SUAQ | 8870 Boggy Creek Rd | Orlando | FL | 32824 |
| SUBT | 7070 NW 75th St | Parkland | FL | 33067 |
| TPA1 | 3350 Laurel Ridge Ave | Ruskin | FL | 33570 |
| SUOD | 121 Kelsey Ln | Tampa | FL | 33619-4348 |
| UFL3 | 4430 East Adamo | Tampa | FL | 33605 |
| TFL3 | 4430 E ADAMO DR | Tampa | FL | 33605 |
| SUBI | 2213 VISTA PKWY | West Palm Beach | FL | 33411 |
| SUBU | 2213 VISTA PKWY | West Palm Beach | FL | 33411 |
| CLE3 | 1155 Babbitt Road | Euclid | OH | 44132-2703 |
| MCO1 | 12340 Boggy Creek Rd | Orlando | FL | 32824 |
| SUGE | 5975 Shiloh Road | Alpharetta | GA | 30005 |
| SUAX | 394 COMMERCE BLVD | Athens | GA | 30606 |
| GAT1 | 86 5th St NW | Atlanta | GA | 30308 |
| PGA1 | 429 Toy Wright Rd | Jefferson | GA | 30549-1614 |
| TJA2 | 2302 MARIETTA BLVD NW | Atlanta | GA | 30318 |
| SUOL | 305 Bucknell Court | Atlanta | GA | 30336 |
| VUGH | 7875 White Road | Austell | GA | 30168 |
| VUGO | 300 Interstate West Parkway | Austell | GA | 30168 |
| SUAG | 150 Leo Taylor Ln | Ball Ground | GA | 30107 |
| MGE1 | 650 Broadway Avenue | Braselton | GA | 30517 |
| MGE7 | 650 Braselton Avenue | Braselton | GA | 30517 |
| ATL9 | 2232 Northmont Parkway | Duluth | GA | 30096 |
| VUKG | 3201 Centre Parkway | East Point | GA | 30344 |
| SAV1 | Georgia Ports Authority | Garden City | GA | 31408 |
| MGE3 | 808 Hog Mountain Road | Jefferson | GA | 30549 |
| UGA3 | 2160 Breckinridge Blvd Bldg 100 | Lawrenceville | GA | 30043 |
| ATL8 | 2201 Thornton Road | Lithia Springs | GA | 30122-3895 |
| VUPY | 2501 Rockhouse Road | Lithia Springs | GA | 30122 |
| SAV3 | 7001 Skipper Rd | Macon | GA | 31216 |
| VUOJ | 250 Declaration Avenue | McDonough | GA | 30253 |
| VUPN | 340 Westridge Parkway | McDonough | GA | 30253 |
| XLAH | 580 Raco Pkwy | Pendergrass | GA | 30567 |
| VUTE | 1020 SH Morgan Pkwy | Pooler | GA | 31322 |
| SUNB | 320 Telfair Rd | Savannah | GA | 31415 |
| SULE | 100 Solutions Parkway | Thomaston | GA | 30286 |
| ATL7 | 6855 Shannon Pkwy | Union City | GA | 30291-2091 |
| VUAT | 6855 Shannon Pkwy | Union City | GA | 30291 |
| VUPK | 6720 Oakley Industrial Blvd | Union City | GA | 30291 |
| HGA3 | 2160 Breckenridge Blvd | Lawrenceville | GA | 30043 |
| MDW9 | 2865 Duke parkway | Aurora | IL | 60563 |
| XUSN | 4200 Ferry Rd | Aurora | IL | 60502 |
| SUON | 1703 S Veterans Pkwy | Bloomington | IL | 61701 |
| CMI1 | 809S Wright Street | Champaign | IL | 61820 |
| CHI3 | 2720 N Clark St | Chicago | IL | 60614 |
| HIL1 | 1111 Cherry Street | Chicago | IL | 60642 |
| HIL2 | 1111 N Cherry Ave | Chicago | IL | 60642-4204 |
| CHI1 | 750 S Halsted St | Chicago | IL | 60607 |
| TIL1 | 1111 N Cherry Ave | Chicago | IL | 60642 |
| SUGD | 6033 N Sheridan Rd | Chicago | IL | 60660 |
| STL4 | 3050 Gateway Commerce Center DR S | Edwardsville | IL | 62025-2815 |
| STL6 | 3931 Lakeview Corporate Drive | Edwardsville | IL | 62025 |
| STL7 | 3931 Lakeview Corporate Drive | Edwardsville | IL | 62025 |
| VUPS | 3049 Westway Drive | Edwardsville | IL | 62025 |
| VUOK | 21837 W. Mississippi Ave | Elwood | IL | 60421 |
| XIX1 | 18 APPLEGATE DR | ROBBINSVILLE | NJ | 8691 |
| KIL1 | 3900 S Brandon Rd | Elwood | IL | 60421 |
| SUEJ | 9462 Franklin Avenue | Franklin Park | IL | 60131 |
| MDW2 | 250 Emerald Drive | Joliet | IL | 60433 |
| MDW4 | 201 EMERALD DR | JOLIET | IL | 60433-3281 |
| PIL1 | 1615 COMMERCE PKWY N | HORN LAKE | MS | 38637-2313 |
| MDW7 | 6605 Monee Manhattan Road | Monee | IL | 60449 |
| SUAP | 23824 W. Andrew Rd. | Plainfield | IL | 60585 |
| MDW6 | 1125 W REMINGTON BLVD | ROMEOVILLE | IL | 60446-6529 |
| XLAB | 1701 Normantown Rd | Romeoville | IL | 60446 |
| SUPG | 3725 Swenson Rd | St Charles | IL | 60174 |
| MDW8 | 1750 Bridge Drive | Waukegan | IL | 60085 |
| SUSF | 840 Wheeling Rd | Wheeling | IL | 60090 |
| ORD6 | 1250 N Mittel Blvd | Wood Dale | IL | 60191 |
| UIL2 | 1250 N Mittel Blvd | Wood Dale | IL | 60191 |
| ICT1 | 1250 N Mittel Blvd | Wood Dale | IL | 60191 |
| SUEI | 8 GALAXY WAY | Woodstock | IL | 60098 |
| SUOJ | 1615 Fletcher Ave | FORT WAYNE | IN | 46803 |
| VUHA | 700 Chase Street | Gary | IN | 46404 |
| VUMC | 650 Commerce Pkwy W Drive | Greenwood | IN | 46143 |
| IND7 | 9101 Orly Drive | Indianapolis | IN | 46241-9605 |
| IND4 | 710 S. Girls School Rd | Indianapolis | IN | 46231-1132 |
| PIN1 | 5510 EXPLORATION DR | Indianapolis | IN | 46241-9007 |
| TIN1 | 710 S. Girls School Road | Indianapolis | IN | 46231 |
| PISA | 900 Patrol Rd | Jeffersonville | IN | 47130-7716 |
| SDF8 | 900 Patrol Rd | Jeffersonville | IN | 47130-7716 |
| VUQF | 2100 Innovation Blvd | Mooresville | IN | 46158 |
| VUQD | 3101 IN-62 | Mt Vernon | IN | 47620 |
| VUQH | 381 Airtech Pkwy | Plainfeild | IN | 46168 |
| IND2 | 715 Airtech Pkwy | Plainfield | IN | 46168-7442 |
| IND3 | 715 Airtech Parkway Suite 195 | Plainfield | IN | 46032 |
| IND5 | 800 Perry Road | Plainfield | IN | 46168-7637 |
| PUR1 | 1198 Third Street | West Lafayette | IN | 47907 |
| IND1 | 4255 Anson Blvd | Whitestown | IN | 46075-4412 |
| XUSE | 5490 Industrial Court | Whitestown | IN | 46075 |
| LAS7 | 6001 East Tropical Parkway | North Las Vegas | NV | 89115 |
| IND8 | 712 S. Girls School Rd. | Marion | IN | 46231 |
| TUL1 | 2654 North Highway 169 | Coffeyville | KS | 67337-9254 |
| MKC4 | 19645 Waverly Rd | Edgerton | KS | 66021-9588 |
| XUSK | 31450 W 196th St. | Edgerton | KS | 66021 |
| MKC6 | 6925 Riverview Avenue | Kansas City | KS | 66102 |
| MCI7 | 27200 W157th St | New Century | KS | 66031 |
| SDF1 | 1050 South Columbia | Campbellsville | KY | 42718-2454 |
| IVSA | 4620 Olympic Blvd | Erlanger | KY | 41018 |
| CVG8 | 7968 Kentucky Drive | Florence | KY | 41042 |
| SUDA | 8179 Dixie Hwy | Florence | KY | 41042 |
| SUDB | 8179 Dixie Highway | Florence | KY | 41042 |
| IVSB | 3521 Point Pleasant Rd | Hebron | KY | 41048 |
| PICV | 1155 Worldwide Blvd | Hebron | KY | 41048 |
| SUAA | 1201 Aviation Blvd | Hebron | KY | 41048 |
| CVG7 | 2285 Litton Lane | Hebron | KY | 41048-8435 |
| CVG2 | 1600 Worldwide Blvd. | Hebron | KY | 41048-8640 |
| CVG3 | 3680 Langley Dr. | Hebron | KY | 41048-9135 |
| CVG1 | 1155 Worldwide Blvd. | Hebron | KY | 41048-8640 |
| SU2A | 1201 Aviation Blvd | Hebron | KY | 41048 |
| LEX2 | 172 Trade St. | Lexington | KY | 40511-2607 |
| LEX1 | 1850 Mercer Drive | Lexington | KY | 40511-1013 |
| SUBH | 817 Winchester Rd, Suite 130 | Lexington | KY | 40505 |
| SDF2 | 4360 Robards Ln | Louisville | KY | 40218-4512 |
| SUSA | 7201 Intermodal Dr | Louisville | KY | 40258 |
| VUVC | 2500 Export Dr | Louisville | KY | 40219 |
| PISB | 376 Zappos.com Blvd | Shepherdsville | KY | 40165 |
| PISC | 271 Omega Parkway | Shepherdsville | KY | 40165 |
| SDF9 | 100 W. Thomas P. Echols Lane | Shepherdsville | KY | 40165 |
| SDF6 | 271 Omega Pkwy | Shepherdsville | KY | 40165-8505 |
| SDF4 | 376 Zappos.com Blvd | Shepherdsville | KY | 40165-8556 |
| MAS1 | 220 Campus Center | Amherst | MA | 1003 |
| TMA3 | 30 Northampton Street | Boston | MA | 2118 |
| UMA3 | 30 Northampton Street | Boston | MA | 2118 |
| BOS8 | 870 Commonwealth Ave | Brookline | MA | 2215 |
| SUSL | 153 Washington St | East Walpole | MA | 2032 |
| SUSK | 153 Washington St | East Walpole | MA | 2032 |
| BOS6 | 201 Beacham St | Everett | MA | 02149-5518 |
| BOS7 | 1180 Innovation Way | Fall River | MA | 2722 |
| SUHM | 142 Franklin St | Melrose | MA | 1276 |
| BOS9 | 750 Everett St | Norwood | MA | 02062-2618 |
| XUSL | 610 Chelsea Rd | Aberdeen | MD | 21001 |
| XUSM | 610 Chelsea Road | Aberdeen | MD | 21001 |
| XUSP | XUSP - 3PL Kuehne-Nagel | Aberdeen | MD | 21001 |
| BWI2 | 2010 Broening Hwy. | Baltimore | MD | 21224 |
| TMD1 | 5501 Holabird Ave | Baltimore | MD | 21224 |
| 1-Mar | 4200 Guilford Dr, Suite B1 | College Park | MD | 20740 |
| MDT2 | 600 Principio Parkway West | North East | MD | 21901 |
| SUOC | 8750 Larkin Rd | Savage | MD | 20763-3200 |
| DCA1 | 1700 Sparrows Point Boulevard | Sparrows Point | MD | 21219 |
| SUHX | 104A GLENN ST | LAWRENCE | ME | 1843 |
| SUSI | 7194 Big Sky Drive Suite 5 | Holly | MI | 48442 |
| SUTA | 4503 Airwest DR SE | Kentwood | MI | 49512 |
| DET1 | 39000 Amrhein Road | Livonia | MI | 48150 |
| XUSR | 5425 Dixie Highway | Saginaw | MI | 48601 |
| DET2 | 50500 Mound Rd | Shelby Charter Township | MI | 48317 |
| UMI2 | 999 Chicago Road | Troy | MI | 48083 |
| SUHH | 45410 Van Dyke | Utica | MI | 48314 |
| DTW1 | 32801 Ecorse Rd. | Romulus | MI | 48174 |
| SUHV | 10335 Naples ST NE | Blaine | MN | 55449 |
| SUVA | 8933 Lyndale Ave S | Bloomington | MN | 55420 |
| MIN1 | 311 SE Harvard Street | Minneapolis | MN | 55414 |
| TMN1 | 763 Kasota Ave | Minneapolis | MN | 55414 |
| MSP1 | 2601 4th Avenue East | Shakopee | MN | 55379 |
| VUPU | 14916 STATE HIGHWAY 177 | Jackson | MO | 63755 |
| VUPV | 2001 Premier Pkwy | Saint Peters | MO | 63376 |
| SUEH | 1760 West Terra Lane | OFallon | MT | 63366 |
| SUHL | 1213 Maple Avenue | Burlington | NC | 27215 |
| CLT2 | 10240 Old Dowd Rd | Charlotte | NC | 28214-8082 |
| CLT3 | 6500 Davidson Hwy | Concord | NC | 28027 |
| XLBA | 1123 4th ST SW | Conover | NC | 28613 |
| SUSG | 500 S Main Street | Mooresville | NC | 28117 |
| LAS2 | 3837 Bay Lake Trail | North Las Vegas | NC | 89030-4428 |
| SUHI | 870 S. 16th St. | Aurora | NE | 68818 |
| SUHA | 9203 J Street | Omaha | NE | 68127 |
| VFSN | 7401 F ST | OMAHA | NE | 68127 |
| PFL2 | 8060 State Rd 33 North | Lakeland | FL | 33809-1704 |
| BUF9 | 4201 Walden Ave | Lancaster | NY | 14086 |
| JFK8 | 546 Gulf Ave. | Staten Island | NY | 10314 |
| SUOM | 1230 Highway 34 | Aberdeen | NJ | 7747 |
| EWR6 | 275 Omar Avenue | Avenel | NJ | 07001-2240 |
| EWR7 | 275 Omar Ave | Avenel | NJ | 7001 |
| SUPM | 1-AB Terminal Way | Avenel | NJ | 7001 |
| LGA6 | 8003 Industrial Avenue | Cartaret | NJ | 07008-3529 |
| EWR9 | 8003 Industrial Parkway | Carteret | NJ | 07008-3529 |
| LGA7 | 380 Middlesex Avenue | Carteret | NJ | 7008 |
| LGA8 | 380 Middlesex Avenue | Carteret | NJ | 7008 |
| TEB6 | 22 Hightstown Cranbury State Road | Cranbury | NJ | 8512 |
| LGA9 | 2170 Route 27 | Edison | NJ | 8817 |
| SUEG | 86 Mayfield Ave | Edison | NJ | 8837 |
| SUCD | 80 Carter Dr. | Edison | NJ | 8817 |
| ABE8 | 401 Independence Road | Florence | NJ | 8518 |
| XUSQ | 152 Route 206 | Hillsborough | NJ | 8844 |
| HNJ2 | 13905 Crayton Blvd | Hagerstown | MD | 21742 |
| UNJ1 | 940 Monroe Street | Hoboken | NJ | 7030 |
| TEB3 | 2651 Oldmans Creek Rd | Logan Township | NJ | 8085 |
| VUKZ | 400 Arlington Blvd | Logan Township | NJ | 8085 |
| SUPH | 4201 tonelle ave | North Bergen | NJ | 7047 |
| SUPN | 4201 tonelle ave | North Bergen | NJ | 7047 |
| SUMA | 1201 Jersey Avenue | North Brunswick | NJ | 8902 |
| SUHE | 239 Old New Brunswick Road Dock 7&8 | Piscataway | NJ | 8854 |
| SUWB | 150 Ethel Road West | Piscataway | NJ | 8854 |
| EWR4 | 50 New Canton Way | Robbinsville | NJ | 08691-2350 |
| PNE2 | 18 Applegate Dr. | Robbinsville | NJ | 08691-2342 |
| SUOE | 74 Kenny Pl | Saddle Brook | NJ | 07663-5916 |
| VUME | 200 Docks Corner Road | South Brunswick | NJ | 8810 |
| VUKI | 400 Arlington Blvd | Swedesboro | NJ | 8085 |
| IVSD | 800 Arlington Blvd | Swedesboro | NJ | 8085 |
| ACY1 | 240 Mantua Grove Road | West Deptford | NJ | 8066 |
| IVSC | 1225 Forest Parkway | West Deptford | NJ | 8066 |
| RNO1 | 1600 East Newlands Drive | Fernley | NV | 89408-8903 |
| LAS6 | 4550 Nexus Way | Las Vegas | NV | 89115 |
| ICSF | 2821 MARION DR STE 109 | LAS VEGAS | NV | 89115 |
| IVSE | 2951 MARION DR UNIT 101 | LAS VEGAS | NV | 89115 |
| RNO3 | 555 Milan Drive | McCarran | NV | 89434 |
| RNO4 | 8000 North Virginia Street | Reno | NV | 89506 |
| JFK9 | 80 Grumman Rd W | Bethpage | NY | 11714-5000 |
| TNY1 | 850 3rd Ave. | Brooklyn | NY | 11232 |
| SUGC | 175 Van Dyke St. | Brooklyn | NY | 11231-1079 |
| SUAZ | 1189 McDonald Ave | Brooklyn | NY | 11230 |
| SUHP | 45 Leone Lane | CHESTER | NY | 10918 |
| SUOP | 1673 NY-17M | Chester | NY | 10918 |
| SUPJ | 4737 van dam street | Long island City | NY | 11101 |
| SUOG | 19 Robert Pitt Drive | Monsey | NY | 10952 |
| SUOX | 19 Robert Pitt Drive STE 103 | Monsey | NY | 10952 |
| JFK2 | 7 W 34th St | New York | NY | 10001 |
| TNYA | 7 W 34th Street | New York | NY | 10001 |
| SUEB | 135 West 36th Street FL 13 | New York | NY | 10018 |
| VUQC | 2020 Ocean Avenue | Ronkonkoma | NY | 11779 |
| SUGA | 4060 Hylan Blvd | Staten Island | NY | 10308 |
| SUBD | 81 Christopher St | Staten Island | NY | 10303 |
| SBU1 | 100 Nicolas Road | Stony Brook | NY | 11794 |
| CAK1 | 290 E Exchange Street | Akron | OH | 44304 |
| CLE6 | 23371 Aurora Road | Bedford Heights | OH | 44146 |
| CIN1 | 241 Calhoun St | Cincinnati | OH | 45219 |
| CLE1 | 2020 Euclid Ave | Cleveland | OH | 44115 |
| SUAB | 2800 CORPORATE EXCHANGE DRIVE | Columbus | OH | 43231 |
| OSU1 | 2114 N. High Street | Columbus | OH | 43201 |
| UOH2 | 3563 Interchange Rd | Columbus | OH | 43204 |
| XLAE | 5330 Crosswind Dr | Columbus | OH | 43228 |
| SUAS | 2800 Corporate Exchange Drive | Columbus | OH | 43231 |
| CMH1 | 11903 National Road SW | Etna | OH | 43062 |
| CMH2 | 6050 Gateway Court | Groveport | OH | 43125-9016 |
| SUPC | 503 West High St | Hicksville | OH | 43526 |
| SUHO | 355 Tomahawk Drive Suite3 | Maumee | OH | 43537 |
| CMH3 | 700 GATEWAY BLVD MONROE | Monroe | OH | 45050 |
| POH1 | 1901 BEGGROW RD | LOCKBOURNE | OH | 43137-7566 |
| VUHG | 28625 Fountain Parkway | Solon | OH | 44139 |
| VUPW | 8778 Le St Dr | West Chester | OH | 45014-2260 |
| SUJE | 5124 Cleveland Rd | Wooster | OH | 44691 |
| OKC9 | 1155 Babbitt Rd. | Euclid | OH | 44132 |
| CLE2 | 21500 Emery Rd | Randall | OH | 44128 |
| BDL3 | 409 Washington Avenue | North Haven | CT | 6473 |
| SUOW | 9655 SW Sunshine CT | Beaverton | OR | 97005 |
| SUOS | 9655 SW SUNSHINE CT | BEAVERTON | OR | 97005 |
| SUAY | 10020 S Gibson Rd | Molalla | OR | 97038 |
| POR1 | 1131 SW Jefferson | Portland | OR | 97201 |
| VUOL | 14005 North Lombard | Portland | OR | 97203 |
| TOR1 | 2104 NW York Street | Portland | OR | 97210 |
| HIO9 | 23677 NM Huffman St. | Hillsboro | OR | 97124 |
| PDX6 | 15000 N. Lombard St | Portland | OR | 97203 |
| PDX7 | 4775 Depot Ct SE | Salem | OR | 97317-8983 |
| PDX9 | 1250 NW Swigert Way | Troutdale | OR | 97060 |
| VUGJ | 4275 Fritch Dr | Bethlehem | PA | 18020 |
| ABE3 | 650 Boulder Drive | Breinigsville | PA | 18031-1536 |
| ABE2 | 705 Boulder Drive | Breinigsville | PA | 18031-1533 |
| XUSC | 40 Logistics Dr | Carlisle | PA | 17013-7901 |
| MDT1 | 2 Ames Drive | Carlisle | PA | 17015 |
| PHL6 | 675 Allen Rd. | Carlisle | PA | 17015-7788 |
| PHL4 | 21 Roadway Dr | Carlisle | PA | 17015-8806 |
| VUGM | 597 Alexander Spring Rd. | Carlisle | PA | 17015 |
| VUGL | 1200 Distribution Drive | Carlisle | PA | 17013 |
| ABE4 | 1610 Van Buren Road | Easton | PA | 18045 |
| AVP3 | 298 1st Ave | Gouldsboro | PA | 18424-9492 |
| ABE9 | 100 Quality Circle | Harrisburg | PA | 17112 |
| ABE5 | 100 Quality Circle | Harrisburg | PA | 17112 |
| AVP1 | 550 Oak Ridge Road | Hazleton | PA | 18202-9361 |
| VUQE | 69 Green Mountain Road | Hazleton | PA | 18202 |
| XUSG | 9645 West Hills Court | Kutztown | PA | 19530 |
| PHL5 | 500 McCarthy Dr. | Lewisberry | PA | 17339-8725 |
| VUWB | 6373 Brackbill Blvd | Mechanicsburg | PA | 17050-2876 |
| PPA1 | 545 Oak Hill Road | Mountaintop | PA | 18707-2141 |
| SUOT | 3820 Hempland Rd | Mountville | PA | 17544 |
| SUOR | 3820 Hempland Rd | Mountville | PA | 17544 |
| SUBE | 921 E. Tolna Rd. | New Freedom | PA | 17349 |
| PEN1 | 3800 Locust Walk | Philadelphia | PA | 19104 |
| TPAA | 4101 Sansom St | Philadelphia | PA | 19104 |
| SUAH | 2901 Grant Ave | Philadelphia | PA | 19114 |
| SULX | 1728 Smallman St. | Pittsburgh | PA | 15222 |
| SUOY | 1728 Smallman St. | Pittsburgh | PA | 15222 |
| AVP8 | 250 Enterprise Way | Pittston | PA | 18640-5000 |
| VAVP | 250 Enterprise Way | Pittston | PA | 18640-5000 |
| VUAV | 1 Commerce Road | Pittston | PA | 18640 |
| AVP6 | 1 Commerce Rd | Pittston | PA | 18640-9509 |
| VUGP | 234 Walnut Bottom Road | Shippensburg | PA | 17257 |
| VUPH | 9300 Olde Scotland Road | Shippensburg | PA | 17257 |
| SCE1 | 134 South Allen St | State College | PA | 16801 |
| VUBF | 575 Old Forge Road | Union Township | PA | 17963 |
| VUGA | 508 Delaware Ave | West Pittston | PA | 18643 |
| SULF | 170 Longs Pond Rd | Lexington | SC | 29072 |
| XUSU | | Rock Hill | SC | 29730 |
| GSP1 | 402 John Dodd Rd | Spartanburg | SC | 29303-6312 |
| CAE3 | 222 Old Wire Road | West Columbia | SC | 29172 |
| CAE1 | 4400 12 Street Extension | West Columbia | SC | 29172-3300 |
| MEM1 | 3292 E. Holmes Rd | Memphis | TN | 38118 |
| CHA2 | 225 Infinity Dr NW | Charleston | TN | 37310-1400 |
| CHA1 | 7200 Discovery Drive | Chattanooga | TN | 37416-1757 |
| BNA1 | 14840 Central Pike | Lebanon | TN | 37090-8119 |
| BNA2 | 500 Duke Dr | Lebanon | TN | 37090-8123 |
| XLAJ | 3440 Meyers Rd | Memphis | TN | 38108 |
| BNA3 | 2020 Joe B Jackson Pkwy | Murfreesboro | TN | 37127-7792 |
| TTN1 | 410 Harding Industrial Dr. | Nashville | TN | 37211 |
| TTNA | 410 Harding Industrial Dr. | Nashville | TN | 37211 |
| XSP1 | 1115 Vaughn Parkway | Portland | TN | 37148 |
| SUOZ | 359 Pike Court | La Porte | TX | 77571 |
| TEX1 | Gregory Gym, 2101 Speedway | Austin | TX | 78712 |
| TTX2 | 2209 Rutland Dr | Austin | TX | 78758 |
| HOU3 | 31555 Highway 90E | Brookshire | TX | 77423 |
| TAM1 | 2800 South Texas Avenue | Bryan | TX | 77802 |
| UTX8 | 2800 S Texas Avenue | Bryan | TX | 77802 |
| SUAD | 100 Syble Jean Dr. | Burleson | TX | 76028 |
| SUHT | 1809 W. Frankford Rd | Carrollton | TX | 75007 |
| DFW6 | 940 W Bethel Road | Coppell | TX | 75019-4424 |
| FTW7 | 944 W Sandy Lake Rd | Coppell | TX | 75019 |
| TTX4 | 6627 Maple Avenue | Dallas | TX | 75235 |
| FTW1 | 33333 LBJ Freeway | Dallas | TX | 75241 |
| VUPO | 4808 Mountain Creek Parkway | Dallas | TX | 75236 |
| FTW8 | 3351 Balmorhea Dr. | Dallas | TX | 75241-7304 |
| XLAF | 1600 Roe St | Dallas | TX | 75215 |
| SUSE | 188 County Road 4226 | Decatur | TX | 76234 |
| FTW2 | 2701 West Bethel Road | Dallas | TX | 75261 |
| DFW1 | 2700 Regent Blvd | DFW Airport | TX | 75261 |
| DAL6 | 4601 Gold Spike | Fort Worth | TX | 76106 |
| FTW3 | 15201 Heritage Pkwy | Fort Worth | TX | 76177-2517 |
| UTX7 | 4601 Gold Spike Drive | Fort Worth | TX | 76106 |
| XUSB | 14900 Frye Rd | Fort Worth | TX | 76155-2726 |
| DFW7 | 700 Westport Parkway | Fort Worth | TX | 76177-4513 |
| VUBI | 501 Meacham Blvd | Fort Worth | TX | 76106 |
| VUPZ | 4800 Henrietta Creek Rd | Fort Worth | TX | 76177 |
| FTW6 | 2601 W Bethel Road | Dallas | TX | 75261-4034 |
| ITX1 | 9851 Fallbrook Pines | Houston | TX | 77064-3329 |
| ITX2 | 6811 Fairbanks N Houston Road | Houston | TX | 77040-1437 |
| IAH6 | 8401 Fallbrook Drive | Houston | TX | 77064 |
| TTX3 | 4221 Way Out West Drive | Houston | TX | 77092 |
| HTX1 | 4221 Way Out West Drive | Houston | TX | 77092 |
| HTX2 | 4221 Way Out West Drive | Houston | TX | 77092-1455 |
| HOU2 | 10550 Ella Boulevard | Houston | TX | 77090 |
| SUOF | 6605 Roxburgh Dr. Suite 400 | Houston | TX | 77041 |
| DFW9 | 2700 Regent Blvd | Irving | TX | 75063 |
| SUBG | 28651 Cranford Sage Ln | Katy | TX | 77494 |
| PTX1 | 2101 Danieldale Road | Lancaster | TX | 75134-1551 |
| LBB1 | 2407 9th Street | Lubbock | TX | 79401 |
| VUHE | 3401 Innovative Way | Mesquite | TX | 75149 |
| TTX5 | 4848 Perrin Creek 680 | San Antonio | TX | 78217 |
| SAT2 | 1401 E McCarty Lane | San Marcos | TX | 78666-8969 |
| SAT1 | 6000 Enterprise Avenue | Schertz | TX | 78154-1461 |
| VUPJ | 101 Mars Road | Wilmer | TX | 75172 |
| SUGB | 5283 N State Hwy 6 | Woodway | TX | 76712 |
| SUOI | 870 North 100 East | Lehi | UT | 84043 |
| SLC1 | 777 N 5600 W | Salt Lake City | UT | 84116 |
| SUSJ | 8427 South Old Bingham Hwy | West Jordan | UT | 84088 |
| SUCE | 8427 S. Old Bingham Hwy | West Jordan | UT | 84088 |
| SUBL | 582 S 1100 W | Woods Cross | UT | 84087 |
| SULU | 582 S 1100 W | Woods Cross | UT | 84087 |
| ORF1 | 3516 South Military Hwy. | Chesapeake | VA | 23323 |
| RIC2 | 1901 Meadowville Technology Pkwy | Chester | VA | 23836-2841 |
| BWI4 | 165 Business Blvd | Clear Brook | VA | 22624 |
| RIC1 | 5000 Commerce Way | Petersburg | VA | 23803-6917 |
| BWI6 | 5617 Industrial Drive | Springfield | VA | 22151-4410 |
| BWI1 | 45121 Global Plaza, Sterling | Sterling | VA | 20166 |
| SULC | 1345 Taylor Farms Road | Virginia Beach | VA | 23453 |
| RIC9 | 11600 N Lakeridge Pkwy | Ashland | VA | 23005 |
| UTX4 | PO Box 80387 | Seattle | WA | 98108 |
| ISE2 | 1227 124th Ave NE | Bellevue | WA | 98004 |
| SEA8 | 1227 124th Ave NE | Bellevue | WA | 98004 |
| BFI3 | 2700 Center Drive | DuPont | WA | 98327-9607 |
| SULA | 1380 Stonegate Way | Ferndale | WA | 98248 |
| SUNA | 4179 70th Ave East | Fife | WA | 98424 |
| BFI6 | 20202, 84th Avenue South | Kent | WA | 98032 |
| HWA3 | 20202 84th AVE S | Kent | WA | 98032 |
| ISE5 | 20202 84th Ave South | Kent | WA | 98032 |
| VUPM | 22001 84th Avenue | Kent | WA | 98032 |
| BFI4 | 21005 64th Ave S | Kent | WA | 98032 |
| ISE8 | 20202 84th Ave South | Kent | WA | 98032 |
| XLAI | 7650 S 228th St | Kent | WA | 98032 |
| HWA1 | 11710 118th Ave NE | Kirkland | WA | 98034 |
| HWA2 | 20529 24th Ave S | SeaTac | WA | 98198-5518 |
| TWA0 | 13537 Aurora Ave N | Seattle | WA | 98133 |
| UWA4 | 76 S Lander Street | Seattle | WA | 98134 |
| FSE2 | 5100 15th Ave NW | Seattle | WA | 98107 |
| FSE3 | 76 South Lander Street | Seattle | WA | 98134 |
| SEA6 | 2646 Rainier Ave. South | Seattle | WA | 98144-5331 |
| SUXA | 345 Boren Ave N | Seattle | WA | 98109 |
| SUXC | 345 Boren Ave N | Seattle | WA | 98109 |
| SUZC | 345 Boren Ave N | Seattle | WA | 98109 |
| SUZB | 345 Boren Ave N | Seattle | WA | 98109 |
| SUZA | 345 Boren Ave N | Seattle | WA | 98109 |
| ISE1 | 2131 7th Ave | Seattle | WA | 98121 |
| SUED | 229 N Ella Rd | Spokane Valley | WA | 99212 |
| BFI1 | 1800 140th Avenue E. | Sumner | WA | 98390-9624 |
| BFIX | 1800 140th Ave E | Sumner | WA | 98390-9624 |
| BFI7 | 1901 140th Ave E | Sumner | WA | 98390 |
| PWA1 | 1800 140TH AVE E | SUMNER | WA | 98390-9624 |
| TIW1 | One Sitcum Plaza | Tacoma | WA | 98421 |
| SULD | 2020 Prairie Ln | Eau Claire | WI | 54703 |
| MKE1 | 3501 120th Ave | Kenosha | WI | 53144 |
| MKE9 | 11211 Burlington Road | Kenosha | WI | 53144 |
| SBX2 | 4718 Helgesen Drive | Madison | WI | 53718-6740 |
| SUPA | 412 Technology Drive E. | Menomonie | WI | 54571 |
| SUPB | 412 Technology Drive E. | Menomonie | WI | 54751 |
| UWI1 | 4111 W Mitchell Street | Milwaukee | WI | 53215 |
| VUHF | 11111 80TH AVE | Pleasant Prairie | WI | 53158 |
| UNV2 | 1945 E RUSSELL RD SUITES 201-204 | Las Vegas | NV | 89119 |
| TUS2 | 6701 S KOLB RD | Tuscon | AZ | 85756 |
| XBSP | 15750 Mountain Ave | CHINO | CA | 91708 |
| VAEO | 20526 59th Place S. | Kent | WA | 98032 |
| VUQN | 1711 S 4650 W | Salt Lake City | UT | 84104 |
| VUQM | 441 Masters Boulevard | Anderson | SC | 29626 |
| ASE3 | 20526 59th Place South | Kent | WA | 98032 |
| PPH3 | 2306 South Street | PHILADELPHIA | PA | 19146-1122 |
| ISE6 | 307 Fairview Avenue North | Seattle | WA | 98109 |
| ICH5 | 111 E Wacker Dr | Chicago | IL | 60601 |
| DCA2 | 5250 Goodman Way | Eastvale | CA | 91752-5088 |
| DEV1 | 6050 E Marginal Way S | SEATTLE | WA | 98108-3235 |
| DNJ1 | 380 Middlesex Ave | CARTERET | NJ | 07008-3445 |
| FTW9 | 944 West Sandy Lake Road | COPPELL | TX | 75019-3989 |
| SDC1 | 6885 Commercial Dr. | SPRINGFIELD | VA | ??_x0080_22151-4202 |
| SIL1 | 17051 S Cicero Avenue | Country Club Hills | IL | 60478 |
| SMA1 | 10 Creek Brook Drive | Haverhill | MA | 01832-1548 |
| STN1 | 10 Dell Parkway | NASHVILLE | TN, | 37217-2830 |
| STX2 | 1625 HUTTON DR | CARROLLTON | TX | 75006-6610 |
| SWA1 | 607 Riverside Road | EVERETT | WA | 98201-1206 |
| XIX3 | 1400 SOUTHPORT PKWY BLDG 7 | WILMER | TX | 75172-1265 |
| XIX4 | 5155 Citation Drive | MEMPHIS | TN | 38118-7830 |
| XIX5 | 11211 Burlington Road | KENOSHA | WI | 53144-7449 |
| SAZ1 | 3333 S 7TH ST | PHOENIX | AZ | 85040-1182 |
| ACY2 | 1101 E PEARL ST | BURLINGTON | NJ | 08016-1934 |
| CMH6 | 3538 TRADEPORT CT | LOCKBOURNE | OH | 43137-9670 |
| CMH4 | 1550 W. Main Street | WEST JEFFERSON | OH | 43162-9747 |
| XEW1 | 380 Middlesex Ave | Carteret | NJ | 7008 |
| OKC1 | 9201 S Portland Avenue | OKLAHOMA CITY | OK | 73159 |
| SLC3 | 355 North JOHN GLENN RD | Salt Lake City | UT | 84116-4413 |
| MDT3 | 460 Research Drive | PITTISON | PA | 18640-6152 |
| BHM1 | 975 Powder Plant Rd | BESSEMER | AL | 35022-5497 |
| CLT4 | 8000 TUCKASEEGEE RD | CHARLOTTE | NC | 28214 |
| SFL1 | 7469 KINGSPOINTE PKWY | ORLANDO | FL | 32819-8587 |
| RIC3 | 4949 Commerce Road | RICHMOND | VA | 23234-2207 |
| GRR1 | 4199 68th Street SE | CALEDONIA | MI | 49316-9191 |
| STL8 | 4000 Premier Parkway | SAINT PETERS | MO | 63376-3447 |
| SCK1 | 4532 NEWCASTLE RD | STOCKTON | CA | 95215-9465 |
| SFO3 | 5250 NEWCASTLE RD | STOCKTON | CA | 95215-8345 |
| LAX9 | 11263 Oleander Ave | FONTANA | CA | 92337 |
| JAX6 | 2619 IGNITION DR | JACKSONVILLE | FL | 32218 |
| ORD3 | 24101 S Frontage Rd W | CHANNAHON | IL | 60410 |
| IND9 | 1151 S GRAHAM RD | GREENWOOD | IN | 46143-7830 |
| MEM2 | 191 NORFOLK SOUTHERN WAY | BYHALIA | MS | 38611-2306 |
| DAL3 | 1301 Chalk Hill Road | DALLAS | TX | 75211 |
| FDN1 | 80 Grumman Rd | BETHPAGE | NY | 11714 |
| VUTH | 25451 Mountain House Pkwy | TRACY | CA | 95377 |
| VUGR | 1565 N Mac Arthur Dr. | TRACY | CA | 95376 |
| KUS3 | No.1, Gangtong Road, Meishan Free Trade Port Area | Ningbo | US | 315832 |
| VUQP | 655 E Park St | LOCK HAVEN | PA | 17745 |
| VUCB | 5197 Commerce Drive | YORK | PA | 17408 |
| VUQI | 512 Liberty Expressway | Albany | GA | 31705 |
| TNC1 | 300 Dalton Ave. | CHARLOTTE | NC | 28206-3118 |
| TNV2 | 1945 E. Russell Rd | LAS VEGAS | NV | 89119-2706 |
| IUSA | 1001 W Walnut St | Compton | CA | 90220-5111 |
| UGA4 | 2232 Northmont Parkway | DULUTH | GA | 30096 |
| VUWI | 4015 Lakeview Corporate Drive | EDWARDSVILLE | IL | 62025 |
| UAZ1 | 500 S 48th St | Phoenix | AZ | 85034-3101 |
| UMN1 | 763 Kasota Ave | Minneapolis | MN | 55414-2842 |
| UTX3 | 4221 Way Out West Drive | Houston | TX | 77092-1455 |
| UIN1 | 710 S. Girls School Road | Indianapolis | IN | 46231-1132 |
| UCA6 | 2727 Kurtz St | San Diego | CA | 92110-3109 |
| UGA2 | 2302 MARIETTA BLVD NW | ATLANTA | GA | 30318-1327 |
| VUTG | 100 E MILLSDALE RD | Elwood | IL | 60421 |
| HCA9 | 455 VALLEY DR | BRISBANE | CA | 94005-1209 |
| INT2 | 275 Omar Avenue | AVENEL | NJ | 07001-2240 |
| IDT1 | 13905 Crayton Blvd | HAGERSTOWN | WA | 21742-3690 |
| UTN1 | 410 Harding Industrial Dr. | Nashville | TN | 37211 |
| UCA4 | 2006 McGaw Avenue | Irvine | CA | 92614 |
| UMA4 | 201 Beacham St | Chelsea | MA | 2150 |
| UCA1 | 888 Tennessee St | San Francisco | CA | 94107 |
| UNY1 | 850 3rd Ave. | Brooklyn | NY | 11232 |
| UFL4 | 7469 Kingspointe Parkway | Orlando | FL | 32819 |
| UNC2 | 3200 Bush Street | Raleigh | NC | 27609 |
| UWA1 | 11710 118th Ave NE Building B | Kirkland | WA | 98034 |
| UFL6 | 3200 NW 67th Avenue | MIAMI | FL | 33122 |
| FDL3 | 24208 SAN MICHELE RD | MORENO VALLEY | CA | 92551-9561 |
| UFL5 | 4769 Oak Fair Blvd | TAMPA | FL | 33610 |
| UFL7 | 6843 S Conway Rd | ORLANDO | FL | 32812 |
| ULA1 | 635 8th St | SAN FERNANDO | CA | 91340 |
| ULA2 | 4278 N. Harbor Blvd. | FULLERTON | CA | 92835 |
| UMN2 | 6105 Trenton Ln N | MINNEAPOLIS | MN | 55442 |
| UNV3 | 2951 N Marion Dr Suite 101-103 | Las Vegas | NV | 89115 |
| UNY2 | 1080 Leggett Ave | BRONX | NY | 10474 |
| UNY3 | 57-00 49th Place | MASPETH | NY | 11378 |
| USC2 | 2400 McClellan Park Dr | SACRAMENTO | CA | 95838 |
| USF3 | 1911 Lundy Ave | SAN JOSE | CA | 95131 |
| UTX9 | 4616 W Howard Lane | AUSTIN | TX | 78728 |
| UWA5 | 18323 Andover Park W., Bldg. 6 | SEATTLE | WA | 98188 |
| UNC3 | 4525 Statesville Ave | CHARLOTTE | NC | 28269 |
| UOH4 | 4401 Equity Dr | COLUMBUS | OH | 43228 |
| UOH5 | 8660 Jacquemin Drive | West Chester | OH | 45069 |
| UOR2 | 5015 NW FRONT AVE | PORTLAND | OR | 97210-1105 |
| USC1 | 3640 Ramos Dr | WEST SACRAMENTO | CA | 95691-6401 |
| USF1 | 750 Laurelwood Road | SANTA CLARA | CA | 95054 |
| USF2 | 1700 Fairway Dr | SAN LEANDRO | CA | 94577 |
| UVA4 | 4100 Tomlynn St | RICHMOND | VA | 23230 |
| UVA5 | 492 Central Dr | VIRGINIA BEACH | VA | 23454 |
| VUQO | 1800 Steward Rd | Rochelle | IL | 61068 |
| XIX6 | 10681 Production Ave | San Bernardino | CA | 92337-8006 |
| AKC1 | 2450 ROMIG RD | AKRON | OH | 44320-3827 |
| ALB1 | 1835 US ROUTE 9 | Castleton | NY | 12033 |
| ATL2 | 2255 W PARK PLACE BLVD | STONE MOUNTAIN | GA | 30087 |
| BFC1 | 380 Middlesex Ave | CARTERET | NJ | 07008-3445 |
| BFL1 | 1601 Petrol Road | BAKERSFIELD | CA | 93308 |
| GEG1 | 10010 West Geiger Boulevard | Spokane | WA | 99224 |
| GSO1 | 1656 OLD GREENSBORO RD | KERNERSVILLE | NC | 27284 |
| KRB1 | 555 E ORANGE SHOW RD | SAN BERNARDINO | CA | 92408 |
| LAS1 | 12300 Bermuda Road | HENDERSON | NV | 89044 |
| MCO2 | 2600 N Normandy Blvd | Deltona | FL | 32725-2610 |
| MKE2 | 9700 S 13th Street | OAK CREEK | WI | 53154 |
| MSP4 | 10608 HUDSON RD | WOODBURY | MN | 55129-9113 |
| PCW1 | 9278 Bass Pro Blvd | ROSSFORD | OH | 43551 |
| PIT2 | 101 N CAMPUS DR | IMPERIAL | PA | 15126-2402 |
| PSP1 | 1010 W Fourth St. | BEAUMONT | CA | 92223-2684 |
| RDU1 | 4851 Jones Sausage Rd | GARNER | NC | 27529-9438 |
| SAX1 | 4041 PECK RD | EL MONTE | CA | 91732-2246 |
| SAX2 | 2246 S GRAND AVE | SANTA ANA | CA | 92705-5210 |
| SCA2 | 12453 SAN PABLO AVE | RICHMOND | CA | 94805-1954 |
| SCA3 | 10 N MAIN ST | MILPITAS | CA | 95035-4342 |
| SCA4 | 16915 VIA DEL CAMPO | SAN DIEGO | CA | 92127-1717 |
| SCA5 | 1120 EXPOSITION BLVD | SACRAMENTO | CA | 95815-4328 |
| SCA6 | 3096 MCCLINTOCK AVE | LOS ANGELES | CA | 90089-3504 |
| XIX7 | 555 E ORANGE SHOW RD | SAN BERNARDINO | CA | 92408-2453 |
| SCO1 | 6050 Washington Street | Denver | CO | 80216-1285 |
| SDC2 | 2 UNIVERSITY BLVD W | SILVER SPRING | MD | 20901-2438 |
| SFL2 | 1125 SE 8th Street, Suite 100 | Hialeah | FL | 33010 |
| SFL3 | 6901 N Hiatus Rd | Tamarac | FL | 33321 |
| SGA1 | 4925 Avalon Ridge Parkway | Norcross | GA | 30071-1571 |
| SIL2 | 7555 Linder Avenue | Skokie | IL | 60077 |
| SLA5 | 5250 Goodman Way | Eastvale | CA | 91752-5088 |
| SLA6 | 5250 GOODMAN WAY | EASTVALE | CA | 91752-5088 |
| SLC2 | 7148 W OLD BINGHAM HWY | West Jordan | UT | 84081 |
| SMA2 | 267 MAIN ST | MILFORD | MA | 01757-2503 |
| SMD1 | 7200 Dorsey Run Rd | ELKRIDGE | MD | 21075-6884 |
| SNJ1 | 5 Dedrick Place | West Caldwell | NJ | 07006-6304 |
| SNY1 | 2294 ADAM CLAYTON POWELL JR BLVD | NEW YORK | NY | 10030-2804 |
| SNY2 | 9210 ATLANTIC AVE | OZONE PARK | NY | 11416-1517 |
| ULA6 | 5119 District Blvd | LOS ANGELES | CA | 90058-5512 |
| USF4 | 455 Valley Drive | BRISBANE | CA | 94005 |
| UWA6 | 20202 84th AVE S | KENT | WA | 98032 |
| UCA9 | 2934 Ramona Ave | Sacramento | CA | 95826-3848 |
| UVA3 | 2263 Dabney Road | Richmond | VA | 23230-3343 |
| UTX5 | 4848 Perrin Creek #680 | San Antonio | TX | 78217-3744 |
| UTX2 | 2209 Rutland Drive | Austin | TX | 78758 |
| UOR1 | 2104 NW York Street | Portland | OR | 97210 |
| ULA6 | 5119 District Blvd | Los Angeles | CA | 90058-5512 |
| TOH1 | 5845 Highland Ridge Drive | Cincinnati | OH | 45232-1441 |
| SWA2 | 1905 Raymond Ave | RENTON | WA | 98057-2621 |
| SVA1 | 99 S 6TH ST | RICHMOND | VA | 23219-3801 |
| STX5 | 10710 RESEARCH BLVD STE 200 | AUSTIN | TX | 78759-5780 |
| STX4 | 10611 Red Bluff Road | Pasadena | TX | 77505 |
| STX3 | 4445 Rock Quarry Rd #400 | Dallas | TX | 75211-1409 |
| SPA1 | 1300 N BROAD ST | PHILADELPHIA | PA | 19121-4303 |
| SNY3 | 153 NOTCH RD | CLIFTON | NJ | 07013-3234 |
| TUL2 | 4040 North 125th East Avenue | TULSA | OK | 74116-2102 |
| UPA1 | 4101 Sansom St | Philadelphia | PA | 19104-3021 |
| UVA1 | 5617 Industrial Dr | Springfield | VA | 22151-4410 |
| UCA2 | 2400 Marine Avenue | Redondo Beach | CA | 90278-1103 |
| UIL1 | 1111 N CHERRY AVE | CHICAGO | IL | 60642-4204 |
| UWA2 | 13537 Aurora Ave N. | Seattle | WA | 98133 |
| UCA3 | 11800 West Olympic Blvd | Los Angeles | CA | 90064-1100 |
| UMD1 | 5501 Holabird Ave | Baltimore | MD | 21224 |
| MAB1 | 6245 Topanga Canyon Blvd | Woodland Hills | CA | 91367 |
| MAE1 | 399 Fairview Ave North | SEATTLE | WA | 98109 |
| MAB9 | 13752 Jamboree Rd | Irvine | CA | 92602 |
| ICH2 | 222 W Merchandise Mart Plaza | Chicago | IL | 60654 |
| ICH6 | 130 E Randolph St | Chicago | IL | 60601 |
| UCA7 | 222 Commercial St | Sunnyvale | CA | 94085 |
| UCA8 | 3100 San Pablo Ave | Berkeley | CA | 94702 |
| TMI1 | 900 Oakwood St. | YPSILANTI | MI | 48197 |
| IBF1 | 1501 Boylston Ave | Seattle | WA | 98122 |
| TFL5 | 8792 Ely Rd | PENSACOLA | FL | 32514 |
| XUXC | 12415 OLD LAGRANGE RD | LOUISVILLE | KY | 40245-1959 |
| VUCT | 13401 ASHMORE LN | NORTHLAKE | TX | 76262 |
| VUCG | 1595 Oakley Industrial Blvd | FAIRBURN | GA | 30213 |
| ICH4 | 227 West Monroe St | CHICAGO | IL | 60606 |
| KNJ2 | 400 ARLINGTON BLVD | SWEDESBORO | NJ | 08085-1293 |
| AFW1 | 1511 W LOOP 820 N | FORT WORTH | TX | 76108-9755 |
| TPA3 | 676 C Fred Jones Blvd | Auburndale | FL | 33823 |
| AZA4 | 3333 N 59TH AVE | PHOENIX | AZ | 85043 |
| BDL6 | 120 County Line Drive | CROMWELL | CT | 6416 |
| BFI2 | 1800 140th Avenue E | SUMNER | WA | 98390-9624 |
| BOI2 | 5295 E. Franklin Road | NAMPA | ID | 83687 |
| CSG1 | 280 BRIDGEPORT PKWY | MORELAND | GA | 30259-2867 |
| DAL2 | 2601 S. Airfield Drive | DFW AIRPORT | TX | 75261 |
| DCA6 | 6001 BETHLEHEM BLVD | Baltimore | MD | 21219 |
| DEN7 | 22300 E 26th Avenue | AURORA | CO | 80019 |
| DEV2 | 6050 E Marginal Way S | SEATTLE | WA | 98108-3235 |
| DSM5 | 500 32nd Street SW | BONDURANT | IA | 50035 |
| GYR1 | 605 S BULLARD AVE | GOODYEAR | AZ | 85338 |
| GYR3 | 8181 W ROOSEVELT ST | PHOENIX | AZ | 85043-2356 |
| HOU7 | 16225 TOMBALL PKWY, BLDG A | HOUSTON | TX | 77064 |
| JVL1 | 1255 Gateway Blvd | BELOIT | WI | 53511 |
| KRB2 | 7000 HARDWARE DR | PRINCE GEORGE | VA | 23875-3041 |
| LGB9 | 4375 N Perris Blvd | PERRIS | CA | 92571 |
| MEM4 | 4055 NEW ALLEN RD | MEMPHIS | TN | 38128-2712 |
| MEM6 | 11505 Progress Way | OLIVE BRANCH | MS | 38654 |
| MQJ1 | 4498 W 300 N | GREENFIELD | IN | 46140-7099 |
| ORD2 | 23714 W Amoco Rd | CHANNAHON | IL | 60410-8758 |
| QAE1 | 2121 7th Ave. | SEATTLE | WA | 98121-5114 |
| RDG1 | 3530 MOUNTAIN RD | HAMBURG | PA | 19526-7948 |
| SBD2 | 1494 S WATERMAN AVE | SAN BERNARDINO | CA | 92408-2805 |
| SCK3 | 3565 N AIRPORT WAY | MANTECA | CA | 95336-8696 |
| TPA6 | 3400 NW 35th Avenue Road | OCALA | FL | 34475 |
| XIX8 | 235 HOG MOUNTAIN RD | JEFFERSON | GA | 30549-2009 |
| XLX1 | 3931 Lakeview Corporate Dr | EDWARDSVILLE | IL | 62025 |
| INY3 | 300 Park Ave | NEW YORK | NY | 10022 |
| VUAC | 1670 Champagne Ave | ONTARIO | CA | 91761-3612 |
| MQJ2 | 19 BOB GLIDDEN BLVD | WHITELAND | IN | 46184-9108 |
| MAC1 | 3116 S. Rt. 59, suite #104 | Naperville | IL | 60564 |
| MAB4 | 5101 Lankershim Blvd. | Los Angeles | CA | 91601 |
| MAB5 | 19340 Rinaldi St. | Northridge | CA | 91326 |
| VUCF | 1467 Perryman Rd | ABERDEEN | MD | 21001 |
| VUCA | 702 Commerce Drive | University Park | IL | 60484 |
| FDP1 | 4000 McClaren Woods Dr, | CORAOPOLIS | PA | 15108 |
| BFN1 | 6001 BETHLEHEM BLVD | SPARROWS POINT | MD | 21219-2504 |
| HMW1 | 30260 S GRAASKAMP BLVD | WILMINGTON | IL | 60481-2007 |
| HNE1 | 2205 STATE Rte. 27 | EDISON | IL | 08817-3313 |
| HNW1 | 20529 24th Ave S | SEATAC | WA | 98198 |
| HSE1 | 13905 Crayton Blvd | HAGERSTOWN | MD | 21742-3690 |
| RDG2 | 270 MIDWAY RD | BETHEL | PA | 19507-9517 |
| SBD3 | 5990 N Cajon Blvd | SAN BERNARDINO | CA | 92407 |
| TEN1 | 1002 PATRIOT PKWY | READING | PA | 19605-2874 |
| TEN2 | 1590 TAMARIND AVE | RIALTO | CA | 92376-3008 |
| TTN2 | 343 HALF ACRE RD | CRANBURY | NJ | 08512-3253 |
| XBW1 | 5300 Nottingham Rd. | NOTTINGHAM | MD | 21236 |
| XEW2 | 6855 SHANNON PKWY | UNION CITY | GA | 30291-2009 |
| XSF1 | 2250 Promontory Pkwy | TRACY | CA | 95377 |
| XLA2 | 6725 Kimball Ave | Chino | CA | 91708 |
| VUWR | 2301 W. Bernardino Ave. | REDLANDS | CA | 92374 |
| KPA1 | 200 W STEWART HUSTON DR | COATESVILLE | PA | L4W 0B2 |
| VHNA | 1160 N. Linden Ave | RIALTO | CA | 92376 |
| VHNB | 21005 64th Avenue South | KENT | WA | 98032 |
| VHNC | 11999 National Rd SW | Etna | OH | 43062 |
| VHND | 1700 SPARROWS POINT BLVD | SPARROWS POINT | MD | 21219 |
| VHNE | 2601 West Bethel Rd | DFW Airport | TX | 75019 |
| VHNF | 6521 Monee Manhattan Rd | MONEE | IL | 60449 |
| MAC7 | 16 E Golf Rd | Schaumburg | CA | 91367 |
| MAB2 | 3903 Factoria Blvd | Bellevue | WA | 98006 |
| MAB6 | 2309 S. Jackson St | Seattle | WA | 98144 |
| MAE6 | 15225 Whittier Blvd | Whittier | CA | 90603 |
| MAE4 | 4101 W 95th St | Oak Lawn | IL | 60453 |
| ICH1 | 135 S LaSalle St. | Chicago | IL | 60603 |
| ICH3 | 500 W. Madison | Chicago | IL | 60661 |
| INY1 | 200 Vesey Street | New York | NY | 10281 |
| INY4 | 599 Lexington Avenue | New York | NY | 10022 |
| ILG2 | 405 Lexington Ave | New York | NY | 10174 |
| INY6 | 30 Rockefeller Plaza | New York | NY | 10112 |
| INY9 | 165 Broadway | New York | NY | 10006 |
| INY7 | 11 W. 42nd St. | New York | NY | 10036 |
| INY5 | 315 Park Avenue South | New York | NY | 10010 |
| ISF1 | 300 California St. | San Francisco | CA | 94104 |
| ISF2 | 98 Post St. | San Francisco | CA | 94104 |
| ISF5 | 575 Market St | San Francisco | CA | 94105 |
| ISF4 | 3 Embarcadero Center | San Francisco | CA | 94111 |
| ISF3 | 845 Market St | San Francisco | CA | 94103 |
| ISE7 | 920 5th Avenue | Seattle | WA | 98104 |
| ISE9 | 1122 Madison | Seattle | WA | 98104 |
| XUXD | 5000 Shelbyville Rd | Louisville | KT | 40207 |
| VUGT | 17789 Harvill Avenue | PERRIS | CA | 92570 |
| XUSI | 101 Broome Corporate Pkwy Conklin | CONKLIN | NY | 13748 |
| HSF9 | 44051 OSGOOD RD | FREEMONT | CA | 94539 |
| FLJ1 | Plot No-88,89,90, 91 Bamnoli Village | New Delhi | WA | 98109 |
| FLJ2 | Nishat Nagor | Tongi | WA | 98109 |
| XUSS | 502 10th Ave. Algona | AUBURN | WA | 98001 |
| HJX9 | 2780 LLOYD RD | JACKSONVILLE | FL | 32254 |
| HDA9 | 2701 W. Bethel Rd. | COPPELL | TX | 75019 |
| HPH9 | 298 1ST AVE | GOULDSBORO | PA | 18424-9492 |
| HPD9 | 15000 N LOMBARD | PORTLAND | OG | 97203-6814 |
| HCM9 | 3538 TRADEPORT CT | LOCKBOURNE | OH | 43137-9670 |
| HAT9 | 2201 Thornton Road, | Lithia Springs | GE | 30122-3895 |
| HLA9 | 4375 N Perris Blvd. | PERRIS | CA | 92571 |
| HRC9 | 4949 Commerce Rd. | RICHMOND | VA | 23234-2207 |
| HDT9 | 12795 Premier Ctr. Ct | PLYMOUTH | MN | 48170 |
| HTP9 | 3400 NW 35th Ave. Rd. | OCALA | FL | 34475 |
| RSC1 | 1651 California St | Redlands | CA | 92374 |
| MAB3 | 10354 Fairfax Blvd | Fairfax | VA | 22030 |
| MAG | 3404 W Army Trail Rd | Bloomingdale | IL | 60188 |
| MAC2 | 1100 S Harbor Blvd | Fullerton | CA | 92832 |
| ABQ1 | 12907 Tempur Pedic Pkwy. NW | ALBUQUERQUE | NM | 87120-8674 |
| AGS1 | 2150 DISCOVERY DR | APPLING | Georgia | 30802-0078 |
| AGS2 | 429 Toy Wright Rd. | Jefferson | Georgia | 30549-1614 |
| ASH1 | 267 LOWELL RD | HUDSON | NH | 03051-4937 |
| AUS2 | 2000 E PECAN ST | PFLUGERVILLE | TX | 78660 |
| AUS3 | 1618 EXCHANGE PKWY | WACO | TX | 76712-6903 |
| BFL2 | 4500 Express Ave | SHAFTER | CA | 93263 |
| BUR7 | 11200 Iberia St. | MIRA LOMA | CA | 91752-3265 |
| DEN4 | 4222 Integration Loop | COLORADO SPRINGS | CO | 80916-5766 |
| DET3 | 1200 FEATHERSTONE RD | PONTIAC | CI | 48342-1938 |
| DEV3 | 6050 E MARGINAL WAY S | SEATTLE | WA | 98108-3235 |
| DPA7 | 9851 9851 FALLBROOK PINES DR # 150 | HOUSTON | TX | 77064-3329 |
| FAT2 | 2525 N PLAZA DR | VISALIA | CA | 93291-9308 |
| FOE1 | 9700 LEAVENWORTH RD | KANSAS CITY | KS | 66109-3551 |
| FTW5 | 1500 AKRON WAY | FORNEY | TX | 75126-2300 |
| GYR2 | 17017 W INDIAN SCHOOL RD | GOODYEAR | AZ | 85395-9223 |
| HEA1 | 9 Livingstone St | DORCHESTER CENTER | MA | 02124-3903 |
| HEA2 | 311Ella St | PITTSBURGH | PA | 15224-1806 |
| HGR2 | 1280 Wessel Blvd | HAGERSTOWN | MD | 21740 |
| HIL3 | 30260 Graaskamp Blvd | WILMINGTON | IL | 60481-2007 |
| HMD3 | 13905 Crayton Blvd | HAGERSTOWN | MD | 21742-2386 |
| HMW3 | 6651 Chippewa St | SAINT LOUIS | MO | 63109-2538 |
| HMW4 | 263 E Whittier St | COLUMBUS | OH | 43206-2323 |
| HOU6 | 10507 HARLEM RD | RICHMOND | TX | 77407-9563 |
| HOU9 | 22525 CLAY RD | KATY | TX | 77449 |
| HWE1 | 14 S. Massachusetts st | SEATTLE | WA | 98134-1148 |
| HWE2 | 9830 SE Washington st | SEATTLE | WA | 98134-1148 |
| IAH1 | 9155 SOUTHLINK DR | DALLAS | TX | 75241-7510 |
| IAH2 | 9155 SOUTHLINK DR | DALLAS | TX | 75241-7510 |
| ICT2 | 6960 N BROADWAY AVE | PARK CITY | KA | 67219-1402 |
| IGQ1 | 15924 WESTERN AVE | MARKHAM | IL | 60428-4849 |
| IGQ2 | 23289 S CENTRAL AVE | MONEE | IL | 60449-9138 |
| JAX7 | 10501 Cold Storage Rd | JACKSONVILLE | FL | 32218 |
| KRB4 | 4501 PATTERSON AVE | PERRIS | CA | 92571-9722 |
| LIT1 | 7200 Zeuber Rd. | LITTLE ROCK | AZ | 72206 |
| LUK7 | 649 OMEGA PKWY | SHEPHERDSVILLE | KY | 40165-8501 |
| MCI2 | 14500 BOTTS RD | KANSAS CITY | MO | 64147-1302 |
| MEM3 | 1615 COMMERCE PKWY N | HORN LAKE | MI | 38637-2313 |
| MMU9 | 698 Rte. 46 W. | TETERBORO | NJ | 7608 |
| MQY1 | 6060 GOLDEN BEAR GTWY | MOUNT JULIET | TN | 37122-1413 |
| MTN1 | 801 BOXWOOD RD | WILMINGTON | DE | 19804-2041 |
| MTN7 | 913 OLD PHILADELPHIA RD | ABERDEEN | MD | 21001-4024 |
| OAK9 | 6250 PROMONTORY PKWY | TRACY | CA | 95377-8457 |
| ORD5 | 7001 VOLLMER RD | MATTESON | IL | 60443-1502 |
| ORF2 | 5045 PORTSMOUTH BLVD | CHESAPEAKE | VT | 23321-1425 |
| ORF3 | 2020 NORTHGATE COMMERCE PKWY | SUFFOLK | VT | 23435-2142 |
| PBI2 | 14680 Pk. of Commerce blvd | JUPITER | FL | 33478 |
| SAN3 | 6971 OTAY MESA RD | SAN DIEGO | CA | 92154-5722 |
| SBD1 | 3388 S Cactus Ave | BLOOMINGTON | CA | 92316 |
| SCK4 | 6401 S Austin Rd | STOCKTON | CA | 95215 |
| SFL4 | 6337 Country Road 579 | Seffner | FL | 33584 |
| SGA2 | 1707 Blairs Bridge Rd | Lithia Springs | GA | 30122-3120 |
| SIL3 | 27W501 North Ave, Suite 100 | West Chicago | IL | 60185 |
| SMF6 | 6900 AIRPORT BLVD | SACRAMENTO | CA | 95837-1109 |
| SMN1 | 7500 Setzler Parkway | BROOKLYN PARK | MN | 55445-1879 |
| SNJ2 | 344 Hurffville Crosskeys rd | SEWELL | NJ | 08080-9202 |
| SNJ3 | 86 Stemmers Lane | Westampton | NJ | 8060 |
| SOH1 | 601 Lakeshore Ave OH | CLEVELAND | OH | 44114-1015 |
| SOR3 | 530 SW 2nd Ave | PORTLAND | OR | 97204-3431 |
| STX6 | Parmer Lane and SH 130 | Austin | TX | 78724 |
| SWF1 | 635 INTERNATIONAL BLVD | ROCK TAVERN | NY | 12575-5150 |
| SYR1 | 7211 MORGAN RD | CLAY | NY | 13090-4534 |
| TEB4 | 742 COURSES LANDING RD | PENNS GROVE | NJ | 08069-2956 |
| TEN3 | 800 N 75TH AVE | PHOENIX | AZ | 85043-2101 |
| TMB8 | 13720 SW 272ND ST | HOMESTEAD | FL | 33032-7847 |
| XLX2 | 3565 N AIRPORT WAY | MANTECAA | CA | 95336-8696 |
| XLX3 | 4375 N Perris Blvd | PERRISA | CA | 92571 |
| XLX4 | 4701 Commerce Rd. | RICHMOND | VA | 23234 |
| RPNV | 4950 Joule St. | RENO | NJ | 89502 |
| RRPR | 1910 International Way | HEBRON | KT | 41048 |
| RCLJ | 3540 BIRTCHER DR | LAS VEGAS | NV | 89119 |
| RPNC | 165 One Genesis Way | SPRUCE PINE | NC | 28777 |
| RTPX | 2700 Story Road West | IRVING | TX | 75038 |
| IBF7 | 15230 NE 24th St | Redmond | WA | 98052 |
| VUJC | 9606 West Hills Ct Suite A | KUTZTOWN | PA | 19530 |
| VUH1 | 0200 AMARGOSA RD | HESPERIA | CA | 92345-0200 |
| VUH2 | 2001 Commerce Parkway | FRANKLIN | IN | 46131 |
| VUH3 | 101 ONEIL ROAD | SIDNEY | NY | 13838 |
| VUH4 | 2830 E Philadelphia Street | ONTARIO | CA | 91761 |
| VUH5 | 800 W Stephens St | ARLINGTON | TX | 76017 |
| VUH6 | 5900 Long Creek Park Dr | CHARLOTTE | NC | 28269 |
| VUH7 | 3355 E Cedar St | ONTARIO | CA | 91761 |
| VUH8 | 4433 Fyler Avenue | SAINT LOUIS | MO | 63116 |
| VUH9 | 2325 Cottonwood Ave | RIVERSIDE | CA | 92508 |
| VUI1 | 909 E 236th St | CARSON | CA | 90745 |
| VUI2 | 101 Center Point Drive | ROCHELLE | IL | 61068 |
| VUI3 | 17150 Mercury St. | OLATHE | KS | 66061 |
| VUI4 | 303 Nelson Avenue | NEOSHO | MO | 64850 |
| VUI5 | 13133 Innovation Way | VICTORVILLE | CA | 92395 |
| VUI6 | 15835 San Antonio Ave. | CHINO | CA | 91708 |
| VUI7 | 2801 North Houston School Road | LANCASTER | TX | 75134 |
| VUI8 | 212 Progress Blvd | KENT | OH | 44240 |
| VUJ2 | 13052 Jurupa Ave | FONTANA | CA | 92337 |
| VURY | 670 N Perkins St | Appleton | WI | 54914 |
| HEW9 | HEW9 343 HALF ACRE RD | CRANBURY | NJ | 08512-3253 |
| VUMF | 500 PALMETTO LOGISTICS PKWY | PALMETTO | GA | 30268 |
| USD1 | 9269 Lightwave Ave | SAN DIEGO | CA | 92123 |
| VUTF | 16047 Mountain Ave | CHINO | CA | 91708 |
| MAG1 | 6855 S La Cienega Blvd | Los Angeles | CA | 90045 |
| MAC9 | 6235 E Spring St | Long Beach | CA | 90808 |
| MAF4 | 140 Promenade Way CA | Westlake Village | CA | 91362 |
| MAG6 | 7005 Manchester Blvd | Franconia | VA | 22310 |
| MAF1 | 5463 Wisconsin Ave | Chevy Chase Village | MD | 20815 |
| XUXZ | 5540 minor lane | LOUISVILLE | KY | 40219 |
| KCA6 | 1553 N Alder Ave | RIALTO | CA | 92376-3024 |
| KCA8 | 1553 N Alder Ave | RIALTO | CA | 92376-3024 |
| KGA6 | 3201 Centre Parkway | ATLANTA | GA | 30344 |
| KGA8 | 3201 Centre Parkway | ATLANTA | GA | 30344 |
| KIL6 | 3900 S Brandon Rd | ELWOOD | IL | 60421-9705 |
| KIL8 | 3900 S Brandon Rd | ELWOOD | IL | 60421-9705 |
| KMA6 | 400 ARLINGTON BLVD | SWEDESBORO | NJ | 08085-1293 |
| KMA8 | 400 ARLINGTON BLVD | SWEDESBORO | NJ | 08085-1293 |
| KTX6 | 1901 W AIRFIELD DR | DALLAS | TX | 75261-4033 |
| KTX8 | 1901 W AIRFIELD DR | DALLAS | TX | 72561-4033 |
| SNC3 | 5 National Way | DURHAM | NC | 27703 |
| TEB9 | 601 Randolph Rd. | SOMERSET | NJ | 8873 |
| UNY4 | 80 Grumman Rd W | BETHPAGE | NY | 11714 |
| IBF3 | 1920 Terry Ave N | SEATTLE | WA | 98101 |
| XUSW | 7911 S 188th St. No. 103 | KENT | WA | 98032 |
| XUST | 3251 De Forest Circle | MIRA LOMA | CA | 91752 |
| MAG3 | 404 W Army Trail Rd | BLOOMINGDALE | IL | 60188 |
| KRB3 | 8181 W ROOSEVELT ST | PHOENIX | AZ | 85043-2356 |
| LFT1 | 3620 NW EVANGELINE TRWY | CARENCRO | LA | 70520-5941 |
| LIT2 | 13001 HIGHWAY 70 | NORTH LITTLE ROCK | AR | 72117-5026 |
| MSP6 | 9800 217th Street West | LAKEVILLE | MN | 55044-8510 |
| OKC2 | 8991 Portland Avenue | OKLAHOMA CITY | OK | 73159 |
| OMA2 | 14248 HIGHWAY 370 | OMAHA | NE | 68138-4098 |
| OXR1 | 3100 Sakioka Dr | OXNARD | CA | 93030-8966 |
| POD1 | 560 Merrimac Avenue | MIDDLETOWN | DE | 19709 |
| POD4 | 14601 Grant Street | THORNTON | CO | 80023 |
| RAD1 | 3818 LOGISTICS WAY | ANTIOCH | TN | 37013-4189 |
| SAT4 | 10384 W US HIGHWAY 90 | SAN ANTONIO | TX | 78245-9512 |
| SAT6 | 1346 Fortuna Road | SAN MARCOS | TX | 78666 |
| SAX3 | 1245 N SPRING ST | LOS ANGELES | CA | 90012-1838 |
| SAX4 | 5239 N FIGUEROA ST | LOS ANGELES | CA | 90042-4018 |
| SAX5 | 725 CROCKER ST | LOS ANGELES | CA | 90021-1411 |
| SIN9 | 305 Chaney Ave. | GREENWOOD | IN | 46143 |
| SMF7 | 4800 Midway Road | VACAVILLE | CA | 95688-9602 |
| SMI1 | 1400 E 10 MILE RD | HAZEL PARK | MI | 48030-1263 |
| SNC2 | 10622 BRYTON CORPORATE CENTER DR | HUNTERSVILLE | NC | 28078-0654 |
| SNC3 | 5 NATIONAL DR | DURHAM | NC | 27703-9950 |
| SNV1 | 5115 DEAN MARTIN DR STE 101 | LAS VEGAS | NV | 89118-1744 |
| SNY4 | 274 36TH ST | BROOKLYN | NY | 11232-2408 |
| SNY5 | 4-09 47TH RD | LONG ISLAND CITY | NY | 10007-0009 |
| SOH2 | 472 E PETE ROSE WAY | CINCINNATI | OH | 45202 |
| STL3 | 3200 E Sawyer Rd | BROOKLINE | MO | 65619 |
| STX7 | 3660 Thousand Oaks Dr | SAN ANTONIO | TX | 78247-3123 |
| SUT1 | 6338 West 700 North | SALT LAKE CITY | UT | 84116 |
| SWI1 | 3025 W HOPKINS ST | MILWAUKEE | WI | 53216-2650 |
| TON3 | 5540 Mino Lane | LOUISVILLE | KY | 40219 |
| TPA4 | 8706 HARNEY RD | TEMPLE TERRACE | FL | 33637-6716 |
| VGT1 | 5802 E Tropical Parkway | LAS VEGAS | NV | 89115 |
| VGT2 | 6401 Howdy Wells Ave | LAS VEGAS | NV | 89115 |
| ZAP1 | 9101 Minor Lane | LOUISVILLE | KY | 40219 |
| ZAP2 | 9101 Minor Lane | LOUISVILLE | KY | 40219 |
| ZAP3 | 12415 OLD LAGRANGE RD | LOUISVILLE | KY | 40245-1959 |
| UNY5 | 55 Bay St Brooklyn | BROOKLYN | NY | 11231 |
| VUJE | 355 Byrd Avenue | NEENAH | WI | 54956 |
| ARR1 | 4200 FERRY RD | AURORA | IL | 60502-9552 |
| ASH2 | 15 STEELE RD | HUDSON | NH | 03051-5223 |
| BDL4 | 1215 KENNEDY RD | WINDSOR | CT | 06095-1345 |
| BFI9 | 3230 INTERNATIONAL PL | DUPONT | WA | 98327-7707 |
| CLT6 | 12220 Carolina Logistics Drive | PINEVILLE | NC | 28134 |
| DTW3 | 33701 Prescott Road | ROMULUS | MI | 48174 |
| ELP1 | 12101 EMERALD PASS DR | EL PASO | TX | 79928-7808 |
| FAR1 | 3701 40TH AVE N | FARGO | ND | 58102-7400 |
| FWA4 | 9800 SMITH RD | FORT WAYNE | IN | 46809-9771 |
| GEG2 | 18007 E Garland Ave | SPOKANE | WA | 99216 |
| HGA6 | 97 PEACHTREE ST SW | ATLANTA | GA | 30303-3409 |
| HNC3 | 1850 E 3RD ST | CHARLOTTE | NC | 28204-3238 |
| HOU8 | 2303 Hurricane Lane | FRESNO | TX | 77545 |
| HSF6 | 1401 GRIFFITH ST | SAN FRANCISCO | CA | 94124-3400 |
| HSV1 | 0 Greenbrier Parkway | MADISON | AL | 35756 |
| HTN3 | 555 EXPRESSWAY PARK DR | NASHVILLE | TN | 37210-2845 |
| HTX3 | 1755 FEDERAL RD | HOUSTON | TX | 77015-6794 |
| HWA4 | 2101 N NORTHLAKE WAY | SEATTLE | WA | 98103-9122 |
| ILG1 | 780 S. DuPont Highway | NEW CASTLE | DE | 19720 |
| Jan1 | 219 MADISON COUNTY PKWY | CANTON | MS | 39046-2100 |
| LDJ5 | 526 Gulf Avenue, Staten Island | NEW YORK | NY | 10314 |
| DII4 | 9751 Massachusetts Drive | CROWN POINT | IN | 46307 |
| WSP1 | 315 S Lincoln St | LOWELL | AR | 72745 |
| DPP7 | 177 McClaren Rd | Coraopolis | PA | 15108 |
| FSD1 | 6700 N Marion Rd | Sioux Falls | SD | 57107 |
| DPS2 | 400 National Way | Simi Valley | CA | 93065 |
| DSX5 | 11503 Interstate 35 Access Rd | Von Ormy | TX | 78073 |
| ACY8 | 8 Campus Dr | Burlington | NJ | 8016 |
| DFL7 | 8100 FL-33 | Lakeland | FL | 33809 |
| RDU5 | 1805 TW Alexander Dr | Durham | NC | 27703 |
| DBA7 | 16604 Industrial Ln | Williamsport | MD | 21795 |
| BWI5 | 5501 Holabird Ave | Baltimore | MD | 21224 |
| TCY9 | 4500 Wilbur Ave | Oakley | CA | 94561 |
| DGE4 | 1500 Crossgate Rd | Port Wentworth | GA | 31407 |
| DLT3 | 413 Goodman Rd | Concord | NC | 28027 |
| LGB5 | 555 E Orange Show Rd | San Bernardino | CA | 92408 |
| SAZ2 | 10601 W Van Buren St | Tolleson | AZ | 85353 |
| VAZ2 | 10601 W Van Buren St | Tolleson | AZ | 85353 |
| WQQ1 | 7300 Meridian Pl NW | Albuquerque | NM | 87121 |
| DCX1 | 7227 Central Ave | Riverside | CA | 92504 |
| MCE1 | 3200 Fulkerth Rd | Turlock | CA | 95380 |
| DVB1 | 7440 Commercial Cir | Fort Pierce | FL | 34951 |
| BNA8 | 120 Darrell Waltrip Dr | Lebanon | TN | 37090 |
| VNC3 | 125 National Wy | Durham | NC | 27703 |
| DRT7 | 1201 N Greenfield Pkwy | Garner | NC | 27529 |
| CVG5 | 2285 Litton Ln | Hebron | KY | 41048 |
| CVG9 | 2305 Litton Ln | Hebron | KY | 41048 |
| DFH7 | 13450 SW Anthony F. Sansone Sr. Blvd | Port St. Lucie | FL | 34987 |
| DMD8 | 9 Jay Gould Ct | Waldorf | MD | 20602 |
| OLM1 | 3300 Hogum Bay Rd NE | Lacey | WA | 98516 |
| DYO5 | 7120 Main St | Trumbull | CT | 6611 |
| DAL9 | 1400 Southport Pkwy | Wilmer | TX | 75172 |
| CLT9 | 3620 Reeves Ridge Dr | Charlotte | NC | 28214 |
| FWA6 | 5510 Flaugh Rd | Fort Wayne | IN | 46818 |
| SCK6 | 1500 E Grant Line Rd | Tracy | CA | 95304 |
| HDC3 | 270 Midway Rd | Bethel | PA | 19507 |
| HOU5 | Grand Pkwy | Katy | TX | 77449 |
| TCY5 | Promontory Pkwy | Tracy | CA | 95377 |
| SLC9 | 808 6550 W | Salt Lake City | UT | 84116 |
| DTN7 | 342 Mason Rd | La Vergne | TN | 37086 |
| MCI9 | 2299 S Withers Rd | Liberty | MO | 64068 |
| MSP9 | 9001 Wyoming Ave N | Brooklyn Park | MN | 55445 |
| XLX7 | 18580 Gateway Dr | Victorville | CA | 92394 |
| BOI5 | 2201 Freight St | Boise | ID | 83716 |
| DYX2 | 526 Gulf Ave | Staten Island | NY | 10314 |
| DYY6 | 566 Gulf Ave | Staten Island | NY | 10314 |
| DYY4 | 12595 Flatlands Ave | Brooklyn | NY | 11208 |
| DAB5 | 270 Richards St | Brooklyn | NY | 11231 |
| DBK4 | 55-15 Grand Ave | Queens | NY | 11378 |
| DTU3 | 2550 N. Nevada Street | Chandler | AZ | 85225 |
| DPX7 | 3405 S McQueen Rd | Chandler | AZ | 85286 |
| HPX3 | 1343 North Colorado St | Gilbert | AZ | 85233 |
| DTU9 | 3115 N. Higley Road | Mesa | AZ | 85215 |
| DAZ2 | 2050 East Riverview Drive | Phoenix | AZ | 85034 |
| DTU8 | 3003 South 38th Street | Phoenix | AZ | 85040 |
| HPX2 | 3333 S 59th Avenue | Phoenix | AZ | 85043 |
| DTU6 | 500 W Pinnacle Peak Rd | Phoenix | AZ | 85027 |
| DPX8 | 7875 W. Buckeye Road | Phoenix | AZ | 85043 |
| DTU7 | 13200 N Litchfield Rd | Surprise | AZ | 85379 |
| DPX4 | 1516 W 17th St | Tempe | AZ | 85281 |
| HTC1 | 5990 South Country Club Road, Suite 180 | Tucson | AZ | 85706 |
| DTU2 | 775 West Silverlake Road | Tucson | AZ | 85713 |
| DLR2 | 12401 I-30 | Little Rock | AR | 72002 |
| HLI1 | 400 Sharkey Drive, Maumelle | Little Rock | AR | 72113 |
| DFO9 | 300 Boone Drive | American Canyon | CA | 94558 |
| DCX8 | 1256 North Magnolia Avenue | Anaheim | CA | 92801 |
| DXC3 | 3370 La Palma Ave | Anaheim | CA | 92806 |
| HLA1 | 5650 Dolly Ave | Buena Park | CA | 90621 |
| DUR1 | 2995 N. Hollywood Way | Burbank | CA | 91504 |
| DOT4 | 3001 & 3175 Mission Oaks Blvd | Camarillo | CA | 93012 |
| DJW8 | 35750 Date Palm Drive | Cathedral City | CA | 92234 |
| DAX3 | 20730 Prairie Street | Chatsworth | CA | 91311 |
| DIB5 | 860 Harold Place | Chula Vista | CA | 91914 |
| DAX5 | 15930 Valley Blvd | City of Industry | CA | 91744 |
| DLX9 | 5750 Mesmer Avenue | Culver City | CA | 90230 |
| DLX7 | 6450 Katella Avenue | Cypress | CA | 90630 |
| DPS1 | 4187 Temple City Blvd, Pasadena | El Monte | CA | 91770 |
| DSR4 | 9051 Union Park Way | Elk Grove | CA | 95624 |
| HSF2 | 44051 Osgood Rd | Fremont | CA | 94539 |
| DXC5 | 44109, 44208, & 44308 Pacific Commons Boulevard | Fremont | CA | 94538 |
| HFA2 | 3523 S Northpointe Dr | Fresno | CA | 93725 |
| DSJ5 | 5440 East Olive Avenue | Fresno | CA | 93727 |
| DLA8 | 2815 W. El Segundo Blvd | Hawthorne | CA | 90250 |
| DJC5 | 1551 Citation Way | Hollister | CA | 95023 |
| DFX9 | 14952 Bolsa Chica St | Huntington Beach | CA | 92647 |
| DFO3 | 400 Longfellow Ct | Livermore | CA | 94550 |
| DLX5 | 4841 West Fernando Road | Los Angeles | CA | 90039 |
| DAX7 | 9350 Rayo Avenue | Los Angeles | CA | 90280 |
| DSR6 | 2400 McClellan Park Drive | McAllen | CA | 95652 |
| DUR3 | 224 N. McCarthy Blvd | Milpitas | CA | 95035 |
| DSF7 | 807 N. McCarthy Boulevard | Milpitas | CA | 95035 |
| DCX2 | 25725 Jeronimo Rd | Mission Viejo | CA | 92691 |
| DSD3 | 901 Bay Marina Drive | National City | CA | 91950 |
| DSJ9 | 5800 Coliseum Way | Oakland | CA | 94621 |
| DFO2 | 4000 Wilbur Ave. | Oakley | CA | 94509 |
| DAX8 | 600 W Technology Drive | Pamdale | CA | 93551 |
| DIB6 | 1895 Marigold Avenue | Redlands | CA | 92374 |
| DSF8 | 2995 Atlas Road | Richmond | CA | 94806 |
| DSF6 | 6015 Giant Road | Richmond | CA | 94806 |
| DSR7 | 7601 Foothills Blvd | Roseville | CA | 95747 |
| DSM4 | 3640 Ramos Dr STE 100 | Sacramento | CA | 95691 |
| DSD1 | 16550 Via Esprillo | San Diego | CA | 92127 |
| HSD2 | 8150 Airway Road | San Diego | CA | 92154 |
| DCK6 | 749 Toland Street | San Francisco | CA | 94124 |
| DXC8 | 1710 Little Orchard Rd | San Jose | CA | 95125 |
| DCX5 | 970 Mclaughlin Avenue | San Jose | CA | 95122 |
| DLX8 | 515 East Dyer Road | Santa Ana | CA | 92707 |
| HLA2 | 21420 Needham Ranch Parkway Bldg 6 | Santa Clarita | CA | 91321 |
| DPS6 | 1757 Tapo Canyon Road | Simi Valley | CA | 93063 |
| DFA5 | 400-438 Littlefield Ave | South San Francisco | CA | 94080 |
| DCK1 | 2403 West Louise Avenue | Stockton (Manteca) | CA | 95337 |
| DUR9 | 27711 Diaz Rd | Temecula | CA | 92590 |
| DDO6 | 2751 Skypark Dr | Temecula | CA | 92591 |
| DCX7 | 950 Francisco St | Torrance | CA | 90502 |
| DPS5 | 28820 Chase Place | Valencia | CA | 91355 |
| DFX4 | 15272 Bear Valley Rd | Victorville | CA | 92395 |
| DSD5 | 3250 Business Park Dr | Vista | CA | 92081 |
| DSM4 | 3620 Ramos Drive | West Sacramento | CA | 95691 |
| DDV5 | 2889 Himalaya Road | Aurora | CO | 80011 |
| DDV3 | 400 W 160th Ave | Broomfield | CO | 80023 |
| DCS3 | 4303 Grinnell Blvd | Colorado Springs | CO | 80916 |
| DEN9 | 875 West 64th Avenue | Denver | CO | 80221 |
| DDV2 | 900 East 128th Ave. | Denver | CO | 80241 |
| DDV4 | 12675 Liberty Boulevard | Englewood | CO | 80112 |
| DON3 | 4555 E 37th St | Loveland | CO | 80538 |
| DBL1 | 71 Horizon Drive | Bristol | CT | 06010 |
| DBL8 | 8-24 Old Sherman Tpke | Danbury | CT | 06810 |
| HBD1 | 65 Holmes Rd | Hartford | CT | 06111 |
| DCY9 | 48 Boston Post Rd | Orange | CT | 06477 |
| DOB4 | 600 Long Beach Blvd | Stratford | CT | 06615 |
| DOB2 | 425 S. Cherry Street | Wallingford | CT | 06492 |
| DCY1 | 100 Helmsford Way | Windsor | CT | 06095 |
| DPH4 | 1500 Johnson Way | Wilmington | DE | 19720 |
| DMD6 | 7226 Preston Gateway Drive | Hanover | DC | 21076 |
| DFL5 | 3000 Shelby Industrial Drive | Apopka | FL | 32703 |
| DMO6 | 700 Banyan Trail | Boca Raton | FL | 33431 |
| DMO4 | 3880 Mason Ave | Daytona Beach | FL | 32114 |
| HRS1 | 7916 Drew Circle | Fort Meyers | FL | 33967 |
| DJX8 | 16300 Lee Road | Fort Myers | FL | 33967 |
| DFH1 | 6499 NW 12 Ave | Ft. Lauderdale | FL | 33309 |
| DFL3 | 2121 NW 67th | Gainesville | FL | 32653 |
| DFL8 | 19961 Independence Drive | Groveland | FL | 34736 |
| DJX1 | 11084 Cabot Commerce Circle (Bldg. 4) | Jacksonville | FL | 32226 |
| DJX3 | 250 Busch Dr. East | Jacksonville | FL | 32218 |
| HJX1 | 2780 Lloyd Rd | Jacksonville | FL | 32254 |
| DJX2 | 4645 Blanding Blvd | Jacksonville | FL | 32210 |
| DMI9 | 13320 SW 132nd Ave | Kendall | FL | 33186 |
| DVB4 | 1111 Southwest 30th Avenue | Miami | FL | 33442 |
| DVB7 | 3000 Northwest 123rd Street | Miami | FL | 33167 |
| HMI2 | 3340 NW 67th Ave Bldg 8 | Miami | FL | 33122 |
| DMI6 | 6703 NW 7th St. | Miami | FL | 33126 |
| DMF5 | 13450 NW 14th St | Miami | FL | 33182 |
| DMF1 | 5700 NW 37th Avenue | Miami | FL | 33142 |
| DFM4 | 8760 Davis Blvd | Naples | FL | 34104 |
| DMO3 | 1216 S Orange Blossom Trail | Orlando | FL | 32805 |
| DFL4 | 4401 Seaboard Rd | Orlando | FL | 32808 |
| HMO2 | 8050 Vista Reserve | Orlando | FL | 32829 |
| DMO7 | 9775 Air Commerce Pky | Orlando | FL | 32827 |
| DMF3 | 2800 N Andrews Ave Ext | Pompano Beach | FL | 33064 |
| DFM5 | 2200 Tallevast Road | Sarasota | FL | 34243 |
| DTP7 | 1003 North Taylor Road | Seffner | FL | 33584 |
| HTP1 | 9799 International Ct N | St. Petersburg | FL | 33716 |
| DMF8 | 13133 34th Street N. | Tampa | FL | 33762 |
| DTP9 | 6384 Harney Road | Tampa | FL | 33610 |
| DFM3 | 770 Commerce Dr | Venice | FL | 34292 |
| DMI7 | 6711 Belevdere | West Palm Beach | FL | 33413 |
| DGT8 | 6020 Shiloh Road | Alpharetta | GA | 30005 |
| DAT6 | 7055 Campbellton Rd | Atlanta | GA | 30331 |
| HAT2 | 7520 Factory Shoals Rd | Austell | GA | 30168 |
| DGE9 | 5000 Lanier Islands Pkwy | Buford | GA | 30518 |
| DTG5 | 6945 Button Gwinnett Dr NW | Doraville | GA | 30340 |
| DGT2 | 4000 Venture Drive | Duluth | GA | 30096 |
| DGE7 | 2125 Anvil Block Rd | Forest Park | GA | 30294 |
| DAT9 | 5705 Highway 92 | Forest Park | GA | 30213 |
| HSA1 | 2367 Tremont Rd | Savannah | GA | 31405 |
| HBI1 | 3920 E. Lanark Street, Suite 100 | Boise | ID | 83713 |
| DID2 | 6752 South Business Way | Boise | ID | 83716 |
| DLN3 | 1455 West Shure Drive | Arlington Heights | IL | 60004 |
| DLN4 | 10500 S Woodlawn Ave | Chicago | IL | 60628 |
| DIL3 | 3507 W 51st St | Chicago | IL | 60632 |
| DXH5 | 3523 South Ashland Ave | Chicago | IL | 60609 |
| DIL5 | 808 Discovery Dr West | Chicago | IL | 60185 |
| DLN2 | 1500 S Larame Ave | Cicero | IL | 60804 |
| DXH5 | 3800 Finley Road | Downers Grove | IL | 60515 |
| HCH3 | 540 Frontenac Ct Suite 104E | Naperville | IL | 60563 |
| DLN8 | 315 South Hicks Rd | Palantine | IL | 60067 |
| DLI5 | 5106 St Rte 111 | Pontoon Beach | IL | 62040 |
| DCH6 | 206 S. Pinnacle Dr | Romeoville | IL | 60446 |
| DIL7 | 3639 W Howard Street | Skokie | IL | 60076 |
| DIN6 | 8610 Avionics Drive | Fort Wayne | IN | 46809 |
| DIN8 | 7114 West 200 North | Greenfield | IN | 46140 |
| DIN4 | 1621 Collins Road | Greenwood | IN | 46143 |
| DII3 | 8325 N Norfols Street | Indianapolis | IN | 46268 |
| HIN3 | 3507 Olive Rd., Suite F | South Bend | IN | 46628 |
| DIN3 | 5545 Chet Waggoner Court | South Bend | IN | 46628 |
| DIA5 | 7310 SE Crosswinds Drive | Ankeny | IA | 50021 |
| DIA3 | 1301 SE Gateway Drive | Des Moines | IA | 50111 |
| HDS1 | 200 SE 37th St 460 | Grimes | IA | 50111-5196 |
| DIA4 | 2500 Heinz Road | Iowa City | IA | 52240 |
| HCI1 | 2500 Heinz Road | Iowa City | IA | 52240 |
| DKS3 | 10800 Mill Creek Road | Lenexa | KS | 66061 |
| DMC3 | 4054 Powell Drive | Shawnee | KS | 66226 |
| DKY5 | 1180 Newton Pike | Lexington | KY | 40511 |
| HLO1 | 4302 Chefs Way | Louisville | KY | 40218 |
| DKY8 | 3208 E Blue Lick Road | Shepherdsville | KY | 40165 |
| DLB2 | 11100 Honore Lane | Baton Rouge | LA | 70809 |
| HMY1 | 10057 West Airline Hwy | Saint Rose | LA | 70087 |
| DNO2 | 5733 Citrus Blvd | New Orleans | LA | 70123 |
| DBD5 | 15000 N Lombard St | Portland | OR | 97203 |
| DMD5 | 2100 Van Deman St | Baltimore | MD | 21224 |
| DMD2 | 2203 Lakeside Boulevard | Baltimore | MD | 21040 |
| HBA2 | 3510 Washington Blvd | Baltimore | MD | 21227 |
| DDW7 | 10406 Tucker St | Beltsville | MD | 20705 |
| DMD4 | 102 Fulfillment Drive | Edgewood | MD | 21040 |
| DLD1 | 7659 Solley Rd | Glen Burnie | MD | 21226 |
| DBA8 | 7021 Dorsey Rd | Hanover | MD | 21076 |
| DBA5 | 5801 Columbia Park Road | Hyattsville | MD | 20785 |
| DLD7 | 10100 Willowdale Road | Lanham | MD | 20706 |
| DDW1 | 14601 Sweitzner Ln | Laurel | MD | 20707 |
| DDC2 | 861 E Gude Dr | Rockville | MD | 20850 |
| DMD9 | 1000 Prince George's Blvd | Upper Marlboro | MD | 20774 |
| DCB8 | 351 Maple St | Bellingham | MA | 02019 |
| DAS8 | 110 Fordham Road | Boston | MA | 01887 |
| HBO1 | 350 Revolutionary Dr | Boston | MA | 02718 |
| DMH4 | 300 Dan Road | Canton | MA | 02021 |
| DBO2 | 480 Sprague St | Dedham | MA | 02026 |
| DBO1 | 201 Beacham St | Everett | MA | 02150 |
| DTB9 | 25 Computer Drive | Haverhill | MA | 01832 |
| DBO7 | 161 Lower Westfield Rd. | Holyoke | MA | 01040 |
| DKO1 | 151-153 Taylor Street | Littleton | MA | 01460 |
| DBO9 | 30 Commerce Blvd | Middleborough | MA | 02346 |
| DBO3 | 12 Industrial Rd | Milford | MA | 01757 |
| DCB4 | 750 Everett St. | Norwood | MA | 02062 |
| DAS9 | 50 Prestige Way | Plymouth | MA | 02360 |
| DMH9 | 135 American Legion Highway | Revere | MA | 02151 |
| DAS7 | 20 Colonial Road | Salem | MA | 01970 |
| DBC3 | 800 John Quincy Adams Rd | Taunton | MA | 02780 |
| DTB2 | 125 Goddard Memorial Drive | Worcester | MA | 01603 |
| DDT9 | 49000 Michigan Avenue | Canton | MI | 48188 |
| DDT3 | 28415 Automation Blvd. | Detroit | MI | 48393 |
| DGR8 | 3415 Northridge Dr NW | Grand Rapids | MI | 49544 |
| DGR6 | 3951 Trade Dr SE | Grand Rapids | MI | 49508 |
| HGR1 | 5199 68th St SE | Grand Rapids | MI | 49316 |
| DDT4 | 7009 W. Mt. Hope Hwy | Lansing | MI | 48917 |
| HDT2 | 12795 Premier Crt | Plymouth | MI | 48170 |
| DDT6 | 1300 Featherstone Road | Pontiac | MI | 48342 |
| DGR3 | 33600 Mound Road | Sterling Heights | MI | 48310 |
| DMS2 | 3130 Lexington Avenue South | Eagan | MN | 55121 |
| MSP7 | 10655 County Road 81 | Maple Grove | MN | 55369 |
| DMC4 | 2400 NE Coronado Drive | Blue Springs | MO | 64029 |
| DLI9 | 655 Assembly Pkwy | Fenton | MO | 63026 |
| DLI6 | 6201 Aviator Drive | Hazelwood | MO | 63042 |
| DLI3 | 3950 NW Helena Road | Riverside | MO | 64150 |
| DLI8 | 12000 Spencer Road | St. Peters | MO | 63376 |
| HOM1 | 5606 Lindbergh Dr. | Omaha | NE | 68110 |
| DOM2 | 9722 S 132nd St | Omaha | NE | 68138 |
| DLV4 | 11500 Bermuda Rd | Henderson | NV | 89052 |
| HLV1 | 3777 Marion Dr | Las Vegas | NV | 89115 |
| DLV7 | 650 E Owens Ave | Las Vegas | NV | 89030 |
| DLV2 | 1200 E Alexander Rd | North Las Vegas | NV | 89030 |
| HRN1 | 1316 Capital Blvd. | Reno | NV | 89502 |
| DLV3 | 9740 N Virginia Street | Reno | NV | 89506 |
| DNH2 | 400 Quality Drive | Hooksett | NH | 03106 |
| DBO6 | 10 State Street | Nashua | NH | 03063 |
| DJZ8 | 1 Paddock Street | Avenel | NJ | 07001 |
| DNK5 | 105 Avenue A | Bayonne | NJ | 07002 |
| DJE9 | 2471 Old York Road - Building 1 | Bordentown | NJ | 08505 |
| DNJ7 | 81 International Drive S | Budd Lake | NJ | 07828 |
| DYN5 | 10 Patton Drive | Caldwell | NJ | 07006 |
| DJZ2 | 600 Washington Avenue | Carlstadt | NJ | 07072 |
| DJZ3 | 377 Roosevelt Avenue | Carteret | NJ | 07008 |
| DJE5 | 1115 King Georges Post Rd | Edison | NJ | 08837 |
| DJE1 | 8-B Court South | Edison | NJ | 08817 |
| DJE6 | 79 Thomas McGovern Drive | Jersey City | NJ | 07305 |
| DJZ4 | 50 Central Avenue | Kearny | NJ | 07032 |
| DJR5 | 670 Belleville Turnpike | Kearny | NJ | 07032 |
| DEW5 | 10 Princess Road | Lawrence Township | NJ | 08648 |
| DJZ6 | 1800 Lower Rd | Linden | NJ | 07036 |
| DJR1 | 200 Gregg Street | Lodi | NJ | 07644 |
| DJE3 | 2320 Center Square Road | Logan Township | NJ | 08085 |
| DNJ2 | 555 Macarthur Blvd. | Mahwah | NJ | 07430 |
| DEY6 | 6 Farrington Boulevard | Monroe Township | NJ | 08831 |
| DEW2 | 630 Sullivan Rd, Suite 100 | New York | NJ | 07201 |
| DJZ5 | 429 Delancy Street | Newark | NJ | 07105 |
| DNK8 | 2341 State Route 66 | Ocean | NJ | 07712 |
| HPH1 | 1225 Forest Parkway Suite 100 West Deptford | West Deptford | NJ | 08066 |
| DJE2 | 1250 Forest Parkway | West Deptford | NJ | 08066 |
| HAL1 | 30B Post Rd | Albany | NY | 12205 |
| DAB4 | 1785 State Highway 5S | Amsterdam | NY | 12010 |
| DXY4 | 400 Oritani Dr | Blauvelt | NY | 10913 |
| DYO2 | 1055 Bronx River Ave | Bronx | NY | 10472 |
| DNJ3 | 1300 Viele Ave | Bronx | NY | 10474 |
| DYY5 | 1502 Bassett Avenue | Bronx | NY | 10461 |
| DBK6 | 2300 Linden Blvd | Brooklyn | NY | 11208 |
| DBU1 | 800 Riverwalk Pkwy | Buffalo | NY | 14150 |
| DBU3 | 2 Westbury Avenue | Carle Place | NY | 11514 |
| DBU9 | 1 Mustang Drive | Cohoes | NY | 12047 |
| DBU2 | 6834 Kirkville Rd | East Syracuse | NY | 13057 |
| HNY3 | 5 Warehouse Ln | Elmsford | NY | 10523 |
| DRO2 | 1200 Lexington Avenue | Greece | NY | 14606 |
| DYR7 | 717 Broadway Avenue | Holbrook | NY | 11741 |
| HNY2 | 1 Railroad Pl | Maspeth | NY | 11378 |
| DNK7 | 65 Baekeland Avenue | Middlex | NY | 08846 |
| HNY1 | 80 Grumman Rd | New York | NY | 11714 |
| DBK1 | 26-15 Brooklyn-Queens Expressway | Queens | NY | 11377 |
| HRO1 | 1777 E Henrietta Road | Rochester | NY | 14623 |
| DAB8 | 100 Precision Dr | Shirley | NY | 11967 |
| DYY9 | Robbins Ln and Long Island Expy | Syosset | NY | 11791 |
| HSY1 | 6804 Manlius Center Road | Syracuse | NY | 13057 |
| DYR3 | 245 Roger's Way | Westhampton Beach | NY | 11978 |
| DYO1 | 500 Hudson Valley | York | NY | 12553 |
| DLT1 | 3830 Parrott Drive | Charlotte | NC | 28214 |
| DLT8 | 9817 Old Statesville Road | Charlotte | NC | 28269 |
| DLT2 | 7929 National Service Rd | Colfax | NC | 27235 |
| DRT8 | 1275 Person Street | Durham | NC | 27703 |
| HRD2 | 805 South Briggs Avenue | Durham | NC | 27703 |
| DLT6 | 1610 Old Greensboro Road | Kernersville | NC | 27284 |
| DRT4 | 394 Fanning Fields Road | Mills River | NC | 28759 |
| DRT9 | 1000 & 1200 Innovation Avenue | Morrisville | NC | 27560 |
| DLT7 | 6495 Franz Warner Parkway | Whitsett | NC | 27377 |
| DCL2 | 2823 Gilchrist Rd | Akron | OH | 44305 |
| DCL4 | 24800 Miles Rd | Bedford | OH | 44128 |
| DCL9 | 1 American Road | Brooklyn | OH | 44144 |
| DKY4 | 3191 River Road | Cincinnati | OH | 45204 |
| HCN1 | 3525 Point Pleasant Rd | Cincinnati | OH | 41048 |
| DCL7 | 10801 Madison Ave | Cleveland | OH | 44102 |
| HCE2 | 23371 Aurora Rd | Cleveland | OH | 44146 |
| DCN2 | 510 Sunbury Road | Columbus | OH | 43219 |
| DCM7 | 6465 Busch Boulevard | Columbus | OH | 43229 |
| HDY1 | 45 Lau Parkway Englewood | Dayton | OH | 45315 |
| DCM5 | 8591 Mink Street SW | Etna | OH | 43062 |
| DCM2 | 1930 Composite Dr. | Kettering | OH | 45420 |
| DCM6 | 6201 Collings Drive | Lockbourne | OH | 43137 |
| DCL3 | 12111 Debartolo Drive | North Jackson | OH | 44451 |
| DCM3 | 43500 Victory Parkway | Solon | OH | 44139 |
| DCL5 | 2040 S. Reynolds Road | Toledo | OH | 43614 |
| DWO1 | 9309 Cincinnati Dayton Road | West Chester | OH | 45069 |
| HOK2 | 3401 S. Council Rd | Oklahoma City | OK | 73179 |
| DOK3 | 6101 SW 44th Street | Oklahoma City | OK | 73179 |
| DOK4 | 6801 S Air Depot Blvd | Oklahoma City | OK | 73135 |
| DOK2 | 13510 E 59th St | Tulsa | OK | 74134 |
| DPD7 | 3108 NE 230th Ave | Fairview | OR | 97024 |
| DPD5 | 15000 N Lombard Street | Portland | OR | 97203 |
| DPD2 | 9475 N Horseshoe Ave | Portland | OR | 97217 |
| DPD6 | 5475 Gaffin Rd SE | Salem | OR | 97317 |
| DPD4 | 21409 SW 115th Ave | Tualatin | OR | 97062 |
| HPH2 | 120 W Pumping Station Rd | Allentown | PA | 18951 |
| DDP7 | 3750 State Road | Bensalem | PA | 19020 |
| DAE1 | 2595 Brodhead Rd | Bethlehem | PA | 18020 |
| DPH9 | 1103-1113 Ridge Pike | Conshohocken | PA | 19428 |
| DPH7 | 10 Industrial Road | Elizabethtown | PA | 17022 |
| DAE3 | 2150 North Park | Hazleton | PA | 18202 |
| HVP1 | 45 Valley View Dr | Jessup | PA | 18434 |
| DDP5 | 6300 Bristol Pike | Levittown | PA | 19057 |
| DPL7 | 1156 Four Star Drive | Mount Joy | PA | 17552 |
| DDP2 | 2400 S Weccacoe Ave. | Philadelphia | PA | 19148 |
| DDP1 | 2900 Grant Ave | Philadelphia | PA | 19114 |
| DDP9 | 3025 Meeting House Road | Philadelphia | PA | 19154 |
| DPH8 | 7575 Brewster Ave | Philadelphia | PA | 19153 |
| HPT1 | 4800 McClaren Woods Dr | Pittsburgh | PA | 15108 |
| DPP1 | 501 North Drive | Sewickley | PA | 15143 |
| DGI3 | 851 Boxwood Road | Wilmington | PA | 19804 |
| DRI1 | 115 Dupont Drive~ | Providence | RI | 02907 |
| DSC3 | 744 Frontage Road | Greenville | SC | 29611 |
| DSC4 | 7409 Magi Road | Hanahan | SC | 29410 |
| DSC2 | 131 Overland Drive | West Columbia | SC | 29172 |
| HCT2 | 4400 Amnicola Hwy | Chattanooga | TN | 37406 |
| HKX1 | 4825 Lumber Ln | Knoxville | TN | 37921 |
| DTN8 | 1000 Richard Petty Way | Lebanon | TN | 37090 |
| DNA4 | 3140 Victory Ridge Cove | Memphis | TN | 38128 |
| HME3 | 850 Gateway Global Dr | Memphis | TN | 38611 |
| DTN6 | 700 Myatt Drive | Nashville | TN | 37115 |
| DAU5 | 2956 Main Street | Austin | TX | 78610 |
| DAU1 | 4616 W Howard Ln | Austin | TX | 78728 |
| HAU1 | 5811 Trade Center Dr Bdlg 10 | Austin | TX | 78744 |
| DAU2 | 7000 Metropolis Dr, Suite 200 | Austin | TX | 78744 |
| DDF2 | 12809 Eastgate Drive | Balch Springs | TX | 75181 |
| HDA1 | 2701 West Bethel Rd | Coppell | TX | 75099 |
| DDA8 | 8901 Forney Rd | Dallas | TX | 75227 |
| DDX7 | 1101 South Gateway Blvd | Forney | TX | 75126 |
| DDF6 | 10001 South Fwy | Fort Worth | TX | 76140 |
| DDA9 | 3700 San Jacinto Dr | Fort Worth | TX | 76116 |
| DDF5 | Litsey Road & Beach Street | Fort Worth | TX | 76244 |
| DDX6 | 16399 Gateway Path | Frisco | TX | 75078 |
| DHO8 | 11311 N Gessner Dr | Houston | TX | 77064 |
| HHO2 | 6911 Fairbanks N Houston Rd | Houston | TX | 77040 |
| DH05 | 875 S Lockwood Dr | Houston | TX | 77023 |
| DHO3 | 9155 Derrington Road | Houston | TX | 77064 |
| DHO7 | 28420 West Ten Blvd | Katy | TX | 77494 |
| DHT1 | 4975 Gulf Freeway | La Marque | TX | 77568 |
| DDF1 | 1303 Ridgeview Drive | Lewisville | TX | 75057 |
| DDF4 | 651 Klein Tools Blvd. | Mansfield | TX | 76063 |
| DDX2 | 1398 Industrial Blvd | McKinney | TX | 75069 |
| DAU7 | 3150 Chisholm Trail Rd. | Round Rock | TX | 78681 |
| HSX2 | 4825 Eisenhauer Rd | San Antonio | TX | 78218 |
| DSX7 | 8210 Aviation Landing | San Antonio | TX | 78223 |
| HDA3 | 9186 Van Horn Drive | Santa Dallas | TX | 75241 |
| DSX9 | 1150 Schwab Road | Schertz | TX | 78132 |
| DHX4 | 22300 Northcrest Drive | Spring | TX | 77389 |
| DUT2 | 1222 S 500 E | American Fork | UT | 84003 |
| DUT7 | 989 W Center Street | North Salt Lake | UT | 84054 |
| HSL1 | 355 N John Glenn Rd | Salt Lake City | UT | 84116 |
| DUT3 | 620 South 5700 West | Salt Lake City | UT | 84104 |
| DUT4 | 7001 New Bingham Hwy, | West Jordan | UT | 84081 |
| DOR1 | 1920 Campostella | Chesapeake | VA | 23324 |
| DVA3 | 181 Centreport Pkwy | Fredericksburg | VA | 22406 |
| DDC9 | 5533 Wellington Road | Gainesville | VA | 20155 |
| DOR3 | 223 W Mercury Boulevard | Hampton | VA | 23669 |
| DVA5 | 11920 Balls Ford Road | Manassas | VA | 20109 |
| DOR2 | 1400 Sewells Point Road | Norfolk | VA | 23502 |
| DVA2 | 1601 Bellwood Road | Richmond | VA | 23237 |
| DRC1 | 4101 Carolina Ave | Richmond | VA | 23222 |
| HRC1 | 4949 Commerce Rd | Richmond | VA | 23234 |
| HDC1 | 6885 Commercial Dr | Springfield | VA | 22151 |
| WMO2 | 2960 N Martin Ave | Springfield | MO | 65803 |
| DDC4 | 44301 Mercure Circle | Sterling | VA | 20166 |
| HVB2 | 103 Industrial Drive | Suffolk | VA | 23435 |
| DSE8 | 7555 Airport Way SW | Bremerton | WA | 98312 |
| DWS4 | 315 Shuksan Way | Everett | WA | 98203 |
| HBF4 | 6311 36th Ave West | Everett | WA | 98203 |
| DWA7 | 5509 Military Road East | Fredrickson | WA | 98375 |
| DWA6 | 22001 84th Avenue South | Kent | WA | 98032 |
| DSW5 | 14802 Spring Street SW | Lakewood | WA | 98439 |
| DWA5 | 23226 Witte Road SE | Maple Valley | WA | 98038 |
| HBF2 | 21320 84th Ave | Seattle | WA | 98032 |
| HGE1 | 2790 E Ferry Ave. | Spokane | WA | 99202 |
| DWA9 | 3711 142nd Avenue East | Sumner | WA | 98390 |
| HBF5 | 2201 140th Ave E | Sumner | WA | 98390 |
| HBF9 | 2201 140th Ave E | Sumner | WA | 98390 |
| DWA2 | 2871 S 102nd Street | Tukwila | WA | 98168 |
| DML3 | W6369 Levi Dr | Greenville | WI | 54942 |
| DML4 | 4250 120th Ave | Kenosha | WI | 53144 |
| DWI4 | 3650 Milwaukee Street | Madison | WI | 53714 |
| HMK2 | 5004 Tradewinds Parkway | Madison | WI | 53718 |
| HMK4 | 16555 West Small Road | New Berlin | WI | 53151 |
| HMK3 | 5739 Green Valley Ct. | Oshkosh | WI | 54904 |
| DML8 | 1925 Grandview Parkway | Sturtevant | WI | 53177 |
| DML2 | N53 W24700 Corporate Circle | Sussex | WI | 53089 |
| DBK4 | 55-15 Grand Ave | Queens | NY | 11378 |
| DHX3 | 12900 W Airport Blvd | Sugar Land | TX | 77478 |
| DCH8 | 1825 5th Ave | Melrose Park | IL | 60160 |
| DCH9 | 7557 S 78th Ave | Bridgeview | IL | 60455 |
| DHX5 | 3523 S Ashland Ave | Chicago | IL | 60609 |
| HCH2 | 2350 S Wood St | Chicago | IL | 60608 |
| DHO2 | 14453 Hillcroft St | Houston | TX | 77085 |
| DHX1 | 3031 S Sam Houston Pkwy E | Houston | TX | 77047 |
| CHO1 | 32 Trader Rd | Fishersville | VA | 22939 |
| KBWI | 27350 Mathison Way | Baltimore | MD | 21240 |
| IAH3 | 15525 Milner Rd | Houston | TX | 77032 |
| RDU2 | Barbour Rd | Smithfield | NC | 27577 |
| RFD2 | 11500 Freeman Rd | Huntley | IL | 60142 |
| SWF2 | 1940 NY-52 | East Fishkill | NY | 12533 |
| HBM3 | 2501 3rd Place | West Birmingham | AL | 35204 |
| DBM5 | 7600 Crestwood Blvd | Irondale | AL | 35210 |
| DBM3 | 6732 Trippel Rd | Mobile | AL | 36582 |