Amazon is by far the biggest online-shopping hub in the world, and all those items need to be delivered to the ever growing number of customers.
It is for this reason that Amazon's demand for transportation workforce, including drivers and local carriers, has held steady for years.
To drive for Amazon, you'll first need to decide whether you want to drive your own vehicle, a van, a box truck or semitrailer.
The type of vehicle you prefer to drive will determine whether or not you'll need a CDL. Beyond that, the application process is straightforward. You'll simply need to check out the requirements and follow through.
See:
Requirements for an Amazon driver
Amazon hires carriers and people for delivery, all through their Flex, DSP and Freight Partner programs.
There are different types of Amazon drivers with different experience requirements. We break down the specifics for each below.
Semi driver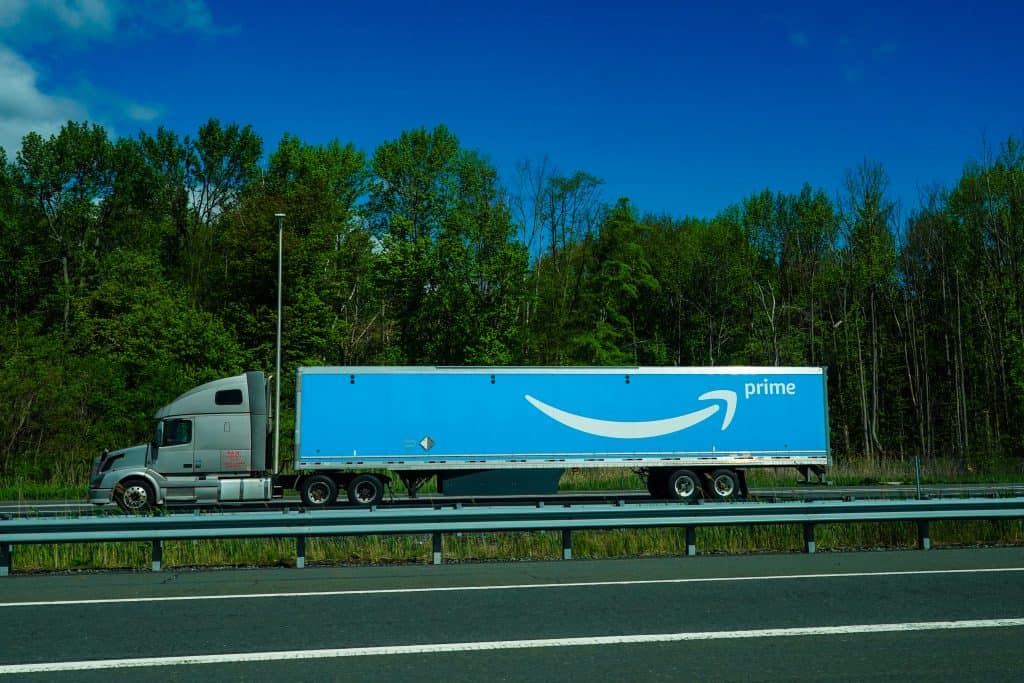 Interstate drivers for Amazon branded rigs must have a Class A CDL.
Note that these trucks are not directly owned by Amazon but by freight carriers (Amazon Freight Partners) contracted by Amazon. Consequently, as a semitrailer driver, you will be employed by the carrier and not Amazon.
The average pay for this job is $23.46 an hour and can go up to $35 if you have the experience.
You can find open freight partner jobs here.
If you work at an Amazon warehouse, you can get a fully paid CDL training through the Career Choice program as part of the benefits.
Box truck driver
Box trucks are for local deliveries and, as such, only require a Class B CDL. Class C may also work for this role, but preference is given to Class B or Class A.
However, the current shortage of Amazon drivers almost ensures that you can get full-time hours with a Class B.
If you are a box truck driver or carrier, you can register with Amazon Relay as a contractor.
With Amazon Relay, you get access to Amazon's logistics network where the system (Relay) can automatically book loads for you based on your needs.
The size of your box truck will need to be 24 to 26 feet (seven to eight meters) long.
Using a delivery van
If you want to drive the blue Amazon delivery vans, you'll need to work for an Amazon DSP.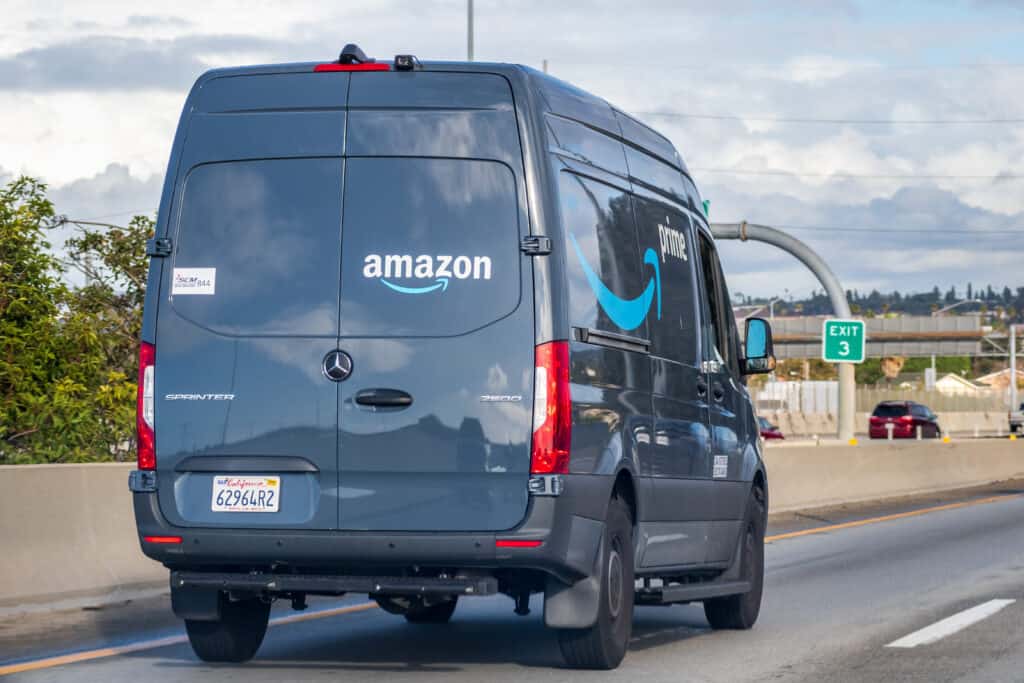 DSP drivers deliver packages from Amazon delivery stations to customers in a given geographical location.
Just like driving Amazon branded semis, you will not be working for Amazon directly but for a contractor.
Amazon is always on the lookout for new DSPs, so check your area to see if your company qualifies.
How to get a box truck contract with Amazon
To get a box truck contract with Amazon, you'll need to visit the company's hiring website or Indeed. Both will allow you to find box truck contract jobs in your area. You will need a CDL, a proper vehicle (check Box Truck Driver section above), and proof of adequate insurance.
Amazon also has a number of programs, including Amazon Relay, that will assist you in growing your business. All in all, Amazon is a very helpful partner to have.
Driving your own car
If you are willing to use your own car for the job, you do not need a CDL of any class.
Amazon Flex is the Amazon program that allows you to deliver packages using your own car for extra cash.
Flex is like Uber but for Amazon packages. That means that the upside is more flexibility but the downside is inconsistent hours, no benefits, and wear and tear on your personal car.
All you need is a driver's license and a decent amount of experience. Driving your own car may give you more flexible hours but also puts you on the hook for ensuring accuracy.
If you plan on using your non-commercial-sized car, Amazon wants you to have at least a mid-size sedan with four doors.
Trucks used by Amazon
The company delivers through the use of Amazon Freight Partners (AFPs), who use their own – sometimes Amazon-branded – trucks.
So while you may see "Amazon" trucks driving around, the trucks themselves are the property of the small carrier business that Amazon hires.
This AFP program allows small trucking businesses sustainable income and job security.
Are drivers employees of Amazon?
Truck drivers who drive from Amazon aren't technically employees of Amazon. Instead, they're employees of the AFP that Amazon contracts. However, Amazon does a lot to ensure that you are treated fairly by your trucking company.
Additionally, Amazon has regulations that are specifically taken into consideration during the AFP's hiring process. Plus, all full-time drivers have good insurance, 401(k) retirement plans, and paid time off (PTO).
Since you are working in close proximity to Amazon, it can often feel like you are an employee of the company. If you want to apply or see the opportunities for yourself, you can go to Amazon's Delivery Driver page here.
Amazon truck driver schedule
Amazon's AFPs prefer that drivers of semis and box trucks be available for 40 hours a week. However, you might be able to negotiate flexibility.
Amazon is in near-constant need of more drivers, so anyone who is available – even for a little bit – has a chance at landing the job.
Common trucker hours
The most common hours for Amazon drivers are four ten-hour days a week (4/10 schedule).
This schedule allows you three days a week to recuperate. There is also a lot of opportunity for overtime, and working overtime often leads to earning promotions.
Part-time
It is possible to drive part-time for Amazon, which can be a good choice if you have a demanding home life.
Just look at Indeed.com postings in your area, and you are sure to find options! Part-time is especially good for Amazon Flex if you drive your own car and don't have a CDL.
Night shift
Amazon's need for night shifters has skyrocketed with the recent birth of same-day deliveries.
Night shift jobs with Amazon also pay more, and weekend shifts bring in the big bucks.