Efforts to unionize Amazon warehouse workers in the US have been gaining steam in recent weeks. Unionization has long been a contentious issue between Amazon employees and their management.
Currently, Amazon does not have any unionized warehouses in the US. This is despite the company having unionized warehouses in European countries like Germany, France, Italy and Spain.
However, some Amazon sites in the US have been making a push towards labor organization; Amazon's Bessemer, Alabama facility held a union vote in 2021. This was, however, overwhelmingly defeated.
Amazon facilities that are due to hold union elections
So far, there are three Amazon facilities that are either due to hold a union election in the coming weeks or have already voted and are awaiting election results. These are BHM1 in Alabama and LDJ5 and JFK8 in New York.
BHM1 in Bessemer, Alabama
The BHM1 warehouse held a mail-in election beginning February 4th to March 25th with ballots being counted on the 28th of March.
Workers in this facility voted to reject unionization in April, 2021 but the National Labor Relations Board (NLRB) had objections with the voting process and ordered a new election for 2022.
JFK8 in Long Island, New York
JFK8 associates held an in-person vote from March 25th to March 30th 2022. This vote was championed by the Amazon Labor Union (ALU), a grassroots labor movement founded by Amazon workers themselves. The results were announced on April 1st with the YES side winning 55% of the vote.
LDJ5 in Long Island, New York
LDJ5 associates held their elections on April 25th and voted against organizing with 618 nos to 380 yeses. Workers at this facility were also being represented by the ALU.
Related: Amazon warehouse locations in the US
Why do Amazon warehouse employees want a union?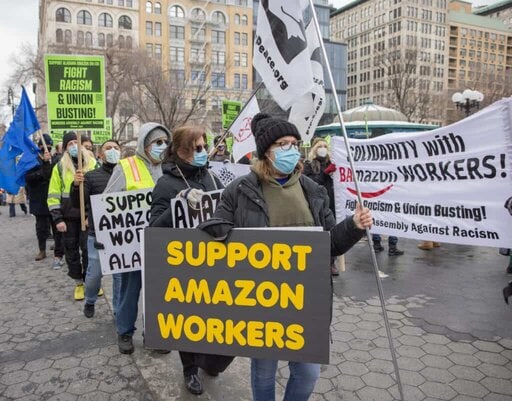 The push for unionization at Amazon warehouses has been increasing; There are a few reasons why some of these workers want to form unions to represent them. Some of them are:
Higher wages. Workers want higher pay to support the rising cost of living.
Job security. Employees want fairness and don't want to lose their jobs over reasons they deem unfair.
Increased break times. Amazon workers want paid break times expanded from the normal time they get (usually 10 to 15 minutes).
Overall, workers want an improvement to their quality of life.
Why is Amazon opposed to unions?
Amazon believes that unionization will derail the company's "customer obsession" mission.
According to some top executives at Amazon, the company already provides the benefits that unions provide like healthcare insurance and paid time off.
Amazon also thinks unions will hinder fast decision making that it relies on in the fast-moving world of ecommerce.
How Amazon is handling the vote
Amazon isn't hiding its aversion for the growing worker movements. They have been using a couple of measures to try and dissuade employees from voting YES to unionization:
Sending vote letters to employees telling them to vote NO in union elections.
The company has set up websites that discourage employees from joining unions. An example is the UnpackJFK8 website targeted at JFK8 workers.
Meetings targeted towards warehouse employees that inform them about the perils of joining unions have become a common feature at Amazon facilities.
Unions seeking to represent Amazon employees
On the question of which unions should represent Amazonians, there are a few favorites that have emerged:
The Retail, Wholesale and Department Store Union (RWSDU) is the union involved in organizing workers at Amazon's Bessemer, Alabama site. Through its organizing campaign, BAmazon Union, the union hopes to win the battle for unionization after it was defeated through a vote in 2021.
ALU is spearheading unionization efforts in Staten Island. Some of their demands include:
Paid time off (PTO) for workers who get injured at work.
Income adjustment due to inflation (7.5% increase) for tier 1 to tier 3 associates.
Increase promotion opportunities by expanding the tier 2 job level and increase pay for this tier.
Reinstate 20-minute breaks.
Private shuttle for Amazon warehouse employees.
Count unpaid time off (UPT) in minutes instead of hours.
Allow union representatives to explain their side to associates.
ALU won the union vote in the JFK8 facility.
The Teamsters are one of the largest and oldest unions in the US and they've been focusing their energy on getting Amazon workers unionized. It has a lot of members in the logistics industry and it's well known for representing UPS employees.
How some are helping in unionization efforts
Supporters of Amazon workers and even Amazon employees who don't work in the warehouse such as software engineers have been joining the protests in support of the workers.
Others have also expressed support for Amazon employees' unionization efforts on social media such as Twitter and Facebook.
Impact of unionization at Amazon
Some employees fear that facilities that unionize may get shut down by Amazon. There have been cases where entire businesses or some of their facilities have closed down as a result of unionization.
Something like that happened in 2000 when butchers in some Walmart stores decided to unionize. The result – Walmart stopped using butchers in its stores and switched to prepackaged meat.
Who will be covered by the union?
Not all employees at Amazon will be covered by these unions if unionization does come to fruition. Some of the roles that will NOT have union representation include:
IT employees
Delivery associates
Seasonal employees
Delivery associates
Loss prevention employees
Supervisors
Guards
Clerical employees
Maintenance employees
On-site medical employees
Managerial employees
Truck drivers
Robotics employees (RME)
Temporary employees
Engineering employees
Professional employees
One of the main reasons for this is that of these positions are filled by third-party contractors e.g. IT employees.
Some drawbacks of unionizing for Amazon employees
Not all employees are enthusiastic about joining a union. Some of the reasons why they are hesitant on unionization include:
Union dues. Union workers have to pay dues which is usually a few dollars from every paycheck or in certain intervals, e.g. monthly. They may also need to pay a one-time initiation fee as administrative costs when they get hired. This fee can run into hundreds of dollars per year. This might be a lot of money for entry-level workers who aren't paid that much to begin with.
Seniority. Many unions operate on the principle of seniority where veteran employees get preferential treatment (for example when it comes to promotions) over those who've been recently hired. This can make new employees feel alienated and make them demotivated.
Toxic workplace. Some unions encourage bad behavior by defending abusive workers and protecting them from disciplinary action.