It's no secret that you can get a good workout out of physical jobs. Warehouse work is especially good for this since it involves a lot of movement and lifting.
In the years I have worked in this industry, I have seen people lose tons of weight after they started working in a warehouse.
I have encountered people who opt to work at a warehouse instead of getting a gym membership to get fit.
This is great because you're more likely to stay committed (because it's a job) and you'll be getting paid for it. A very good deal in my opinion.
Fitness Goals When Working in a Warehouse
People work out for different reasons. It's no different when it comes to working in a warehouse to achieve your fitness goals. You can lose weight, build muscle or gain strength when working labor intensive jobs like those in warehousing.
Losing Weight
If losing weight is your goal, then most manual jobs at a warehouse will help you achieve that.
Positions like loader/unloader, order selector, general labor, associate and even reach truck operator are especially useful for attaining this goal.
They are very demanding because your tasks are usually timed so you have to be fast. When fulfilling these tasks, you will be on your feet the whole time, walking and/or lifting items which can be quite heavy at times.
You are guaranteed to burn a lot of calories if you work in such an environment.
To reach your desired weight goal, though, you will need to watch what you eat. Remember that it's about calories in versus calories out. No amount of warehouse work is going to undo overeating of junk food unless you switch to a healthier diet at the same time.
Also note that if your job involves standing in place the entire time, you might find it a bit harder (or takes more time) to lose weight. So in this case, you'll want to watch your diet even more strictly.
You will lose a lot of water through sweat when working in a warehouse. Replenish it by drinking as much water as you can during and after work.
Building Muscle
Expect to lift items ranging from 2lbs to 51lbs daily. Sometimes this can even be more with some assistance from a coworker.
This is going to have a positive impact on your muscle growth. Just make sure to stay on top of your diet. Eat at a surplus every day.
You are going to use your arms and legs a lot when it comes to loading/unloading, order selecting and general warehouse labor.
Biceps, hamstrings, calves and quads are areas where you are going to have most muscle gain. You will also notice an increase in vascularity.
Make sure to follow safe lifting procedures. Lift with your legs and not your back. Also ensure that you keep your back straight when lifting objects from the floor.
Building Strength
If most of your tasks at the warehouse involve lifting heavy items, you are going to build a lot of strength over time.
Your body quickly adapts to the constant lifting and putting items down. You will also build a lot of endurance, especially if you work jobs like loading and unloading.
With jobs like these, you might need to do repetitive lifting tasks such as unloading an entire truck by yourself (as I used to do in a previous job).
As long as you are eating well and having decent sleep, your body will naturally develop the strength to accommodate this work routine.
Your Diet Counts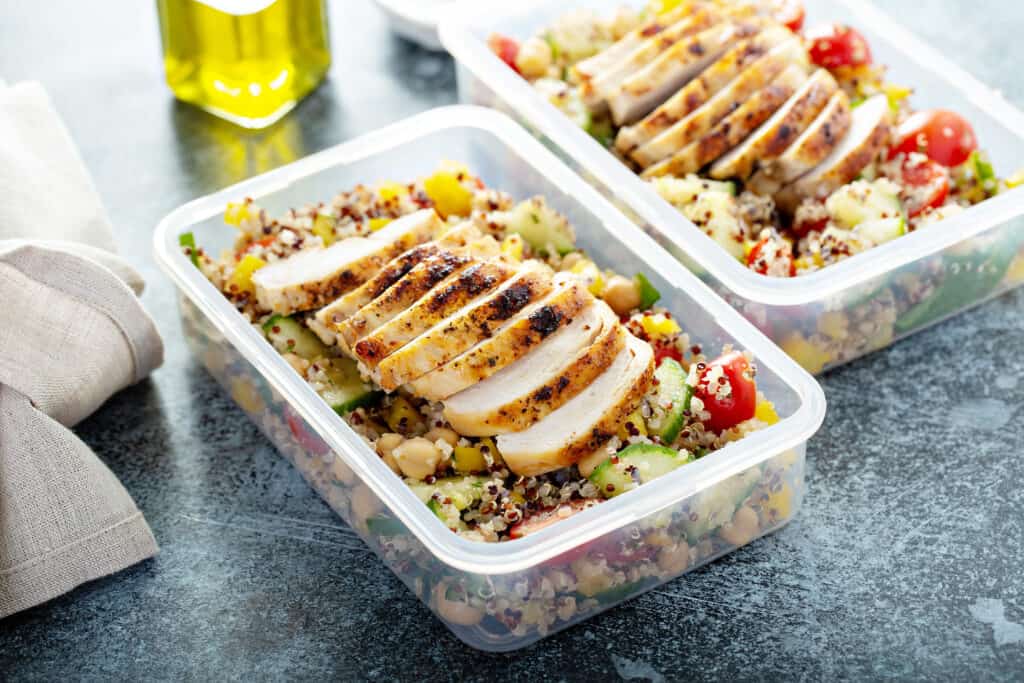 Without proper nutrition, the benefits above may not come to fruition.
Nutrition is actually the biggest factor that will determine whether you add muscle mass, gain strength or lose weight.
Due to the tedious nature of the work, you will be tempted to eat unhealthy food such as junk food, chocolate bars and sweetened drinks.
These are calorie dense but provide little to no nutritional value.
It's important to make your own food with plenty of protein, vegetables and whole grain carbs.
Protein may include lean beef, peanut butter, eggs, milk and beans. For whole grain carbs, something like brown rice is a good choice.
If you are going for maximizing muscle gain, supplementing with whey protein and multivitamins is also a good idea.
For Night Shift Workers
If you are a night shift worker, you will find yourself craving fatty or sugary food. Stay away from these. They will only set you back from your fitness goals.
Meal prep as much as you can on your days off. Make well balanced meals and freeze them. You will be consuming these during your lunch breaks.
If you have gym membership, work out before your shift rather than after. This is because after work, your mind and body get too tired. You also risk injury if you do heavy lifting after strenuous activity.
Going to the Gym While Working a Warehouse Job
If you really want to get big, however, there is no option but to actually go to the gym.
This is because there isn't progressive overload in warehouse work after a certain point. For example, you may find that there are no items above 50lbs. Your muscle growth will therefore plateau once you reach this weight limit.
Now working in the warehouse and going to the gym is going to be tough but it's not impossible.
You will have to increase your caloric intake, though, to account for the added energy expenditure.
Take it easy in the beginning because you might overwork your muscles and get injuries.
Depending on how much movement is involved when you're working, you might not even need to do much cardio or any at all while in the gym.
Stretching
It's important to stretch every day before work and during breaks to warm up your muscles and prevent injury. Focus on the main muscle groups and tendons such as your back, legs, feet and Achilles tendon. Try to do this after work and on your days off too. It improves your physical condition.