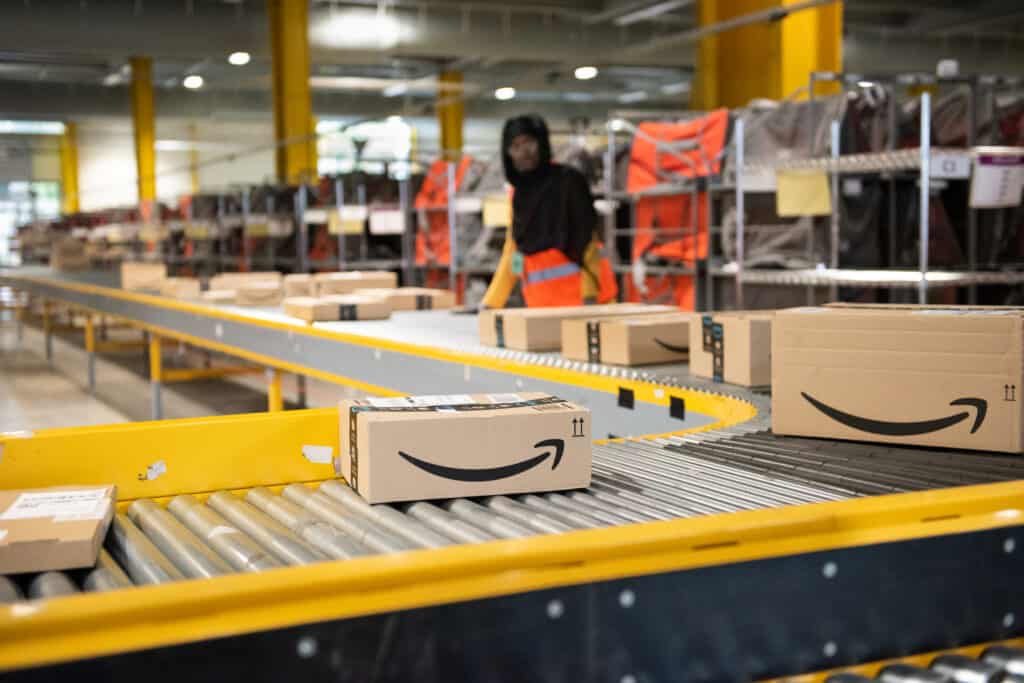 Employees at Amazon fulfillment and sort centers are required to follow specific rules regarding what they wear when doing their jobs.
These rules are meant to give workers a safe, professional and comfortable working environment.
As you will notice, dress code guidelines may sometimes vary by department, location, job description and management. For example, in some Amazon facilities, steel-toe shoes are a must while in others, running shoes are permitted.
Also, rules may exist but the level of enforcement may vary from facility to facility.
Something else to consider is that workers may be sent home for violating these rules in some locations.
Summary of the Amazon Warehouse Dress Code
Allowed
Not allowed
Headwear
beanies
hats
head scarfs
hijabs
hoodies (with the hood off)
baseball caps
face masks
neck masks
long hair(longer than shoulder height should be tied into ponytail)
long beard (should be tied up)
hoodies (with the hood on)
Torso
safety vests
t-shirts
tank tops
wife beaters
low hanging necklaces
baggy shirts
Hands
protective gloves
Legs
jeans
sweatpants
yoga pants
gym leggings
joggers
short shorts
baggy pants
Footwear
steel-toes
tennis shoes
running shoes
Crocs
flip flops
mocassins
slippers
Hats, Masks and Hair
Amazon fulfillment centers allow you to wear beanies, hats, head scarfs, hijabs and baseball caps. Any type of head covering is generally allowed as long as it does not have offensive signage on it.
Note that the top part of hoodies (the hood) is not allowed in most locations. The reason given is that your side vision shouldn't be blocked.
Face masks have been made mandatory in all facilities due to COVID. Rules dictate that masks should cover your nose and shouldn't be on your chin.
Neck masks are a nice alternative as they are more comfortable.
They are also better than regular masks since they do not hurt your ears during long shifts.
Many fulfillment center employees also like them because they can wear wireless earbuds underneath them.
Hair shouldn't be longer than shoulder height for both men and women. If it is, it should be tied into a pony tail or pinned. Again, this is related to safety as long hair can be caught up in moving machine parts and also blocks your side view.
Long beards are allowed as long as they are tied up.
Tops and Jewellery
As far as your torso area goes, you may wear t-shirts (long-sleeved or short-sleeved is fine), hoodies (as long as you don't put the hood on), wife beaters, summer tops, polo shirts and tank tops.
Low cut shirts and tops are not allowed in most facilities. Same goes for t-shirts and tops that are too baggy. Low hanging necklaces are also a no-no. These are things that may get caught up in conveyor belts or rollers, for example.
It is a good idea to get shirts that are breathable since you may sweat a lot during your shift.
Shirts made of polyester-cotton blends are the best for this especially if you work in a hot and humid area as they tend to wick out sweat.
Some warehouse workers are required to wear safety vests on the warehouse floor. This includes people who work with PIT (powered industrial trucks) equipment, processing assistants, area managers, HR, health and safety specialists as well as operations managers.
Hand Protection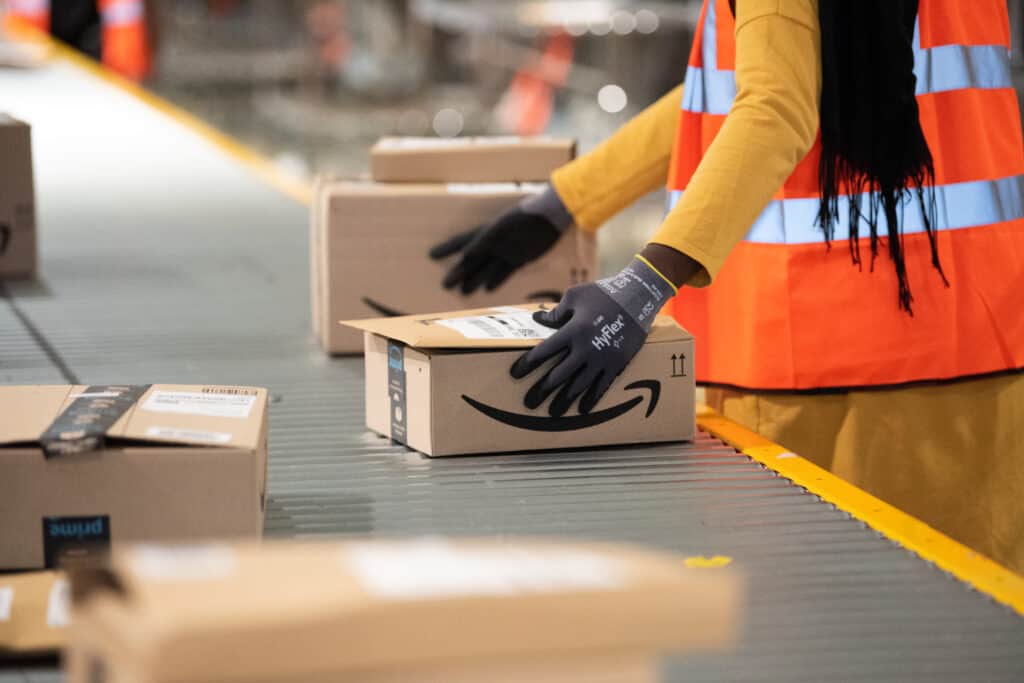 Like in most warehouses, safety gloves are required to protect your hands from bruises and cuts when handling material.
Amazon employees can access gloves from vending machines. You scan your work badge, select the item you want from a keypad, and they dispense it for you. You can also obtain new vests, harnesses and box cutters this way.
Pants and Shorts
Jeans, sweatpants, yoga pants, gym leggings, joggers and even pyjamas are allowed in Amazon fulfillment and sort centers.
Short shorts (including shorts that are above the mid-thigh level) and pants that are too baggy, however, are not permitted.
Some fulfillment centers can be pretty lax with some of these rules so if you're in luck, you may end up at a facility that allows running shorts and short shorts.
Types of Footwear Permitted
Steel-toe shoes are not required in most Amazon facilities. What they will ask, though, is that you wear closed-toed shoes that completely cover the top part. So Crocs, moccasins, and flip-flops are not allowed.
Most Amazon warehouse employees prefer tennis or running shoes for their work. Reason being, they are light and quite forgiving on your feet considering that in many Amazon facilities, shifts can last ten to twelve hours.
For tennis shoes, it is preferable to get ones with memory foam to provide better cushioning to your feet as you will most likely be walking or standing throughout your entire shift – save for breaks.
Shoe Recommendations
If your job is going to involve lifting heavy items such as those in AMXL facilities, it is advisable to wear steel-toe or composite shoes to protect your feet even if your facility doesn't require them.
You don't want any of these heavy items falling on your feet when they are not protected! You will also encounter moving equipment such as pallet jacks and carts which pose a risk of injury if they go over your feet.
Amazon gives warehouse employees a $75 to $110 credit to buy select work shoes from Zappos. Visit or call your HR desk to get more information about this.
Insoles are a smart investment especially if you have shoes that are not very comfortable such as steel toe boots. They help reduce fatigue around your foot and leg muscles through cushioning.
What to Wear for an Amazon Warehouse Interview
We recommend business casual attire to look presentable at a warehouse job interview. That being said, Amazon warehouse interviews are pretty laid back when it comes to dress code. So a t-shirt and and pair jeans would suffice.
After all, these are the clothes that you will be wearing when you start working there.