Almost all warehouse facilities you will work for will use some type of lift equipment such as counterbalance, dock stocker, reach truck and order picker.
As a result, employers in the supply chain industry (such as Penske Logistics, Publix, US Foods, Amazon and XPO Logistics) are in constant need of forklift operators.
Warehouse forklift operators are usually sourced from within the warehouse – where workers in other functions (e.g. receivers or order selectors) are cross-trained and certified in forklift operation.
However, there are certain situations in which an employer might want to hire experienced (and certified) forklift operators externally:
When there is an urgent need to fill forklift operator positions.
When the employer doesn't have the capacity or resources to train and certify their own workers.
When the warehouse is new and therefore there are no workers that can be cross-trained.
When the warehouse can't afford to pull workers from other job functions to be cross-trained (e.g. during peak seasons).
🛎️ Why forklift certification is important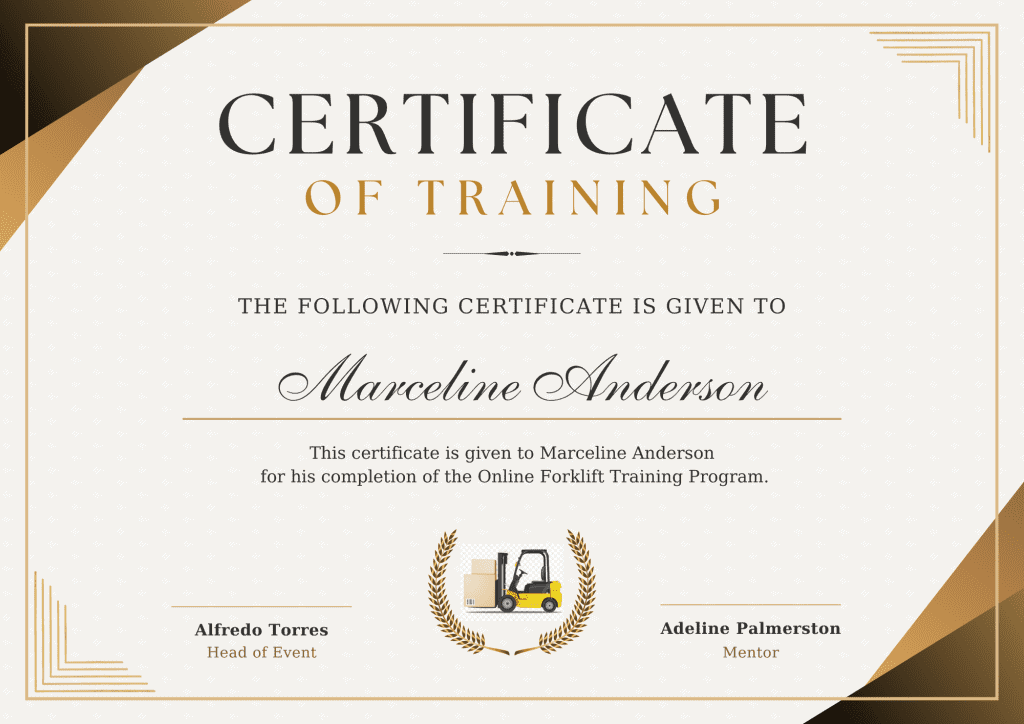 Forklift operators are not licensed but are certified. This is an important distinction because there is no body mandated by the federal government to issue forklift licenses.
Regulations only require employers to ascertain that their forklift operators are competent enough to use a forklift.
The responsibility to ensure that you are certified lies with your employer. That being said, being certified is also advantageous to you as a warehouse worker because:
it will open more doors to getting forklift operator jobs. There are many warehouses that list warehouse experience and certification as a requirement for getting hired as a forklift operator.
it shows an employer that you have made an effort in getting some forklift training and also means that you will be easier to train than someone who knows nothing about forklifts.
OSHA requires that employers evaluate the competence of forklift operators and a forklift certification can serve as proof of competence.
you can list your forklift certification on your resume which puts you ahead of other applicants when looking for jobs.
in some facilities, a forklift certification can bump up your pay.
💡 How to become forklift certified
There are two main ways you can get forklift certified:
1. Through your employer
Most logistics companies provide forklift training and certification in-house. This is because they have different standards and equipment.
For compliance reasons, they may also need to ascertain that you are capable of actually operating powered industrial tracks.
2. Through your local educational institution e.g. community college
Many community colleges and high schools provide forklift certification both on-site and online.
The benefit of using these institutions is that you'll be getting practical lessons.
The main disadvantage is that they can be quite expensive – sometimes running into hundreds of dollars per certification.
3. Through online programs
There are also online-only institutions that provide training and certification for individuals and organizations.
The benefit of these providers is that they can be quite inexpensive and you will get your certificate fast.
The main disadvantage is that they don't have hands-on lessons.
❓ What OSHA thinks about online forklift certification
According to OSHA, only "trained and competent" workers should be permitted to operate forklifts and other warehouse equipment.
In other words, employers have to ensure that you have received sufficient training before they put you on a forklift.
However, each employer has their own standards, training and certification processes for forklift operators.
Most will do some due diligence to ensure that their forklift operators are competent in working with these machines, e.g. by checking that you have a forklift certificate.
🌐 Is online certification any good?
Online forklift training is more accessible than "on the iron" training and there are a few more reasons you might want to use it:
To refresh your knowledge about forklift operation.
When you need to get a forklift operator job. Many employers will still consider online certifications valid.
Online training is helpful in preparation for the employer's own testing.
It can be used by employers who want to train and certify a group of workers at the same time easily.
The key is to use a reputable service. Good programs are OSHA compliant and adhere to ANSI standards.
ForkliftTraining.com™ is our recommended forklift training provider. Having gone through the course, it is by far the most comprehensive online forklift training I have taken, yet.
Things I love about this program are:
Video training format
Instant certification
OSHA compliance
No certificate expiration