Order selectors (also called pickers) are warehouse or distribution center employees whose main function is to prepare product from inventory for outbound shipping by palletizing it according to customer orders.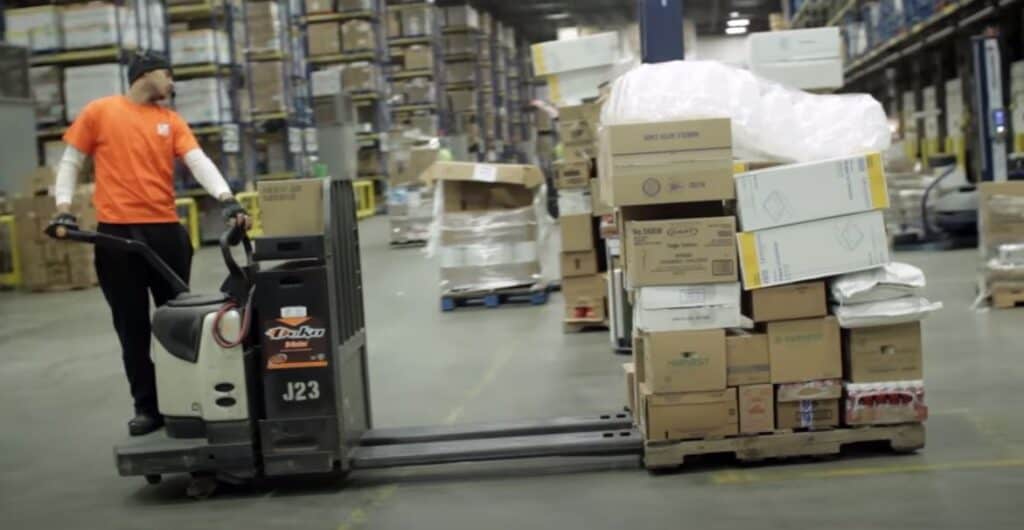 Job description
Typical job description of an order selector is as follows:
Perform pre-shift equipment checks to ensure they can operate safely.
Retrieve cases from pick locations by manually lifting products that range from 1lb to 90lbs.
Move products from racks to pallets as directed by a voice picking or RF scanning system.
Maintain order selection performance standard of speed and accuracy with minimum damage. Production standard goal is typically 95% to 100%.
Affix product labels appropriately on cases (or products) then place them on pallets in an organized fashion.
Confirm the correct product has been selected and is damage-free.
Build a stable and well cubed pallet.
Shrink wrap completed orders securely then transport them to the loading area using an electric pallet jack (inset).
Cross-train in other warehouse responsibilities.
Clean aisles of debris and return pallet jacks to parking or charging areas.
Report to the supervisor or team lead of any violation of company policy.
Perform other duties as assigned by leadership.
Required skills, abilities and qualifications
A high school diploma or GED may be required.
At least 18 years of age.
Ability to:

sit, stand, bend, reach, grip, push, pull, lift, carry and walk throughout the warehouse and shift.
lift and place products weighing up to 45lbs onto pallets.
continuously able to work in a multi-temperature environment (ranging from outdoor to freezer temperature).
safely and properly operate powered industrial equipment such as pallet jacks.
read, write, count and communicate in English.
have a high degree of concentration and alertness.
understand safety guidelines
be astute and pay close attention to details.
understand and properly follow all selecting procedures and verbal instructions in your respective area, i.e., grocery, repack or cooler/freezer.

Understanding of WMS preferred but not required.
Understanding warehouse operations preferred but not required
Salary
Like most entry-level warehouse jobs, order selectors are usually paid hourly. Pay ranges from $15 to $26 an hour and varies by company, tenure and location.
Most order selector jobs also include performance incentives as a way to encourage high performance, efficiency and accuracy.
Weekend and freezer work differentials may also be included in the pay package.
Here is a sample of order selector jobs listed according to company, location and hourly pay (this data was collected on 17th of July, 2022).
| Job Title | Company | Location | Pay |
| --- | --- | --- | --- |
| Warehouse freezer order selector | UNFI | Aurora, Colorado | $24.00/hr |
| 1st Shift Full-time Warehouse Associate | ALDI | Center Valley, Pennsylvania | $23.00/hr |
| Warehouse Order Selector | Sysco | Jackson, Wisconsin | Up to $78,000 per year |
| Night Warehouse Order Selector | Performance Food Group (PFG) | Swedesboro, New Jersey | $23.50 to $26.00 per hour |
| Cold Distribution Center 2nd Shift Order Selector | Whole Foods Market | Cheshire, Connecticut | $19/hr |
Find open, hand curated order selector positions here.
Order selector resume
A good order selector resume contains the following sections:
Objective
Educational background
Work experience
Skills
Enter your email below to receive a free copy of a sample resume suited for order selectors.