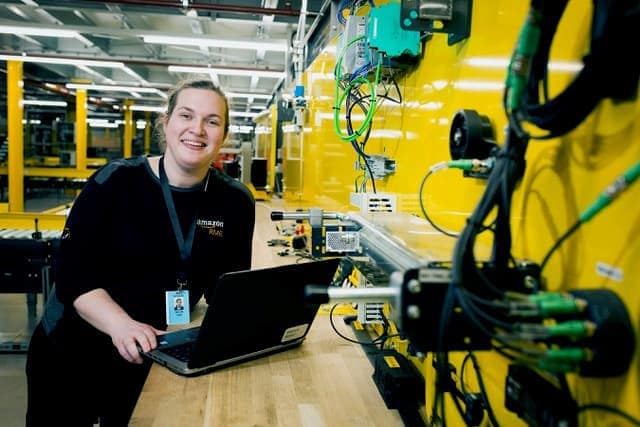 At Amazon, RME stands for reliability maintenance engineering. RME is the team charged with maintaining, troubleshooting and repairing robots, material handling equipment (such as conveyors) and their control systems.
RME teams
Amazon RME teams can be third-party contractor employees or in-house employees. The company has been slowly reducing its reliance on third-party contractors in recent years, however.
In-house employees
Amazon may directly hire RME workers from within or outside Amazon. In-house RME are full-time Amazon employees (i.e., blue badge).
Third-party employees
These are employed by third-party real estate management firms and work in Amazon facilities while being in the employ of these contractors. They are also called yellow badge.
Examples of these companies include:
CBRE
JLL
C&W Services
Daifuku
Avature
LGSTX
These companies are awarded contracts on a regional basis. For example, CBRE may get a contract for all Amazon fulfillment centers in a certain city.
In-house (blue badge) RME employees are usually paid more and have more benefits (e.g. RSUs) than their third-party counterparts working the same job.
Areas of specialization
There are several areas of specialization that RME employees can get into depending on their preferences and availability.
Base Building Technician
Base building technicians are responsible for maintaining the building itself and all non-MHE assets, e.g. sprinklers, alarms, solar panels, HVACs, etc.
Control Systems (CSx) Technician
CSx technicians maintain PLCs (programmable logic controllers) that handle material handling equipment in the warehouse.
What a CSx does will vary based upon a few factors:
3rd party contractor involved
type of Amazon FC (e.g. whether it's an Amazon Robotics (AR) site or a traditional non-sort (TNS) facility)
equipment available on the site
management at the site
Higher positions in this department are control systems lead (CSL) and control systems engineer (CSE), which are hourly and salary positions respectively.
Other positions are:
Material Handling Equipment (MHE) technician
Amazon Robotics (AR) technician
Most sites have merged the AR and MHE departments.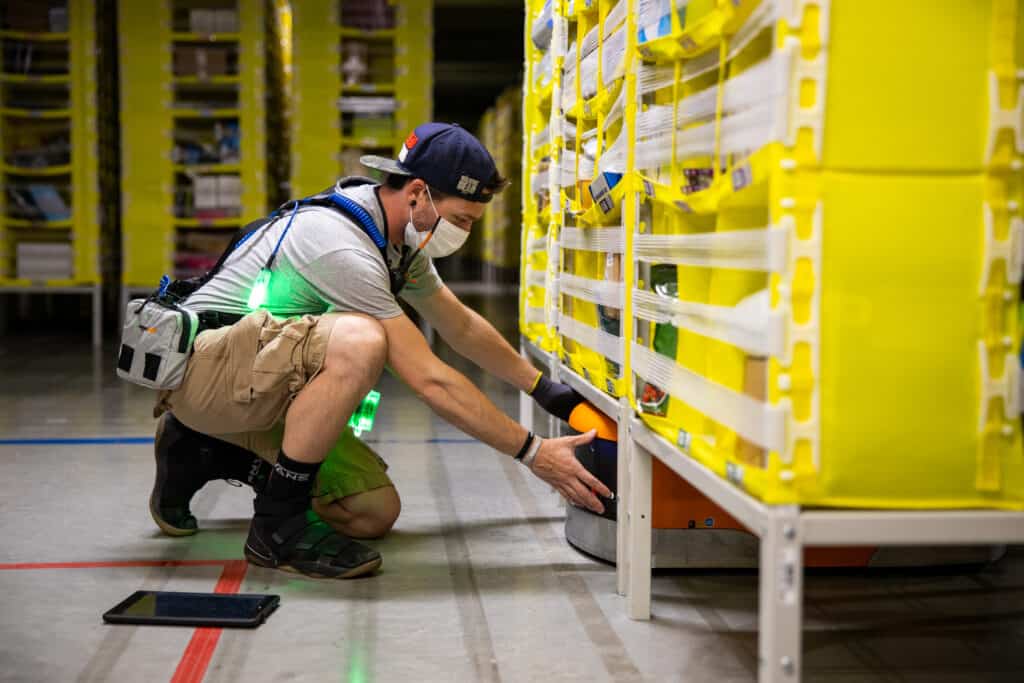 RME interview
Interview questions are mostly behavioral based. You are expected to answer questions using the STAR format.
If you are interviewing with Amazon and not a 3P, have a couple of stories ready for the Amazon principles.
Here is a useful resource if you want to learn how to answer behavioral interview questions comfortably.
Make sure to mention safety practices in all your answers as it is a very important aspect of RME. Also, emphasizing teamwork and passion helps.
The mode of interviewing for the RME job varies based on a few factors, the most important being whether you'll be interviewing with 3Ps (each has their own mode of interviewing) or Amazon.
For example JLL might do phone interviews that range anywhere from 20 minutes to an hour.
Tests for RME positions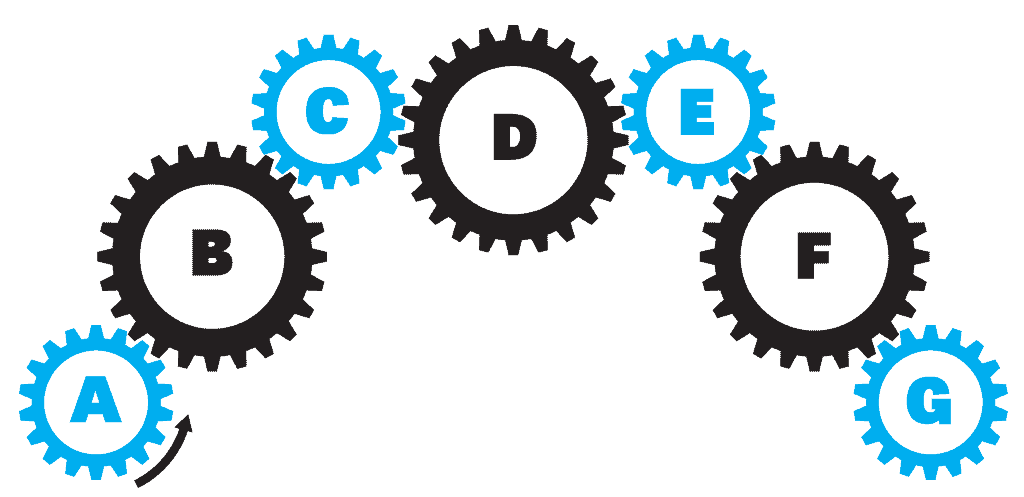 You might be required to take an aptitude test before being interviewed for an RME position.
Most of these tests are actually quite easy and are meant to determine your reasoning and logic rather than mechanical aptitude.
Two very common aptitude tests used by Amazon are:
Ramsay Mechanical Aptitude Test
This test is carried out by the Ramsay Corporation.
It has four portions i.e., mechanical, mathematics, reading and measurements.
It is meant to test your understanding of basic arithmetic (e.g. multiplication of fractions and decimals).
Other questions may include converting units, basic schematics and reading a ruler and/or gauge.
Blue badge associates who apply for the MRA program and get inclined may be required to take this test.
If you pass the test you'll then be scheduled for an interview with either the HR or maintenance manager at your facility, or both.
Other Ramsay tests include MT-2A19 and MT-2B19 for Tech II positions.
Wiesen Test of Mechanical Aptitude (WTMA)
This test is meant for those intending to get RME positions that are non-apprentice such as controls tech and CSE.
It is carried out by Criteria Corp. and tests an individual's ability to install, operate, maintain and repair equipment.
Where to apply
How to apply for the RME position depends on whether you'll be working for Amazon or any of the 3P contractors.
In some locations, you are more likely to be hired by 3Ps instead of Amazon, and vice versa.
You can apply to Amazon using the online job application portal for RME technicians.
For some of the major RME contractors, use these links:
Career progression/ Amazon RME levels
RME employees will have different levels of seniority depending on years of experience as well as education.
Mechatronics and robotics apprentice (MRA)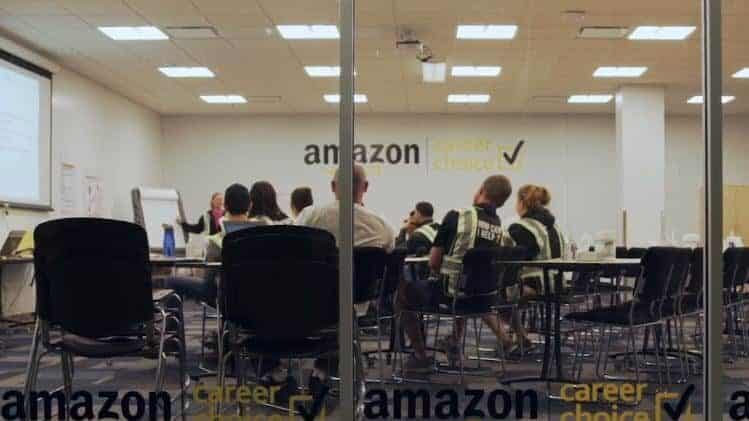 Whether you work for a 3P or are a blue badge, you'll most likely start your RME career as an MRA (mechatronics and robotics apprentice) as it's the easiest way to get your foot in the door.
MRA is a replacement of what used to be "Tech I" at Amazon. Maintenance apprentices basically shadow and assist Tech IIs and Tech IIIs.
It is designed for people with little to no knowledge of maintenance work.
With this program, employees get 12 weeks of paid training. Next, they receive on-the-job training (where they shadow Tech II and Tech III associates) after which they get certified and get on-site placement if they succeed.
The downside of MRA is that you might need to travel for training since it's not offered online. If you are not willing/able to travel, your second best option would be to get an Engineering Technology certification through the Amazon Career Choice program and then apply for RME as a Tech II at your site.
Technician (Tech) II
This is the next position above MRA. Associates who complete 2000 hours of training in MRA get promoted to Tech 2 which bumps up their pay.
While you can apply for a Tech 2 position directly (e.g. after completing a mechatronics course), you have a higher chance of getting the job through the MRA program.
You will still have to pass the Tech II skills assessment test, however.
Technician (Tech) III
Tech III are Level 4 hourly employees that get annual bonuses and stock options.
They have a bit more responsibility than Tech IIs (they lead teams when doing repairs) and can stand in for the Area Maintenance Manager (AMM).
Area Maintenance Manager (AMM)
AMMs' duties are mainly administrative e.g. scheduling and ordering.
Like with the other RME positions, they can be blue badge or 3P employees.
Their pay varies depending on experience, location, level of education and whether they're blue or yellow badge.
Shift schedules
Like in most Amazon warehouse departments, RME has shifts that cover nights and days.
Schedules are usually:
Sunday to Tuesday, 10 hour shift
Monday to Wednesday, 10 hour shift
Wednesday to Saturday, 10 hour shift
Start times are usually 4AM, 5AM, 7AM, 5PM, 12PM, 10PM or 9PM.